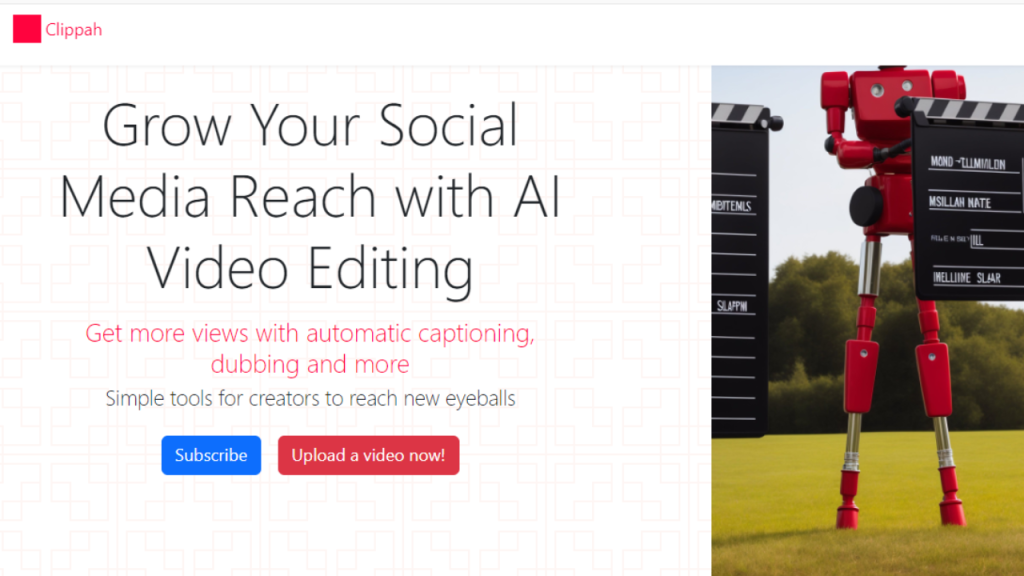 Clippah is an AI-enhanced, web-based tool designed to simplify video editing, offering features like vertical videos and captions tailored for platforms like TikTok and YouTube. While it provides benefits such as rapid video editing and specialized tools, it has limitations like limited customization and the need for a consistent internet connection. Pricing ranges from free trials to various subscription plans. For those exploring other options, Ghostcut, Jarvis App, and Deepshot serve as potential alternatives, each bringing distinct features to the table.
Table of Contents
Key Takeaways
Clippah is a web-based AI tool that makes video editing easy with vertical videos, captions, and other features.
The cost of Clippah varies from free trials to monthly or yearly plans.
The benefits of using Clippah include quick video editing, captioning abilities, TikTok, and YouTube-specific tools, while drawbacks involve limited customization options and dependency on a steady internet connection.
Other AI video-editing tools like Ghostcut, Jarvis App, and Deepshot are alternatives to Clippah, offering unique features.
Clippah Features
Clippah stands out with its AI-powered video editing tools. It automates tasks such as captioning, cropping, trimming, and extracting to make content creation fast and efficient.
Clippah's ability to create vertical videos is notably impressive – a crucial feature for social media-savvy students.
AI-powered video editing tools
Clippah harnesses the power of artificial intelligence to transform your video editing process. This tool goes beyond merely cropping and trimming videos, extending its abilities to more complex tasks such as extracting viral conversations from videos and automatically creating captioned vertical videos.
These advanced capabilities make Clippah one of the leading AI-powered tools in the industry. Currently available as a beta version with an opportunity for users to avail of a free trial, Clippah certainly paves an exciting pathway towards redefining how we edit videos today, offering unique features such as Caption TikTok and Reels.
Automation of tasks such as captioning, cropping, trimming, and extracting
Efficiency skyrockets when Clippah takes over tasks like captioning, cropping, trimming, and extracting in video editing. This revolutionary AI tool makes life simpler for content creators by speeding up previously time-consuming processes.
Tailoring your video to perfection becomes almost effortless with automation features provided by Clippah.
For instance, consider a long YouTube discussion or lecture video that requires multiple timestamps for easier navigation. The 'Timestamp YouTube Video' feature of Clippah quickly steps up to tackle this task, generating precise timestamps instantly.
Similarly, if you need viral conversation clips from a larger video body, the 'Reels' feature hands them over on a silver platter without missing any pertinent information.
Vertical video creation
Clippah excels in vertical video creation, focusing on user-friendly tools for effective social media content editing. One example is Clippah's Caption TikTok feature, which automatically generates captions from short videos to create compelling vertical formats perfect for platforms like Instagram and TikTok.
Moreover, the unique Reels tool aids creators by extracting viral conversation clips from longer video footage to form snug-sized, attention-grabbing reels. For YouTube enthusiasts seeking fast solutions, Clippah offers Timestamp YouTube Video features that enhance accuracy and efficiency while creating captivating vertical footage.
Essentially, these advanced AI-powered editing tools make quick and easy vertical video creation a reality – consolidating Clippah's position as an industry leader within the short-form social media content production landscape.
Detailed Look at Clippah's Pricing and Plans
The section on Clippah's pricing and plans will delve into the specific cost of using this AI-powered tool, laying out the various subscription options available. It also offers an extensive comparison with the price models of similar video editing tools.
Breakdown of Clippah's pricing structure
Clippah offers various pricing models to cater to different user needs. The structure includes affordable subscription pricing, making it a favored tool among students and budget-conscious creators.
From single-use fees and monthly subscriptions to annually billed plans, each has its benefits. Clippah provides a price breakdown and transparent details about what these tiers include for users.
This ensures potential users have all the relevant information before choosing a plan that best suits their requirements. There's also an option for a free trial, which is great news if you're still on the fence about committing to Clippah right away!
Comparison with other AI video editing tools
Clippah, as a unique AI video editing tool, competes with multiple other tools available in the market. Here's a detailed comparison of Clippah with four other popular AI video editing tools: GhostCut, Jarvis App, Deepshot, and Nova A.I.
| | | | |
| --- | --- | --- | --- |
| AI Tool | Key Features | Strengths | Weaknesses |
| Clippah | Offers captioning, cropping, trimming, and video creation tools; Provides tools like Caption TikTok, Reels, and Timestamp YouTube Video. | Easy-to-use interface, advanced voice cloning, chapter extraction techniques, free trial available | It may not be suitable for complex video editing needs. |
| GhostCut | Provides localized and edited videos; interactive video editing | Offers localized content, interactive tools make it user-friendly | Lacks advanced features like voice cloning and chapter extraction |
| Jarvis App | Customizable video dialogue creation; efficient video search with editing capabilities | Highly customizable, efficient video search function | It may require more user input compared to other automated tools |
| Deepshot | High-quality video editing tools; offers customizable templates | High-quality outputs, a variety of templates | It may not be as user-friendly for beginners |
| Nova A.I. | Efficient video editing tools; Offers high-quality video creation capabilities | Efficient tools, high-quality video outputs | The number of features compared to Clippah |
These AI tools, including Clippah, each bring unique features and capabilities catering to various editing needs. Understanding the strengths and weaknesses of each tool can assist students in selecting the best tool for their specific requirements.
In-depth Analysis of Pros and Cons of Clippah
An in-depth analysis of Clippah will unveil its diverse benefits, such as automation of video editing tasks and artificial intelligence capabilities while shedding light on notable drawbacks that may influence user choice.
Detailed advantages of using Clippah
Clippah offers numerous benefits that resonate with the needs of students, especially those who engage actively in creating and sharing digital content.
AI-power: Being powered by artificial intelligence eliminates the need for an intricate understanding of video editing techniques.
User-friendly Interface: Clippah offers easy navigation and operation, making it favorable for beginners.
Social Media-Specific Editing Tools: It delivers editing solutions catering to popular platforms like TikTok and YouTube.
Quick Video Editing: Clippah allows users to edit videos quickly, which makes it ideal for meeting school projects or assignment deadlines.
Captioning Abilities: The tool's ability to competently handle tasks such as automatic captioning makes it convenient for video editing assignments.
Flexible Formats: From Reels to vertical videos, Clippah caters to various modern formats required on different social channels.
Beta Version Free Trial: Despite being in a beta testing phase, Clippah provides a free trial period, allowing potential users to understand its capacity before paying.
Variety of Online Functions: Its online functioning aids quick access and saves device storage space, making it advantageous for students using laptops or desktops with limited storage capacity.
A comprehensive look at the limitations or drawbacks of the tool
Using Clippah, an innovative AI video editing tool, has its share of constraints and limitations that users should know.
Restricted Customization: Despite the impressive variety of editing tools, Clippah does not offer comprehensive customization options. This can limit the creativity in producing videos according to specific preferences or unique styling guidelines.
Limited Format Support: One noticeable flaw is that Clippah might not support all formats of video files, which could pose a challenge for users working with less common video types.
Dependency on Internet Connection: As an online tool, any deficiencies in your internet connection might affect the performance of Clippah, slowing down processing times and limiting its usability.
Learning Curve: Despite being user-friendly, new users may initially face a learning curve when figuring out how to best utilize each feature this tool offers.
Automatic vs Manual Edits: The AI-powered automatic edits might not always align with personal aesthetics or storytelling requirements; manual tweaking post-automation may sometimes be required.
Cost Implications: While it's true that there are affordable plans available, advanced features often come with additional costs, which can add up over time—especially for students on a tight budget.
Server-based Processing: This AI tool completes all processing tasks on its server-side rather than locally on your device, leading to possible concerns about data privacy or security issues for sensitive videos.
Limited Language Support: Another limitation for international students is that Clippah's captioning feature may currently lack support for multiple languages besides English – reducing accessibility and inclusivity for non-native speakers.
Trial Limitations: The free trial version has a lot of restrictions, such as edit limits, which could restrict the user from analyzing the full potential of this software before making a purchase commitment.
Exploring Alternative AI Tools for Clippah
This section delves into different AI tools that serve as alternatives to Clippah, analyzing their features, pricing structures, and user feedback for a comprehensive comparison.
Introduction to alternative AI video editing tools
Exploring the landscape of AI video editing tools beyond Clippah sheds light on many other efficient alternatives. Significant strides in artificial intelligence have given birth to cutting-edge software designs with sophisticated capabilities like voice cloning, long video editing, and YouTube timestamping services.
Take Auto-Dub AI as an instance; it leverages advanced voice cloning technology for dubbing purposes while retaining the original essence of the content. Tools such as Caption Video stand out by transforming horizontal videos into attention-grabbing vertical formats and adding precise captions simultaneously.
The diverse market offers solutions tailored to fit distinct user requirements, making them ideal substitutes for those seeking practical yet easy-to-navigate interfaces.
Authentic User Reviews and Testimonials
This section will delve into real-life accounts and unbiased opinions of Clippah users, focusing on their personal experiences using the tool and how it enhances or perhaps falls short in assisting with their content creation processes.
Genuine feedback from Clippah users
Users of Clippah consistently tout the tool's effective video enhancement features. Many content creators, including students who used the platform for academic presentations, particularly praised Aut-Dub AI's voice cloning technique.
Testimonials show that it dramatically improves their videos' voice-overs and provides a professional touch to their work.
Another strong point from genuine user feedback is Clippah's Caption Video function. Users have hailed this feature as a game-changer in producing vertical clips with clear captions – perfect for social media platforms such as Instagram Stories or TikTok posts.
The utility of Extract Chapter Clips and YouTube Timestamps received positive remarks for making longer videos more manageable and viewer-friendly.
Real experiences and opinions from content creators who have used the tool
Content creators, ranging from novice to seasoned professionals, unanimously praise Clippah's user-friendly interface. They note its convenience and efficiency as major selling points in the genuine user feedback.
Many users highlight the tool's ability to automate time-consuming tasks such as trimming and captioning, tremendously speeding up their workflow. Content creators have also expressed satisfaction with the AI-powered features of Clippah that simplify everything down to vertical video creation.
Strikingly positive opinions revolve around the beta version availability and free trial offer, enabling users to explore Clippah's capabilities without upfront commitment or cost.
This has cemented its credibility, making it a go-to choice for most video content needs.
Conclusion
Clippah is a powerful and promising AI-powered video editing option for content creators. The tool's comprehensive features, competitive pricing, and user testimonials affirm its potential.
Alternatives may also offer unique capabilities, yet the decision heavily relies on individual preferences and needs in shaping online videos.