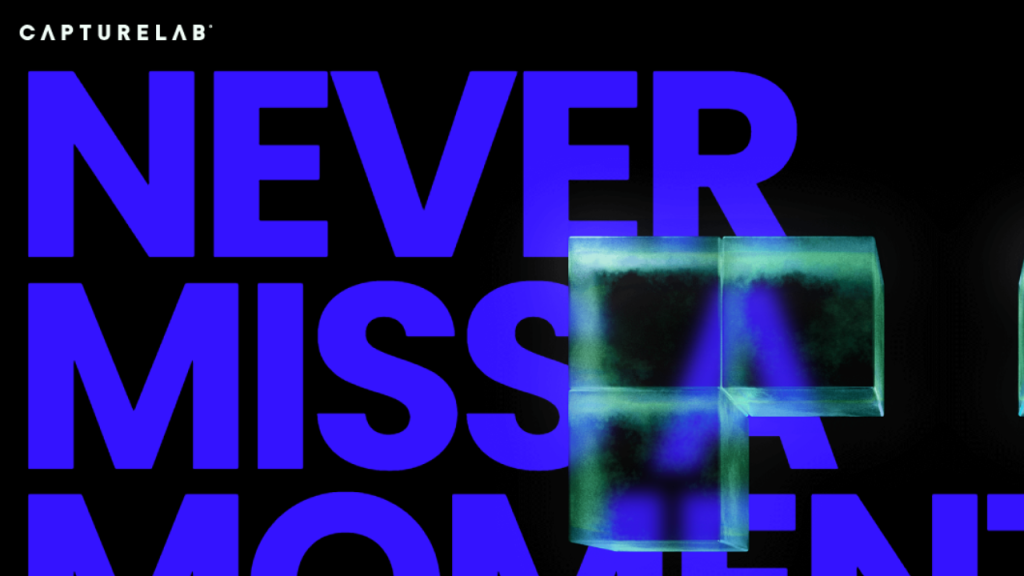 CAPTURELAB is an AI-driven platform tailored for gamers, enabling them to effortlessly capture and showcase their top gaming moments. By utilizing advanced AI, it analyzes streams from platforms like Twitch in real-time to identify standout moments. Gamers can conveniently register using their Twitch accounts and benefit from features such as AI-powered highlight creation, editing tools, and smooth social media sharing capabilities. The best part? Registration is entirely free, giving CAPTURELAB a competitive advantage over other similar tools by offering premium services at no cost.
Table of Contents
What is CAPTURELAB and How Does it Work?
CAPTURELAB is an advanced AI-powered tool designed to intelligently detect and capture the best realtime moments from your gaming streams. It uses machine learning algorithms to automatically analyze Twitch streams and identifies optimal gaming highlights that can be shared or showcased.
Use of AI technology to automatically detect gaming highlights
The power of AI proves to be a game-changer in online video gaming. It makes its mark with CAPTURELAB, an innovative application that leverages this superb technology to identify and highlight important points during gameplay.
Through smart algorithms, it processes streams from various platforms, including Twitch, systematically analyzing them in realtime for standout moments. Even long plays varying from 5 up to 36 hours are easily handled and reduced into condensed highlights by the platform's advanced AI system while maintaining a crisp output of about 1080p resolution, which matches your original stream quality.
This ingenious technique gives you complete control in reliving your gaming experiences without manually sifting through lengthy footage.
Fetching streams from platforms like Twitch
Capturelabs has become a game-changing tool for passionate gamers, making fetch-heavy processes simple and efficient. Enabling users to sign up with their Twitch account makes accessing streams from platforms like Twitch incredibly convenient.
It cuts down the hassle of going through multiple steps on different websites.
With advanced and state-of-the-art AI technology exclusive to Capturelabs in full play, fetched streams are processed automatically. Gamers interested in Apex Legends can now experience these benefits – a feature extended by this ever-evolving tool that excels at optimizing gaming sessions for stream retrieval tools designed for games like Apex Legends.
Further updates promise continuous support expansion towards other popular gaming platforms akin to Twitch, escalating gamer convenience considerably.
Realtime analysis for optimal gaming moments
CAPTURELAB utilizes advanced AI processing for realtime analysis of gaming moments. This state-of-the-art technology fetches and assesses streams from platforms like Twitch, systematically filtering through hours of content, sometimes up to 36-hour broadcasts.
With this great stride in speed and efficiency, a ten-hour stream can be thoroughly dissected within approximately one hour. The optimal gaming moment capture opportunity currently focuses on Apex Legends, with plans underway to expand the game roster.
Overview: CAPTURELAB AI Gaming Tool
CAPTURELAB AI Gaming Tool offers an innovative approach for passionate gamers to document and share their gaming highlights – all in real time. As a state-of-the-art technology, it can fetch streams as long as 36 hours from Twitch, one of the leading streaming platforms worldwide.
Students who game on Twitch can readily sign up for CAPTURELAB, creating an integrated space where they indulge in gaming sessions while making effortlessly highlight reels.
The tool captures live-action and employs artificial intelligence to dissect these lengthy streams into gripping moments worth sharing. Picture this as having a virtual director who constantly monitors your playtime and snips off the best parts for you.
This automated analysis ensures no key event is missed, saving time spent re-watching entire gameplay footage.
With CAPTURELAB's stream-capturing capabilities and advanced AI processing, students stand poised to capture their greatest achievements or even hilarious fails within games without interruption.
This way, along with playing their favorite games at leisure, they are simultaneously curating content that may influence other players' strategies or simply showcase thrilling matches or challenging levels beaten.
How to Use CAPTURELAB for Gaming
Unlock the potential of gaming moments with CAPTURELAB. Follow these easy steps for a smooth experience:
Sign up for an account on the CAPTURELAB platform using your Twitch credentials.
Delegate stream fetching to CAPTURELAB. It can handle streams ranging from 5 to 36 hours.
Let AI technology work its magic as it automatically processes and analyzes video streams, pinpointing exciting moments in your games.
Explore editing tools provided by CAPTURELAB to further enhance captured highlights.
Connect your account to various social media channels for seamless highlight sharing.
Reap the benefits of automatic processing and stream analysis, helping you conserve time and focus on gaming.
Continually refine the system's understanding of your favored gaming moments through regular use.
Key Features of CAPTURELAB
CAPTURELAB offers various enticing key features for gamers. Its automatic highlight-creation feature saves players' time and effort in sifting through hours of gameplay footage. This platform also provides smooth integration with popular social platforms, allowing quick and effective sharing of gaming clips.
One unique aspect is its AI-based video editing capability, which enables users to create high-quality clips showcasing their best gaming moments efficiently.
Automated highlight creation
Using advanced AI technology, CAPTURELAB takes the grit out of sorting for your brightest gaming moments. The potent automated highlight creation feature scans streams in real time, processing footage ranging from 5 to 36 hours swiftly and efficiently.
With this function turned on, you don't have to worry about missing a play worth sharing! High-quality clips emerge seamlessly without a graphics compromise – expect nothing less than brilliant 1080p resolution for each snippet.
To add a dash of personality and creativity, take advantage of the built-in video editing tool that lets users tailor highlights effortlessly. Imagine having striking compilations at the tip of your fingertips! No longer would dedicated gamers need to spend hours recording their screen or navigating through lengthy gameplay – all thanks to Capturelab's streamlined highlighting process!
Integration with social media platforms
Capturelab presents a game-changer with its seamless integration into various social media platforms. Users can connect their Twitch accounts during sign-up for easy access and navigation.
This extendable connectivity is not limited to Twitch; Twitter, Facebook, and Instagram users also benefit from this feature. In essence, no matter the platform of choice, Capturelab ensures that sharing your best gaming moments with followers becomes effortless.
It's high-speed processing further allows instantaneous generation of highlights- one press of a button- all it takes to engage your audience timely without missing out on any exhilarating gaming action! Noteworthy is how you can link Capturelab directly with all social media profiles for smooth transitions and wider reach among global gamers.
Easy sharing of gaming clips
CAPTURELAB lets gamers effortlessly share their recorded moments on popular social media platforms without inconvenience. Moments that shine through are swiftly transformed into exciting short videos via the platform's AI video editing capabilities.
This seamless operation makes it convenient to post your highlight reels in a snap, amplifying the joy of gameplay for peers online. Quality isn't sacrificed for speed, as each clip embodies high-definition gaming footage with a resolution of 1080p, elevating the viewing experience for all followers.
AI video editing capabilities
CaptureLab harnesses the power of AI to perform tasks like realtime highlight identification and gaming stream analysis. This AI technology explores streams ranging from 5 to 36 hours, relying on an impressive high processing speed – a ten-hour stream, for example, is processed in roughly one hour.
The artificial intelligence video editing abilities provide optimal resolution matching and clip generation. Users can gear themselves up for generated clips that offer as much clarity as their original streams at 1080P quality.
Furthermore, customization options allow students to make each gaming highlight their own with CaptureLab's user-friendly video editing tool powered by AI.
Pricing and Plans
Explore attractive pricing options and plans tailored for different user needs at CAPTURELAB, compare against alternative AI tools, and examine the pros and cons of investing in this advanced technology.
This information offers an extensive view of whether CAPTURELAB is worth your investment; dive in to discover more!
Overview of CAPTURELAB pricing options
CAPTURELAB operates with an open pricing model, attracting a broader gaming audience by allowing free sign-up and usage. This approach sets it apart in the market with AI tools requiring payment plans or subscription options for access to services.
Despite its complimentary structure, CAPTURELAB never compromises the quality of features offered to users in any pricing tier. You get full-feature access upon registration without concern for different cost or fee structures found frequently in alternative platforms.
However, precise details regarding more advanced packs or any potential upcoming changes to this pricing strategy remain undisclosed.
Pros and cons of using CAPTURELAB
CAPTURELAB offers unique advantages and drawbacks for enthusiastic gamers.
The use of advanced AI technology makes gaming footage capturing seamless.
It offers a hands-free approach with the automated highlighting of gaming moments.
Twitch account integration simplifies the creation process, enhancing user convenience.
Realtime AI-powered stream analysis provides optimized results, focusing on players' best achievements.
Automatic processing of streams eliminates the mundane task of manual sorting and selection.
Despite being a powerful tool, CAPTURELAB currently supports only Apex Legends. However, they have future game support expansion plans to diversify the platform.
Social media sharing options might lack flexibility for some users.
Editing gaming highlights features are relatively basic compared to dedicated video editing tools.
Free sign-up and usage means CAPTURELAB has to rely heavily on ads or premium subscriptions for revenue; this could impact the overall user experience.
CAPTURELAB Reviews and Ratings
This section will delve into the reviews and ratings of CAPTURELAB from users, providing an overview of customer feedback and shared experiences using this AI gaming tool.
Overview of customer feedback and ratings
Customers praise CAPTURELAB for its fast processing speed. They typically expect a 10-hour stream to be analyzed in around an hour, enabling the speedy creation of gaming highlights. The video editing tool also earns Credit due to its customization features.
However, users currently limit their feedback to the only game supported — Apex Legends, although they eagerly anticipate broader game support. Another standout feature is realtime analysis using artificial intelligence, which users consistently highlight as beneficial.
Furthermore, gamers applaud the high-resolution (1080p) clips that enhance viewing pleasure and promote user appreciation.
User experiences with CAPTURELAB
Gamers have widely embraced CAPTURELAB. Most of them appreciate the smooth and seamless integration with their Twitch account, permitting immediate access to this innovative platform.
It constantly wows users as it fetches gaming streams varying from a mere 5 hours to an astounding 36-hour-long marathon session! Users beam over its automatic highlighting feature, powered by top-notch AI processing that meticulously picks out amazing moments during their gameplay.
The social media sharing function further attracts students thrilled to share those epic gaming moments across popular platforms for envious reactions and likes! Yet another feather in its cap is the video editing tool students find incredibly handy to give cinematic touch-ups to their gamer tales before sharing online – all thanks to CAPTURELAB's state-of-the-art technology.
AI in Gaming: CAPTURELAB Case Study
CAPTURELAB well demonstrates the innovative use of AI technology in the gaming industry. This platform automatically identifies exciting moments during gameplay and creates high-quality highlights.
It functions by realtime analysis of user streams that can span from 5 to 36 hours, accurately detecting peak engagements through sophisticated algorithms.
Initiating with only Apex Legends support hints at the dedication of this AI tool towards quality over quantity. Users provide their Twitch account details for stream fetching—a straightforward process without complex steps or configurations.
Once captured, players have full autonomy over their gaming clips—from editing via the AI assistant to sharing across several social media channels—amplifying entertainment beyond game time but immersing them into a community glued with unique moments that ignite conversations and fanfare worldwide.
Alternatives to CAPTURELAB
There are a variety of alternatives to CAPTURELAB that may also cater to gamers' needs. Hexagram offers similar AI features for gaming highlights. AI Roguelite revolutionizes the help of gamification with its artificial intelligence capabilities.
LitRPG Adventures provides a unique roleplay experience using advanced AI technology, while Hidden Door specializes in creating diverse and dynamic game environments through machine learning systems.
BoostBot – Mobile Game Bots assists players by automating tasks within games, thus optimizing gameplay time efficiently. Additionally, GGPredict offers an analytic perspective on game data, providing tactical advice reliant on AI algorithms for improved gaming performance.
Lastly, EndlessVN uses its sophisticated artificial intelligence tools to offer gamers comprehensive virtual narratives and actions—engaging limitless story possibilities.
Hexagram
Hexagram cuts a striking figure in AI gaming as an alternative to CAPTURELAB. It wields advanced artificial intelligence technology to provide gamers with remarkable experiences.
Much like Capturelab, Hexagram harnesses AI capability to assist gameplay and showcase key gaming moments. Game sessions can potentially turn into fascinating narratives with Hexagram's unique feature set, which similar platforms may not offer.
Whether epic wins or agonizing losses, every element is chronicled properly for effective storytelling and sharing on social media platforms – shaping each gamer's story uniquely.
AI Roguelite
AI Roguelite presents another solid alternative to CAPTURELAB in gaming analysis. Harnessing advanced artificial intelligence, this tool delivers realtime stream processing and rapid game highlight identification tailor-made for gamers who crave optimal performance.
With AI Roguelite, students can unlock new strategies and level up their gameplay experiences. Its expandable game support means a wide array of popular titles are available for players to analyze with great speed and precision using dependable AI technology for gaming analysis.
LitRPG Adventures
Venturing into new dimensions, "LitRPG Adventures" offers a thrilling alternative to CAPTURELAB. This unique platform merges the immersive storytelling of roleplaying games with next-level virtual reality technologies, providing an unmatched gaming experience.
The robust game mechanics encourage player interaction and character progression that keep you on your toes.
Each "LitRPG Adventures" journey drops players into fantasy worlds filled with intricate quests and missions. As it leans heavily on online gaming, where every decision matters greatly, one never knows what awaits around the corner.
Truly a force within game development, "LitRPG Adventures" envelops players in riveting narratives – making it as much about the story as the gameplay itself!
Hidden Door offers a different approach for gamers seeking alternatives to CAPTURELAB. It uses AI technology, similar to CAPTURELAB, but stands out for its unique system of identifying gaming moments in various environments and conditions.
With a fast processing speed handling even long streams with ease, it presents another option for those with Twitch accounts who desire thorough analysis of their games. This alternative comes free of charge, too! So, if you're an Apex Legends fan waiting eagerly for game support expansion from CAPTURELAB, maybe take a closer look at Hidden Door while you wait.
It might just open up new possibilities.
BoostBot – Mobile Game Bots
BoostBot serves as another noteworthy alternative to CAPTURELAB, specifically in the domain of mobile game bots. This tool stands out with its unique features and options tailored for gamers seeking automation solutions.
The distinct capabilities offered by BoostBot position it favorably among similar tools in the market, thereby making it a strong contender. While this content does not delve deep into the pricing specifics or detailed pros and cons of using BoostBot, many students find value in exploring wide-ranging alternatives for gaming, hence adding it into their consideration set alongside CAPTURELAB.
GGPredict
GGPredict serves as a notable alternative to CAPTURELAB. This prediction software utilizes advanced data analysis tools and statistical methods for effective game outcome forecasting.
Its analytic offerings make it a powerful tool for gamers seeking trending patterns and performance enhancement strategies. Offering predictive modeling features, this data prediction tool aids in accurate trend analysis with ease and efficiency, seamlessly catering to varied gaming needs.
The comprehensive GGPredict dashboard offers realtime metrics invaluable for players needing an edge in their game planning and strategizing execution. It transforms how forecasts integrate into gameplay, raising its functionality above typical alternatives to CAPTURELAB.
With GGPredict, get ready for more precise predictions and enhanced gaming experiences!
EndlessVN
EndlessVN is a formidable alternative to CAPTURELAB among AI-powered gaming moment capture tools. It embodies innovation in showcasing unique features, making it popular with students and other users.
The technology behind EndlessVN allows for creating engaging gaming moments, giving players an enhanced platform to interact with their favorite games.
Compared with CAPTURELAB, there seem to be subtle and pronounced differences between these two tools. On one hand, they offer similar capabilities, such as capturing thrilling gaming scenes based on AI analysis.
However, some distinctions may become apparent when considering specific factors not discussed here, like pricing details or individual pros and cons associated with each tool.
Utilizing EndlessVN could provide new experiences for gamers seeking alternatives or wanting more diversification in capturing their best gaming moments.
Conclusion
With its innovative AI technology, CAPTURELAB has revolutionized the gaming world. This dynamic platform lets users easily capture and share their best gaming moments across multiple social media platforms.
Despite having a few drawbacks, such as limited game support, it proves itself worthy by providing incomparable features for free. Indeed, platforms like these enrich the immersive experience that modern gaming offers today.