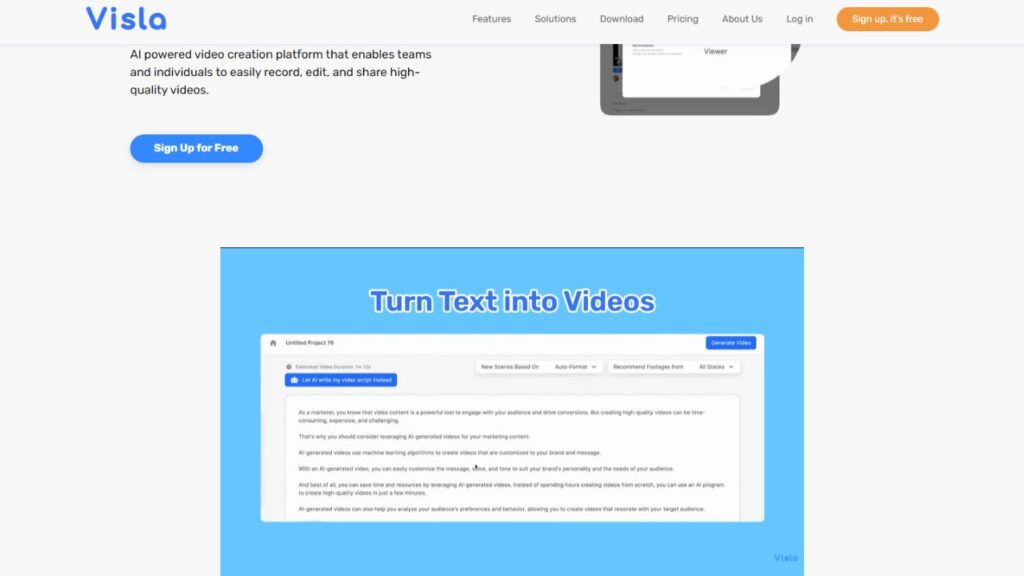 Visla is an AI tool that uses advanced technology to turn ideas into compelling video stories, making creating high-quality videos for social media marketing campaigns easier and more efficient. It offers a range of impressive features such as the AI Video Generator, Advanced Story Mode, Idea to Video transformation, and professional video production capabilities, allowing users to create visually captivating content in line with industry standards.
Visla's use cases include video creation for marketing campaigns and social media posts, visual storytelling through videos, streamlined content generation, efficient video editing, and professional-grade video production.
Table of Contents
Visla: An Overview
Visla is an AI tool that allows users to create high-quality videos efficiently using the power of artificial intelligence.
Features
Undeniably, Visla's array of features is impressive and meticulously designed to enhance video creation and storytelling. Firstly, one cannot ignore the remarkable AI Video Generator that utilizes advanced artificial intelligence technology to produce incredibly captivating videos. This tool effortlessly transforms ideas into persuasive narratives, saving massive amounts of time typically invested in traditional video production.
Use Cases
Visla, with its superior AI-powered technology, can be leveraged in many scenarios. Some of these include:
Video Creation: Visla's AI video generator can create high-quality and compelling videos for marketing campaigns, social media posts, or website content. This feature uses AI to turn ideas into attention-grabbing visuals.
Visual Storytelling: Visla provides an effective platform for visual storytelling, thanks to its advanced AI tool that helps craft captivating narratives through video.
Content Generation: With Visla's AI capabilities, users can streamline content generation and save significant time while creating professional-grade videos.
Video Editing: The advanced features offered by Visla allow users to edit their videos efficiently and effortlessly.
Professional Video Production: Visla offers a sophisticated solution for professional video production needs, whether for an individual project or a business requirement.
Compelling Storytelling: Through its AI video generator feature, the tool aids in transforming simple ideas into compelling stories – a powerful means of connecting with audiences in today's digital world.
Pros and Cons
Every software tool has strengths and flaws, and Visla is no exception. Weighing the pros against the cons can provide critical insights to businesses considering using Visla's AI video generator. Let's delve into the pros and cons of Visla:
| | |
| --- | --- |
| Pros | Cons |
| Visla's AI video generator uses AI technology to create visually stunning videos. | As with any AI tool, unpredictability can be an issue. It may not always deliver the desired output. |
| Visla's AI utilizes chatGPT technology to customize your video's tone and style. | While innovative, using chatGPT technology may require some time to understand and maneuver. |
| The AI technology can generate scripts and easily revise them in Advanced Story Mode. | The software's Advanced Story Mode feature may be complex for users new to video editing. |
| Visla's AI video generator is a time-saving tool for creating professional videos. | As comprehensive as it is, the tool might be perceived as too high-end for beginners or small-scale use. |
| The tool is user-friendly and requires no extensive video editing skills. | Despite the user-friendly interface, users may still need to invest time to learn how to maximize its features. |
Assessing the pros and cons of Visla's AI video generator allows potential users to decide on its utility for their specific needs.
How to Use Visla
To use Visla, simply follow these steps: access the tool, input your ideas or concepts, customize the tone and style using chatGPT technology, select relevant footage from the recommendations provided by the AI generator, and let Visla automatically create a visually stunning video with an AI-generated voiceover synced to your content.
A step-by-step guide to using Visla
To make the most of Visla's AI video creation capabilities, follow this step-by-step guide:
Sign up: Create an account on the Visla platform by providing your email and choosing a password.
Explore features: Familiarize yourself with Visla's powerful features, such as the AI video generator and AI-generated content (AIGC) tool.
Generate a storyboard: Start by brainstorming ideas for your video. Use Visla's intuitive interface to create a storyboard that outlines the sequence of scenes and key elements you want to include.
Upload media: Gather relevant images, videos, or audio files you want to incorporate into your project. Simply drag and drop them into the appropriate sections in Visla.
Customize settings: Adjust various settings, such as video duration and aspect ratio, to align with your intended audience or platform requirements.
Choose a style template: Select from a range of pre-designed templates that suit the mood and theme of your video. These templates offer professionally-crafted aesthetics and effects.
Edit visuals: Fine-tune your visuals by cropping, resizing, or repositioning elements within each scene using Visla's user-friendly editing tools.
Enhance with AI-generated content: Opt for the AI-generated content (AIGC) feature to automatically generate storylines based on your chosen theme or input keywords related to your video concept.
Add voiceover: Use Visla's voice synchronization feature to automatically sync an AI-generated voiceover with your video scenes, resulting in a polished final product.
Review and finalize: Take advantage of Vista's preview option to review your video before finalizing it. Make any necessary adjustments until you're satisfied with the outcome.
Export and share: Once you're done editing, export your completed video in a high-definition format compatible with various platforms like YouTube, social media channels, or your website.
Conclusion
In conclusion, Visla is an impressive AI tool that revolutionizes content creation by effortlessly turning ideas into visually stunning videos. Its automated intelligence and advanced features like transcript-based editing and chatGPT customization offer endless possibilities for creating high-quality, hyper-personalized videos.
Although there may be some limitations and considerations regarding SEO and audience targeting, the overall benefits of using Visla outweigh any drawbacks. With Visla's AI technology, you can efficiently create engaging video content that captivates your audience and elevates your marketing efforts.
FAQ
In what ways does Visla simplify the process of video creation?
Visla integrates a groundbreaking AI-assisted workflow, enabling users to easily generate and manipulate videos.
What are the ways I can utilize Visla?
Visla can capture videos, disseminate content, and, naturally, do video editing. It allows for rapid content creation and repurposing for sharing with team members and clientele.
Why is it necessary to install both the desktop and mobile clients of Visla?
By installing both clients, you will have access to an expanded range of Visla's features, including recording, teleprompter, and customizable layouts, thus unlocking the full potential of Visla's video creation capabilities.
Which languages does Visla support?
Currently, Visla only can transcribe and display text in English. However, plans are in place to include more languages as the platform continues to be enhanced.