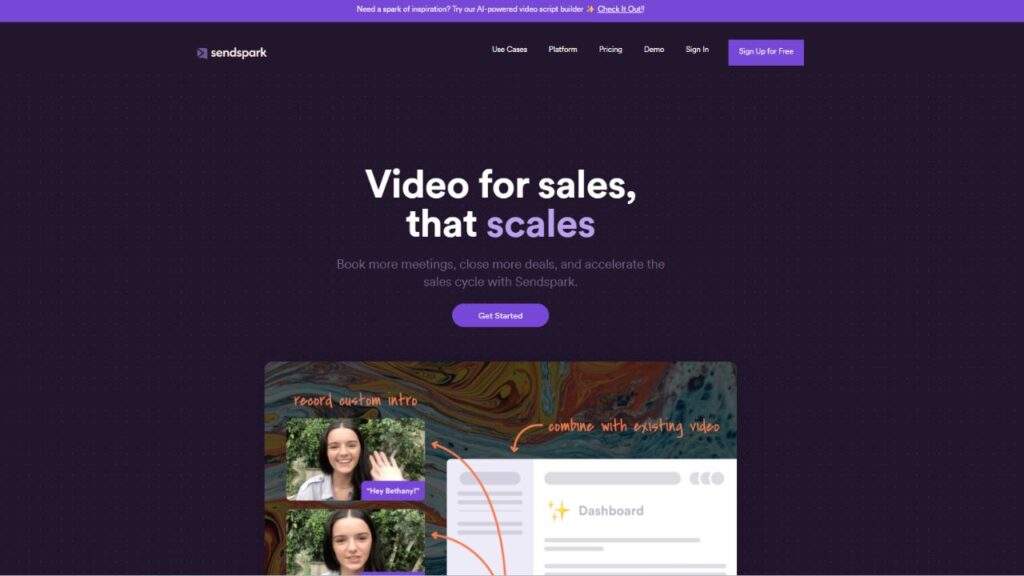 Sendspark is an AI – powered video communication tool that offers a range of features to enhance marketing and sales strategies. It provides solutions for sales acceleration, product demonstrations, success stories, and case studies. The platform's AI-powered script builder sparks creativity when creating video scripts, while features like video recorder, email integration, and camera filters help create professional-grade videos easily.
Table of Contents
Sendspark: AI Tool Features
Sendspark offers a range of AI-powered features that elevate video communication and marketing strategies.
Overview of Sendspark
Sendspark stands as a revolutionary AI tool contributing significantly to the video marketing landscape. The platform provides stellar solutions for various business needs, including sales acceleration, product demonstrations, success stories, and case studies.
Its unique features encompass an intuitive video recorder and email integration system that personalizes communication at scale. Sendspark's AI-powered video script builder sparks creativity while ensuring professional-quality output for over 10,000 sellers worldwide.
As we navigate our increasingly remote-first world, Sendspark capitalizes on the power of personalized video messaging to humanize outreach strategies with remarkable results—achieving increased response rates and email conversions by up to five times! It's more than just a tool; Sendspark represents a whole new approach towards global outreach in sales.
Key features of Sendspark AI
Sendspark is a robust AI tool infusing an innovative edge to video solutions for marketing, sales, and more. The platform isn't short on compelling features, each designed to streamline and optimize your video content efforts:
**AI-Powered Video Script Builder**: As a key feature of Sendspark, the AI-driven video script builder sparks creativity and inspiration when creating scripts for your videos.
**Video Solutions**: Sendspark provides comprehensive video solutions catering to different business areas like marketing, sales, integrations, success stories, and case studies.
**Video Recorder**: With a built-in video recorder feature, creating professional-grade videos is no longer a tedious job.
**Video Emails**: Sendspark takes email communication to another level with interactive video emails that engage effectively with recipients.
**Camera Filters for videos**: Add a touch of finesse to your videos with various camera filters offered by Sendspark.
**Personalization in Videos**: Individualize communication through personalization; humanizing connections has never been easier.
**Bulk Personalization of videos**: This feature allows you to personalize multiple videos concurrently – saving time without losing the personalized touch.
**Video Analytics and Metrics**: Make informed decisions with takes from detailed in-depth analytics provided on your videos' performance.
**Request Videos Feature**: An innovative way to solicit clients' or collaborators' feedback via requested videos on the platform itself.
**Custom Domain for videos: ** Establish credibility by hosting your videos under custom domain names, enhancing brand visibility and recall.
Sendspark Reviews: Pros and Cons
Users have praised Sendspark for its user-friendly interface and powerful features, but some have mentioned occasional glitches and limited customization options as downsides.
Reviews from users
Sendspark's user reviews highlight its role in transforming remote sales strategies. Sales professionals around the world laud it for its personalized video messaging feature, which offers a more personal and effective mode of communication than traditional emails.
They report that this AI-powered platform has boosted their global sales outreach phenomenally, enabling them to connect with buyers worldwide irrespective of time zones or geographical boundaries.
Moreover, users have been impressed by Sendspark's video analytics for sales. This feature provides real-time insight into how clients interact with their videos, helping them fine-tune their approach based on customer preferences and behaviors.
Users have found this data invaluable in developing targeted, result-driven campaigns that resonate with their audience.
The ability to automatically customize video thumbnails is another popular element amongst users—it grabs attention while delivering relevance at scale. Additionally, the platform's unique capability of integrating pre-recorded content with custom videos has allowed businesses to streamline and scale up their outreach efforts effectively.
However, it's not all roses; some users have pointed out that there is room for improvement in terms of user-interface intuitiveness and pricing flexibility. But overall, Sendspark earns high marks from most users given its innovative features supporting remote sales strategies through an emphasis on visual media.
Pros of using Sendspark
Sendspark offers a range of benefits that make it a powerful tool for video communication and marketing. Here are some pros of using Sendspark:
Video marketing: Sendspark provides an effective platform for incorporating videos into your marketing strategy. With its AI-powered script builder, you can easily create engaging and personalized video content to connect with your audience.
Sales acceleration: For sales professionals, Sendspark helps accelerate the sales cycle by allowing them to send personalized video messages that stand out from traditional methods. This personalized outreach can help book more meetings and close deals faster.
Remote communication: In today's remote-first world, Sendspark enables seamless remote communication through video messaging. It allows you to connect with clients and prospects from anywhere, providing a personal touch even when face-to-face interactions are not possible.
Personalized messaging: With Sendspark, you can create customized videos tailored to each recipient, making your outreach more personal and impactful. This personalization helps build stronger connections and makes your messages stand out.
Video analytics: Sendspark provides in-depth video analytics that give you insights into viewer engagement and interaction. You can track metrics like play rates, watch times, and click-through rates to understand how well your videos are performing and optimize future campaigns accordingly.
Asynchronous communication: Unlike live meetings or phone calls, Sendspark allows recipients to view videos at their convenience. This asynchronous communication saves both parties time and eliminates the need for scheduling conflicts or time zone differences.
Global reach: With Sendspark, geographical barriers become irrelevant as you can connect with clients and prospects worldwide. This global reach expands your market potential and allows for increased opportunities for growth.
Higher engagement rates: Video has been proven to have higher engagement rates compared to traditional text or image-based content. By utilizing Sendspark's video capabilities, you can capture your audience's attention more effectively and leave a lasting impression.
Customized connections: Sendspark enables you to create personalized videos that establish a stronger connection with your audience. Whether it's addressing them by name or referencing specific details, these custom connections help build trust and foster meaningful relationships.
Cons of using Sendspark
Limited editing capabilities: Some users find that Sendspark's video editing features are basic compared to other video messaging tools. There may be limitations when it comes to customizing the appearance and layout of videos.
Pricing can be expensive for small businesses: While Sendspark offers a range of pricing options, including a free plan, some small businesses may find the paid plans to be costly, especially if they require additional features or higher usage limits.
Learning curve for new users: Although Sendspark provides tutorials and support documentation, some users report that there is a learning curve associated with using the platform effectively. It may take time and practice to fully understand all the features and functionalities.
Limited integrations with other platforms: While Sendspark integrates with popular email marketing tools like Mailchimp and HubSpot, some users have expressed disappointment in the limited range of integrations available. This could hinder workflows for those who rely heavily on specific software or applications.
Platform stability and performance issues: Occasionally, some users have experienced stability issues or
Sendspark Pricing
Sendspark offers various pricing options, including an entry-level set-up fee, to cater to different business needs and budgets.
Pricing options for Sendspark
Sendspark provides a range of pricing options tailored to different user requirements, from the free plan to advanced options. The following table provides a detailed view of the pricing structure:
| | | |
| --- | --- | --- |
| Pricing Plan | Price | Features |
| Free Plan | $0/User/Month | Video recording, requesting videos, personalizing thumbnails, sharing videos anywhere, 30 video library, uploading and downloading videos, logo and brand styles, calls-to-action, and detailed analytics. |
| Video Messaging Plan | $12/User/Month | All features of the Free Plan, plus unlimited videos, custom domain, admin dashboard, CRM integrations, and a customer success manager. |
| Personalization at Scale Plan | $39/User/Month | All features of the Video Messaging Plan, plus rapid personalization. |
| Team and Management Plan | $129/Month for 5 Users | All features of the Personalization at Scale Plan, plus team collaboration. |
Based on your video messaging needs and the size of your team, Sendspark offers a unique solution at a suitable price. The available options give you the flexibility to choose a plan that suits your budget and your video communication requirements.
Entry-level set up fee
Sendspark offers an entry-level set up fee that provides access to its powerful AI video tool. With this fee, users can unlock the full range of Sendspark's features and capabilities for their video marketing needs.
This includes the ability to create personalized videos, enhance email conversions, improve prospect engagement, and boost sales prospecting efforts. The pricing options are competitive and cater to businesses of all sizes.
By investing in Sendspark, users can take advantage of its innovative technology and unlock the potential for increased email response rates and overall success in their sales enablement strategies.
Sendspark Alternatives
Here are some top options to consider:
Vidyard: Vidyard offers a comprehensive video platform with features like personalized video emails, video hosting, analytics, and integrations.
BombBomb: BombBomb focuses on humanizing communication through video, offering tools for video email marketing, recording videos, and tracking engagement.
Loom: Loom allows users to record and share videos quickly and easily. It integrates with popular messaging platforms like Slack and offers features such as screen recording and video editing.
Hippo Video: Hippo Video is a complete video marketing platform that includes features like video creation, hosting, personalization, analytics, and integrations with various marketing tools.
Covideo: Covideo specializes in personalized video messaging for sales professionals. It provides features like custom branding, call-to-action buttons, analytics, and CRM integration.
Conclusion
In conclusion, Sendspark is a game-changing AI tool that revolutionizes video communication for marketing and sales professionals. With its innovative features, positive user reviews, and competitive pricing options, it is undoubtedly a top choice in the market.
However, if you're looking for alternatives, make sure to do your research and compare features and pricing to find the perfect fit for your business needs. Don't miss out on this powerful tool that can take your video outreach efforts to new heights.
FAQs
What is Sendspark?
Sendspark is an AI-powered video communication tool that provides solutions for sales acceleration, product demonstrations, success stories, and case studies. It offers features like a built-in video recorder, email integration, and camera filters to create professional-grade videos.
What are the features of Sendspark's AI tool?
Sendspark's AI tool offers various features such as personalized video creation, interactive call-to-action buttons, screen recording capabilities, custom branding options, and analytics to measure engagement and viewer behavior.
How much does Sendspark's AI tool cost?
The pricing for Sendspark's AI tool varies depending on the package chosen. They offer different tiers , from a basic plan with limited features to more advanced plans catering to larger businesses with higher demands. It is recommended to visit their website or contact their sales team for specific pricing details.
What are the pros and cons of using Sendspark?
Pros of Sendspark include its video marketing capabilities, sales acceleration, seamless remote communication, video analytics and asynchronous communication. However, cons of Sendspark include limited editing capabilities, expensive pricing for small businesses, a learning curve for new users, limited integrations with other platforms and restricted functionality on mobile devices.
What are the pricing plans available for Sendspark?
Sendspark has various pricing plans ranging from a Free plan, Video Messaging plan at $12 per user/month, Personalization at Scale plan at $39 per user/month, and a Team and Management plan at $129 per month for 5 users. Each plan includes access to different features.
What are the alternatives to Sendspark?
Alternatives to Sendspark include Vidyard, BombBomb, Loom, Hippo Video, and Covideo. Each of these alternatives offer video-based solutions for marketing and sales strategies, with varying features and pricing.
What makes Sendspark a good choice for video communication and marketing?
Sendspark combines AI with video communication and marketing, making it a powerful tool for personalizing customer interactions. Its robust features, ability to elevate sales strategies, and competitive pricing make it an excellent option for businesses seeking to improve their video strategies.
What type of businesses can benefit from using Sendspark?
Any business seeking to improve their video marketing and communication strategies can benefit from Sendspark. This tool is especially useful for sales teams looking to personalize their outreach and improve customer engagement through video content.