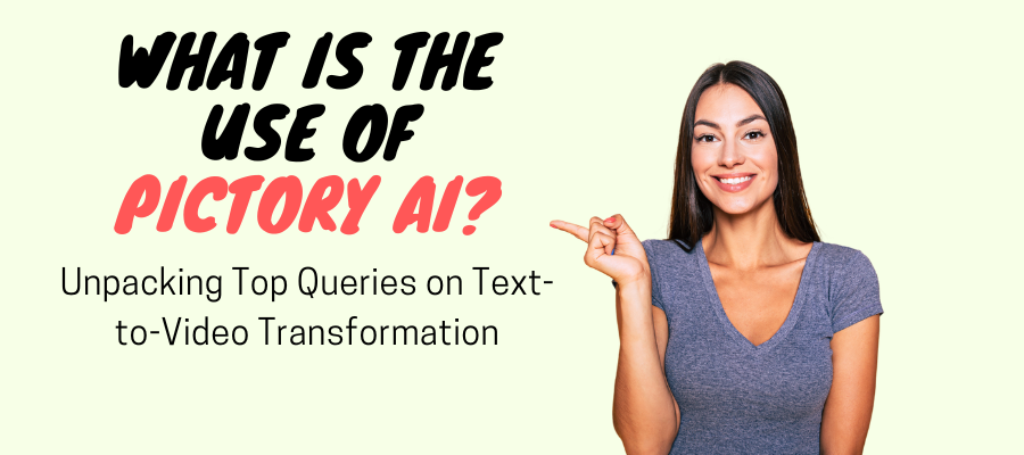 Pictory is a cloudbased software tool that uses artificial intelligence to help users create high-quality videos with ease, featuring all the necessary features of a video editor.
Key Takeaways
Pictory is an innovative AI – powered video editing tool that simplifies the process of creating professional videos without any technical skills or software downloads.
The platform's artificial intelligence technology makes it easy to transform long-form written content into visually stunning short-branded videos for social media platforms and other marketing campaigns.
Pictory offers a variety of pricing plans tailored to different users' needs with each plan having features such as up to 60-minute video length, no branding on videos, advanced editing tools, premium illustration library, API access among others.
Users have praised the platform's user – friendly interface and powerful capabilities in image recognition and processing while also commending its CEO leadership for constant improvements based on customer feedback.
Table of Contents
Harnessing the power of artificial intelligence, Pictory aims to revolutionize content marketing by offering an innovative solution for converting text into visually engaging videos.
This groundbreaking software simplifies video creation, making it accessible even to those who have no prior experience in the field.
As a cloud-based software, Pictory provides seamless integration with other programs and platforms, ensuring a smooth workflow when working on various projects. Its extensive library of stock videos allows users to find the perfect clips for enhancing their messages while its automated video editing capabilities save time and effort without compromising on quality.
Furthermore, as part of its AI-driven features, Pictory is able to analyze text input intelligently and present appropriate visual elements that effectively deliver your message across different channels.
Pictory offers a variety of pricing plans tailored to different users' needs and budgets. The following table provides a detailed breakdown of these plans and their corresponding features:
Price
Features
$0

Up to 3 video exports per month
Up to 1-minute video length
PictoryAI branding on videos
Basic AI and editing tools

$19/month

Up to 10 video exports per month
Up to 3-minute video length
No PictoryAI branding
Standard illustration library
Email support

$59/month

Unlimited video exports
Up to 15-minute video length
No PictoryAI branding
Advanced editing tools
Premium illustration library
Email and chat support

Custom pricing

Unlimited video exports
Up to 60-minute video length
No PictoryAI branding
Advanced editing tools
Premium illustration library
API access
Dedicated account manager and support
By providing a range of pricing options, Pictory accommodates users with varying budgets and requirements, making it accessible to a wide audience.
Pictory AI is revolutionizing the video creation process through its remarkable features, offering users an efficient and seamless experience. Some of the key Pictory AI features are:
Artificial intelligence: Utilizing advanced AI algorithms to analyze text and curate relevant images and video clips for engaging content.
Video creation: Effortlessly transforming long blog posts into captivating short videos.
Text analysis: In-depth analysis of textual content to identify crucial elements and create compelling visual highlights.
Image selection: Automatically selecting appropriate images to enhance the overall impact of the video.
Video clip selection: Smartly choosing relevant video clips that complement your textual content.
Shortform content: Creating and downloading easily digestible short-form highlights from long-form articles or blog posts.
Software integration: Seamlessly integrates with various other software tools to further streamline your workflow.
Accuracy: Ensures precise results in terms of content relevance, imagery, and overall presentation.
Pricing model: Offers a transparent pricing setup, allowing users to explore various options based on their needs.
Paid software: Though not free, Pictory AI's impressive capabilities make it a worthy investment for businesses seeking effective video marketing solutions.
Pictory AI User Ratings
Pictory AI has garnered positive ratings from its users, reflecting the high level of satisfaction with the tool's performance and capabilities. Here is an overview of Pictory AI user ratings:
| Rating Category | Score |
| --- | --- |
| Overall Satisfaction | 4.5/5 |
| Ease of Use | 4.4/5 |
| Features and Functionality | 4.3/5 |
| Customer Support | 4.2/5 |
| Value for Money | 4.5/5 |
These ratings indicate that users find Pictory AI to be a user-friendly tool offering valuable features at a competitive price point. The platform's strong customer support also contributes to its high ratings, ensuring a positive user experience.
What People Are Saying About Pictory?
Users and reviewers praise Pictory for its user-friendly interface, ability to quickly create high-quality videos, and the convenience of having an AI partner in content creation.
Pictory AI Reviews
Pictory AI has received numerous positive reviews from users across different industries. Many have praised the image recognition software for its powerful artificial intelligence technology that analyzes scripts and inserts professional-quality videos relevant to the topic at hand.
Educators, YouTubers, and marketers alike find Pictory to be a useful tool in their work. The platform's script analysis feature helps instructors and teachers present complex concepts more effectively using visual aids, while YouTubers can use it as a partner for content creation and YouTube marketing campaigns.
Overall, Pictory stands out among other online video creation platforms for its versatility and ability to produce professional-quality videos with ease.
User Feedback
According to user feedback, Pictory AI is a reliable and efficient video creation software. Users have praised the platform's artificial intelligence technology that simplifies the process of content transformation, resulting in professional-looking videos for businesses with just a few clicks.
The CEO leadership has also been commended for their dedication to constantly improve Pictory's features and functionalities based on customer feedback. Additionally, users appreciate the mobile application which enables them to create videos on-the-go and the easy-to-use login/signup feature that allows them to save their work in progress.
Pictory may be a top contender in the video creation and content creation market, but it's not the only player out there. Here are some of the popular alternatives to Pictory that you may want to consider:
InVideo – An online video maker that uses AI to simplify the video creation process
Synthesia – AI-powered video editor that allows users to create videos with virtual presenters
Lumen5 – A multimedia software that turns blog posts into engaging videos
Steve AI – A content creation tool for creating social media videos and ads.
Canva – Not just a graphic design tool, but also an animated video creator.
Descript – A media creation software that offers easy-to-use tools for editing audio and video files.
Animoto – Video production app for creating professional-looking marketing videos.
WeVideo – Online video editor suitable for personal as well as professional use.
ClipChamp – A top – rated online video maker with tools such as voice recording, green screen editing, special effects and more.
These alternatives offer various features and pricing options suitable for different kinds and scales of projects from beginners to professional marketers or businesses who need a comprehensive solution at their fingertips.
Pros And Cons Of Pictory AI
Pictory AI comes with several benefits that make it an excellent option for those looking to create engaging content quickly and easily.
Positive
Time-saving and efficient: Pictory AI automates the process of creating professional-quality videos, drastically reducing the time it takes to produce engaging content.
Automatic image resizing: Pictory AI recognizes the size and resolution of your images and automatically resizes them to fit the video format, eliminating the need for manual resizing.
Optimization: Pictory AI uses advanced algorithms to optimize your videos for maximum engagement, ensuring that they are perfect for sharing on social media platforms like Facebook, Instagram, and Twitter.
Negatives
Limited customization options: While Pictory AI creates professional-quality videos quickly and easily, the templates and styles available may not suit all brands or content types. Users looking for more customizability may need to use another tool or hire a professional video editor.
How Pictory Can Benefit You?
Pictory can benefit you by providing a complete video marketing toolkit that makes creating professional videos for your business easy and efficient, with features like stock footage, music, voiceovers, and AI content creation.
Your Complete Video Marketing Toolkit
Pictory is a complete video marketing toolkit that can benefit businesses looking to improve their marketing efforts. With Pictory's AI-powered strategic video marketing solution, businesses can create effective video content quickly and easily.
With Pictory, you have access to a suite of tools that make it easy to create professional videos for business purposes. You'll be able to turn your blog post into an engaging video as part of your content creation strategy.
Plus, Pictory's AI technology can extract the most compelling parts of your content and turn them into short, branded videos that will captivate your audience and boost engagement with your brand.
Video Creation Made Easy
Creating high-quality videos can be a time-consuming and technically challenging endeavor. However, with Pictory, video creation has never been easier. By using powerful AI technology, Pictory allows users to turn their written content into professional-quality videos effortlessly.
Say goodbye to tedious and complicated video editing tools—Pictory provides streamlined video production in an innovative package.
Whether you are a business owner looking to enhance your marketing efforts or an individual trying to create stunning videos without technical skills or expensive equipment, Pictory is the partner for you.
Best Online Video Creator
Pictory is the best online video creator for businesses and content creators looking to take their video marketing strategy up several notches. With Pictory, you get access to a powerful AI-driven software that helps in generating visually appealing videos without any technical or professional experience.
With Pictory's easy-to-use interface, creating a professional-grade video production has never been easier. Whether it's editing or designing original content from scratch, this cloud-based software makes everything seamless.
AI Partner For Content Creation
Pictory.ai is an AI-driven tool that revolutionizes the way content creators approach visual content creation. With its intelligent image generation and editing tools, Pictory serves as an automated creativity partner for users, making it easier to produce eye-catching graphics and videos that stand out on social media platforms.
Its user-friendly interface allows them to create visuals quickly while still giving room for customization and personalization. Furthermore, Pictory can convert existing written or video content into engaging visuals without losing valuable information.
Creating Professional Videos For Business
Pictory is the perfect video creation software for businesses seeking high-quality videos to promote their products and services. Here are some of the ways Pictory can assist in creating professional videos:
Pictory's AI video editing feature allows for efficient video editing processing, ensuring impeccable video quality with minimal effort.
The software streamlines the video creation process, simplifying the task of creating engaging content.
Pictory is ideal for online course creators, as it offers easy captioning and editing options that save time and ensure that your content is accessible to a broad audience.
The image recognition software can help businesses repurpose written content into short videos, making it easier to create engaging visual content quickly.
With Pictory's ability to provide efficient video marketing strategy services, businesses have a reliable tool that works alongside them toward their business goals.
Overall, using Pictory can be highly beneficial for any business seeking to create professional and high-quality videos without investing too much time or money.
Conclusion
In conclusion, Pictory.ai is a cutting-edge video creation software tool that makes video marketing easy and accessible to everyone. With its powerful artificial intelligence capabilities and user-friendly interface, users can create high-quality videos without any technical skills or software downloads.
From social media videos to explainer videos, Pictory has all the necessary features of a video editor to help businesses and marketers succeed in their video marketing campaigns.
The tool's ability to transform long-form content into visually stunning short-branded videos saves time while creating flawlessly beautiful visuals.