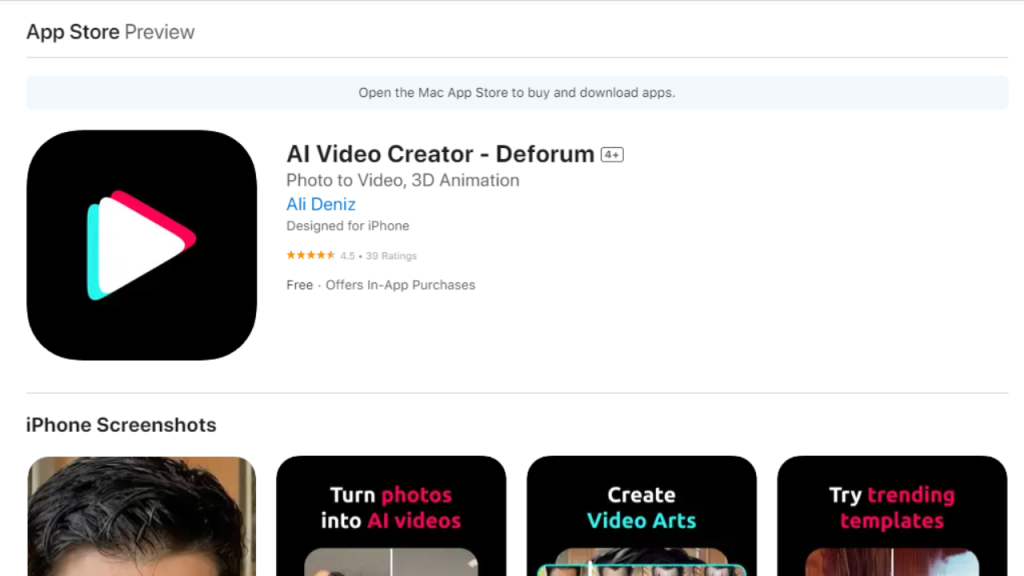 Deforum Video Generator is an AI-powered application designed to effortlessly transform photos into high-quality videos. It boasts features like automatic subtitles and a range of styles for customization. While the app offers additional features for purchase, catering to various needs and budgets, and even has weekly subscription options for budget-conscious users, potential downsides include the costs associated with these extra features.
Table of Contents
Key Takeaways
Deforum Video Generator is an AI tool that turns photos into quality videos. It comes with automatic subtitles and a variety of styles for users.
You can purchase extra features in the app tailored to different needs and budgets, even providing weekly subscriptions for cost-conscious students.
Like most tools, it has its pros, like easy use and high-quality outcome, but also cons, such as potentially high costs from buying extra features within the app.
Alternatives to this tool exist; GliaCloud, Synthesia, Pictory, Steve Ai, and DeepBrain Ai, among others, offer similar video-creating abilities that you might find better suited for your needs.
Features of Deforum Video Generator
Deforum Video Generator is an advanced AI tool that expands the video creation process with enhanced quality. It notably offers capabilities such as subtitle generation for comprehensive understanding and accessibility.
Its defining aspect is the AI-powered video generation that enables the creation of stunning visual stories from simple text or still images, ideal for social media sharing and going viral.
Whether restyling existing videos or transforming photos into expressive narratives, Deforum promises impressive outcomes in all aspects of digital storytelling.
Enhanced video creation quality
The Deforum Video Generator stands out for its high-caliber video creation quality. It employs advanced video editing technology to output videos that capture attention immediately.
At the core of this impressive performance is its ability to perform content analysis and enhancement, thanks to its proprietary Stable Diffusion technology. This mechanism allows the app to render visually impressive videos precisely and within a shorter time frame.
Its latest update (Version 1.3.0) significantly escalates AI video generation speed and further optimizes completed video quality, garnering high ratings from users so far.
Subtitles generation
Deforum Video Generator unveils an impressive feature – automatic subtitles generation. This cutting-edge option makes video content accessible and engaging to a broader audience who can now comprehend the message even without audio.
It effectively breaks down language barriers, ensuring everyone gets equal access to information.
The Deforum tool does more than generate subtitles. Users get exclusive power of customization over their templates with options like adding text overlays or syncing music. Perfect equilibrium of sound and visuals adds immense depth to these videos, making them stand out in this digital era where viewers' attention is highly contested.
Advanced technology powers the app in analyzing raw content and transforming it into visually appealing videos brimming with characteristically vibrant subtitles!
AI-powered video generation
With advanced AI technology, the Deforum Video Generator greatly enhances video creation. The tool can transform still photos into dynamic videos, allowing for a more significant storytelling impact in projects.
Popular styles like anime and Joker themes are readily available as options. Using artificial intelligence for content analysis and enhancement, this powerful app elevates video quality to a new level.
It improves visual appeal, and speed is another outstanding advantage – creating videos faster than traditional methods. With various templates and styles at your fingertips, making appealing videos has never been easier!
Pricing of Deforum Video Generator
Deforum Video Generator employs a pricing model that is both flexible and convenient. With an array of in-app purchases, the app caters to different user needs and budgets. Students on a budget will appreciate the option for weekly subscriptions to the AI Video Generator, which offers accessibility without breaking the bank.
Discounted credit packs are another economical choice within Deforum's pricing strategy. These credit packs help users save while unlocking advanced features or enhancing their video creation experience further.
Be it preloaded templates or exciting styles such as anime, Joker, and cyberpunk, these can be easily acquired using accrued credits.
Alongside these options, seamless social media integration gives students more value for their investment by making sharing on platforms like Instagram, TikTok, and YouTube easier.
Regardless of your requirements for this application – one-off project usage or regular video generation – a suitable price package will be available in Deforum Video Generator.
Pros and Cons of Deforum Video Generator
Deforum Video Generator is a cutting-edge tool with many valuable features, but like most AI tools, it also has its downsides. Below is a table illustrating the pros and cons of this software.
| | |
| --- | --- |
| Pros | Cons |
| The Deforum – AI Video Creator app allows users to easily transform their photos into captivating videos. | In-app purchases could add up for users needing extensive video creation, including a weekly subscription to AI Video Generator and discounted credit packs. |
| With a range of video templates, including styles like anime and Joker, students can find formats that suit their individual needs and preferences. | As with any AI software, there could be a learning curve for users to fully understand and utilize all features. |
| The app's seamless integration with popular social media platforms enables easy sharing of created videos. | While the app has a rating of 4.5 out of 5 from 39 users, some users may experience differing levels of satisfaction and performance. |
| A noteworthy advantage is the recent update (Version 1.3.0) that improves AI video creation speed and video quality. | Users may find alternative apps like StyleAI: AI Video Generator or Flux – AI Video Editor that offer similar functionalities but with different pros and cons. |
Alternatives to Deforum Video Generator
Multiple substitutes for Deforum Video Generator exist, including GliaCloud, Synthesia, Pictory, and Steve Ai. Other viable alternatives encompass DeepBrain Ai, Genmo, HeyGen, Neural Frames, Kaiber, and Lumen5.
The final alternative is Stable Diffusion Deforum, which comes well-rated in AI-driven video creation tools.
GliaCloud
GliaCloud stands as a notable competitor in the field of online video platforms. Known for its AI-powered video editing capabilities, this robust multimedia content generation tool somehow manages to be affordable without cutting corners on quality or functionality.
Students appreciate that GliaCloud provides abundant animated explainer video templates and visual storytelling tools comparable to those found in Deforum Video Generator.
The customizability options it brings hardly leave anything more to desire for students striving for personalized creative expression. Its unique features enhance videos and play a pivotal role in crafting powerful video marketing strategies.
It's hard to ignore how effectively GliaCloud has provided comprehensive video production solutions as an alternative for Deforum Video Generator users.
Synthesia
Synthesia holds a unique position among Alternatives to Deforum Video Generator. This platform empowers students in their AI video creation endeavors, specializing in photo-to-video conversion with impressive quality.
Synthesia's prowess in visual content enhancement is noteworthy, similar to Stable Diffusion technology found in the Deforum app. The flexibility of designing videos using numerous template options reflects their focus on a user-friendly experience akin to preloaded templates of Cyberpunk, Joker, and Anime styles available on Deforum.
Pictory
Pictory stands as an exceptional alternative to the Deforum Video Generator. It simplifies video creation and production with its AI-powered tools. Pictory can be particularly helpful for students, offering features such as automation of editing tasks and subtitles generation.
The software supports various video formats, allowing effective online video sharing across different media platforms. With a focus on user convenience, Pictory presents practical solutions in the world of video editing needs.
Steve Ai
Steve Ai stands out increasingly among the digital realm of video creation tools. It uses tailored algorithms to streamline and simplify your content development process. Its AI approach lets users quickly turn text inputs into sleek, professional videos suitable for marketing strategies or projects.
This advanced online video editor harnesses the potential of machine learning to bring creative visions to life with minimal effort from users. Steve Ai offers features like automatic scene choices, voiceovers, soundtracks, and many more, making it a worthy consideration when looking for alternatives to Deforum Video Generator.
DeepBrain Ai
DeepBrain Ai has emerged as a strong player in video generation. This app lands high user marks, boasting an impressive rating of 4.5 out of 5 based on feedback from 39 content creators.
Developed by Ali Deniz and owned by AppVision, DeepBrain Ai upholds strict privacy policies and terms of use that can easily be accessed on its website. Ease-of-use and advanced features make this platform an ideal alternative to the Deforum Video Generator, especially for those pursuing diversity and innovation.
Genmo
Genmo ranks among the top alternatives to the Deforum Video Generator, noteworthy for its AI-powered video creation. Similar to other multimedia presentation tools, Genmo seizes upon cutting-edge features that favor automated video generation from images.
This upgraded functionality is likened to a high-efficiency photo slideshow maker and an image-to-video converter rolled into one software package. So, if you're seeking innovative video editing solutions beyond the Deforum offering, explore what Genmo brings.
HeyGen
HeyGen, another worthy alternative to the Deforum Video Generator, brings impressive features for students wanting to create engaging videos. Powered by artificial intelligence, HeyGen delivers top-notch video generation capabilities that include anime-themed and joker-themed options.
Its template diversity and animation styles are on par with the Deforum Video Generator. Users can immediately share their creations across popular platforms due to its seamless social media integration feature.
Like the Deforum Video Generator, user feedback and reviews vouch for HeyGen's efficiency in generating high-quality videos catering to student needs.
Neural Frames
Neural Frames captures attention with its cutting-edge AI video creation features. The tool is a strong alternative to Deforum Video Generator, offering versatile photo-to-video conversion options.
It provides an array of captivating video creation templates ideal for producing high-quality content on social media platforms.
Advanced algorithms form the backbone of Neural Frames, enabling precise content analysis and visual enhancement. Whether you're aiming for anime-style videos or eye-catching joker-style creations, this software makes it possible.
Whether your goal is transforming selfies into engaging narratives or elevating standard photos into cinematic presentations, Neural Frames empowers creativity and imagination.
Kaiber
Kaiber stands as a remarkable alternative to the Deforum Video Generator. Offering a rich array of features, this video editing software provides users with an intuitive and user-friendly interface.
Compared to other online video creation tools, Kaiber's strengths lie in its optimized output quality, diverse template selections, and extensive customization capabilities. Furthermore, it supports various multimedia formats for hassle-free importing and exporting procedures.
As such, students find it practical for their school projects that require compelling visual presentations. Robust yet easy to navigate, Kaiber makes the process seamless, even for novice video creators!
Lumen5
Harnessing the power of artificial intelligence, Lumen5 offers a user-friendly platform for video creation. Its capabilities extend to transforming images into captivating videos, making it an excellent alternative to Deforum Video Generator.
Students can enjoy exploring a diverse set of video templates and animation styles offered by Lumen5, including trendy anime and joker themes. Moreover, Lumen5 simplifies the process of sharing created videos as it integrates seamlessly with Instagram, TikTok, and YouTube.
Given its impressive features and high user ratings that stand at 4.5 out of 5 according to positive reviews, Lumen5 is an outstanding choice for AI-powered video creation. It goes hand in hand with promoting educational engagement amongst students via media forms they most value.
Stable Diffusion Deforum
Stable Diffusion Deforum is an innovative tool in the AI video creation landscape. Its advanced technology enhances your video content to deliver visually appealing results that don't go unnoticed.
Powered by Stable Diffusion technology, users benefit from a swift and improved video creation process thanks to the latest updates baked into Version 1.3.0 of the app. Given its robust privacy practices concerning data handling, you can trust this tool with identifiers, usage data, and diagnostics for a safe user experience.
A range of alternatives like Flux – AI Video Editor or StyleAI: AI Video Generator offer similar capabilities should you want options when creating refined videos with sophisticated AI tech.
User Recommendations for Deforum Video Generator
Many users praise the Deforum Video Generator for its unique features and seamless social media integration. They express appreciation for its ability to transform photos into exciting videos with ease.
Its recent update has amplified these qualities, allowing faster AI video creation and upgrading overall video output.
A few alternatives also gain recognition from seasoned users. Tools like Deforum AI – Stable Diffusion, CloneAI – AI Video Generator, and Flux – AI Video Editor have been considered great substitutes.
Users love them for their similarities to the much-loved Deforum tools while providing uniquely individual features. These platforms show potential in diverse areas, such as anime-style editing or joker-themed templates, garnering a substantial fandom among students who constantly share creativity on Instagram, TikTok, and YouTube.
Conclusion
The Deforum Video Generator is more than just an app; it's a revolution in AI video creation technology. With its user-friendly features, affordable plans, and high-quality results, it sets the standard for counterparts in the industry.
Weighing the pros and cons gives users better insight into what to expect from this AI tool. This review leaves no stone unturned when exploring viable alternatives that may suit different user needs.