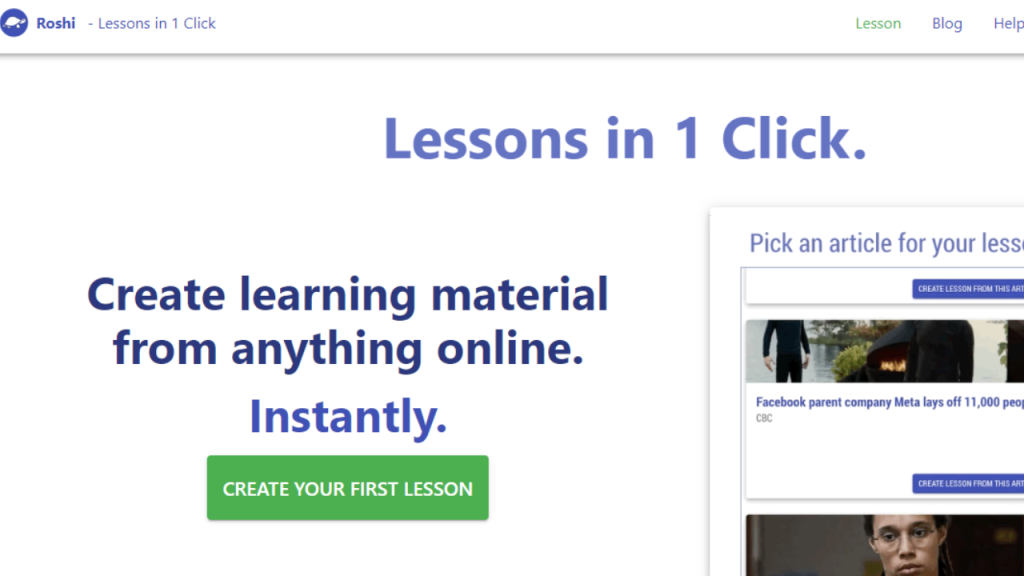 Roshi AI is a prominent AI platform designed to simplify the creation of educational content from any online source. It boasts features like text simplification and automatic question generation. The platform offers a free BASIC plan and a PRO plan priced at $14/month, billed annually. While it has limitations like restricted offline access and no mobile app availability, its strength lies in instant lesson material generation from online content. Competing platforms include TutorAI, Learnt.ai, To Teach AI, Riku.ai, and LearningstudioAI, each with distinct features and pricing structures.
Table of Contents
Overview of Roshi AI
Roshi AI is a versatile platform that simplifies creating engaging and highly tailored educational content. Through its advanced algorithms, Roshi AI expertly transforms any online text into interactive learning material suited for various proficiency levels.
In addition to this, it provides user-friendly features such as automated text simplification, customizable question generation, and robust lesson analysis tools to help boost productivity.
Furthermore, it offers a range of pricing tiers – from free access for occasional users to premium plans designed for regular educators or organizations with specific needs. A top-ranking choice in AI Writing Assistants software packages, Roshi Ai's commitment extends towards providing efficient assistance and ensuring privacy and data protection.
Features of Roshi AI
Roshi AI, a leading tool in artificial intelligence, offers an array of dynamic features designed to augment student learning experiences.
It revolutionizes the creation of learning materials, permitting users to generate educational content from any online resource with just one click.
Roshi AI's intelligent technology simplifies complex text passages, making them more understandable.
The tool can automatically generate questions based on the online content chosen, facilitating effective evaluations and reviews.
It provides an in-depth analysis of lesson content, which aids in evaluating its effectiveness and ensuring high-quality educational resources.
The user-friendly platform allows educators to create up to five monthly lessons under the free basic plan.
For those requiring more versatility and power, Roshi AI offers a PRO plan that permits unlimited creation of lessons with longer texts and more activities at a cost-effective price billed annually.
Pricing model
Roshi AI offers a simple, user-friendly pricing structure. Two primary plans are available – the BASIC plan and the PRO plan. The BASIC option is free forever. It's designed specifically for educators who occasionally create small lessons and activities.
Roshi AI provides the PRO plan at $14 monthly, billed annually for more frequent use or when dealing with longer texts. This flexible subscription translates to an annual cost of $168! Unlike the Basic package, it allows unlimited lesson creation and support for text lengths up to 1.5K words per lesson, facilitating detailed learning modules.
Pros and cons of Roshi AI
Roshi AI offers a range of benefits with some limitations. It is crucial to understand these aspects to make a well-informed decision.
| | |
| --- | --- |
| Pros | Cons |
| Provides instant learning material creation from any online content, broadening the scope of resources for users. | It may require some technical know-how to utilize all the AI functionalities efficiently. |
| Features automatic text simplification for tailored learning levels. | Lack of offline access could limit usability in some circumstances. |
| Detailed analysis of lesson content supports better evaluation of effectiveness. | Does not offer native apps for mobile devices, which restricts flexibility for users. |
| The one-click process for creating lessons makes it user-friendly. | The user interface might be challenging to navigate for beginners. |
| The platform prioritizes privacy and data protection. | The platform may face occasional downtimes, which can disrupt usage. |
Alternative AI Tools for Roshi AI
Several AI tools can be alternatives to Roshi AI, including TutorAI, Learnt.ai, To Teach AI, Riku.ai, and LearningstudioAI. These tools also offer unique features that contributing to efficient learning and personalized student support.
Each tool varies in price and presents advantages and disadvantages that a user should consider before selecting.
Tutor AI
Tutor AI revolutionizes online learning by simplifying content creation. This alternative to Roshi AI allows users to create instant lessons from any online content. Utilizing innovative algorithms, the tool tailors text selection according to a user's teaching level while enabling question generation related to the chosen subject matter.
The platform prioritizes efficiency, too – lesson building is made seamless with a single click, and detailed feedback ensures consistent advancement in teaching strategies. Further complexities need not mar your academic performance or obstruct self-paced studies.
Learnt.ai
Learnt.ai is a powerful alternative to Roshi AI by enabling users to create learning material from any online content. With just one click, it streamlines the lesson creation process and enhances teaching efficiency.
It's not limited to specific types of articles – any form of online content can be transformed into educational resources.
A unique feature that sets Learnt.ai apart is its ability to generate questions based on the learning materials you've created. This function supports interactive teaching and improves student engagement through regular quizzes.
Moreover, Learnt.ai provides an extensive analysis of your created lessons, helping you evaluate their effectiveness in imparting knowledge effectively.
To Teach AI
To Teach AI presents an innovative tool for students to delve into artificial intelligence. Harnessing this dynamic platform, users can instantly create instructional material from any online content.
It simplifies complicated text, guaranteeing learner-friendly lessons suitable for each teaching level. Instructors will appreciate the ability to generate topical questions directly related to their curated content – a task completely automated by To Teach AI for efficiency and relevance.
Moreover, it provides valuable lesson analysis through every stage of creation with just one click. This versatile tool makes learning enjoyable while navigating complex concepts in a user-friendly manner.
Riku.ai
Riku.ai serves as a potent AI tool for creating engaging educational content. By choosing any online news article or using your text, you can create tailored lessons in no time.
The platform employs artificial intelligence to simplify the selected text into a format suitable for teaching – easing the lesson-planning process. A unique feature is its ability to generate questions relevant to your chosen content, amplifying interactive learning engagement.
Riku.ai provides free and paid plans; the PRO Plan, costing $14 per month, offers more features than the basic plan, which is cost-free but limited in terms of functionalities.
LearningstudioAI
LearningstudioAI reinforces effective learning procedures with the ability to readily generate comprehensible and educational resources from any online content. This sophisticated AI tool simplifies complex text, ensuring apt teaching readiness.
It provides a unique feature of generating queries centered on targeted teaching material, facilitating interactive engagement. Users receive in-depth analysis reports based on each lesson's constituent components. All are ushered onto this modern platform by a single-click initiation process.
It curates detailed lessons efficiently and customizes instruction levels — bringing about unprecedented advancement in specific content instruction protocols.
Comparison of Roshi AI with Alternative Tools
A detailed comparison of Roshi AI and alternative tools will be presented, highlighting the differences in features, pricing models, and user reviews and ratings to aid potential users in making an informed decision.
Features comparison
The features of Roshi AI and its competitors play a major role in determining their effectiveness for students' learning. Below is a summary of Roshi AI's features and alternative AI tools.
| | | | | | |
| --- | --- | --- | --- | --- | --- |
| AI Tools | Lesson Creation | Simplification of Content | Question Generation | Content Analysis | Visual Examples |
| Roshi AI | Supports lesson creation with a single click from any online content | Capable of simplifying selected text to the appropriate teaching level | Facilitates generation of questions based on the specific content | Provides detailed analysis of the lesson content | Offers visual examples of the lesson creation process through screenshots |
| TutorAI | Yes | Yes | Yes | Yes | No |
| Learnt.ai | Yes | No | Yes | Yes | No |
| To Teach AI | Yes | Yes | No | Yes | No |
| Riku.ai | No | No | No | Yes | No |
| LearningstudioAI | Yes | Yes | Yes | No | No |
User reviews and ratings
Many users recognize Roshi AI as a capable platform, drawing from the wealth of user reviews and ratings. Students consistently appreciate its automatic text simplification feature, finding it helpful in their studies. Users also often highlight how easy the tool makes lesson creation, saving them time and effort. The platform also gains bonus points for its detailed analysis, providing insights instrumental to teaching success. Other users have compared alternatives like TutorAI and Learnt.ai, triggering interesting debates about each system's strengths. However, despite these discussions on various online platforms, it is clear that most user feedback lauds Roshi for its innovative approach to education technology.
How Roshi AI Can Benefit Users
Roshi AI is designed to enhance user experience through professional customer service, personalized support, and generating summaries and questions using its advanced AI. Learn more about how this cutting-edge tool can dramatically improve your productivity levels…
Improved customer service efficiency
Roshi AI optimizes the efficiency of customer service significantly in diverse ways. Primarily, it assists users in creating educational materials from any online content swiftly. This quick adaptation to new learning material advances customer support efficiency as inquiries are addressed effectively and promptly.
Due to Roshi AI's smart analysis feature, queries related to lesson quality or relevance don't overwhelm customer service anymore. The simplified text feature also converts complex concepts into learner-friendly content, making information more accessible for students.
The platform also offers assistance through provided contact.
Personalized support for customers
Roshi AI paves the way for effective lesson creation with its personalized support for customers. This platform provides individualized assistance tailored to cater to diverse customer needs.
Through this specialized service feature, users receive guidance and help to create lessons. Furthermore, Roshi AI boosts productivity by offering customized help in introducing questioning techniques and analyzing the lesson's content.
The aim is to encapsulate user requirements into the effectiveness of lessons, ensuring a fruitful experience every time one uses these tools.
AI-powered summarization and question generation
Roshi AI provides a unique twist to digital learning through its AI-powered summarization and question-generation features. The platform can transform any selected online content into simple, digestible teaching lessons.
This includes your favorite news articles or custom texts of your choice. Notably, AI technology simplifies complex text, making it more learner-friendly and efficient for knowledge absorption among users (students).
Besides, the platform has an impressive ability to generate specific questions from teaching content – this promotes active engagement, better understanding, and accurate assessment of grasp over new information.
Conclusion and Recommendation
In conclusion, using Roshi AI or any alternatives should hinge mainly on individual user needs and preferences, weighing factors like tool features, pricing models, and overall utility in enhancing learning processes.
Summary of key points
Roshi AI streamlines the creation of educational resources through its unique toolset: the key point is that it can generate teaching aids from any selected text on the internet. Its capability to adjust complexity supports effective education and makes content more accessible for students.
Questions, crafted directly from the designated words in study materials, promote better comprehension and thorough examination of subject matter by learners. Moreover, Roshi's meticulous GPA-based assessment system further bolsters users' grasp of specific subjects.
Recommendation for using Roshi AI or alternative tools based on user's needs and preferences.
Choosing between Roshi AI and other tools depends significantly on users' needs and preferences. For those who seek to incorporate unlimited lessons into their studies, the $14 monthly billed annually under the PRO plan of Roshi AI might be a great choice.
It also permits texts up to 1,500 words in length and allows unrestricted activities within each lesson.
Alternatively, some may prefer different features offered by competing AI tools such as TutorAI or Riku.ai. On the other hand, organizations with specific demands can benefit from an ORGANIZATION plan offering custom options based on per-feature billing.
Ultimately, understanding individual educational goals will help make an informed decision about which tool best suits these plans, promising improved customer service efficiency and personalized support.