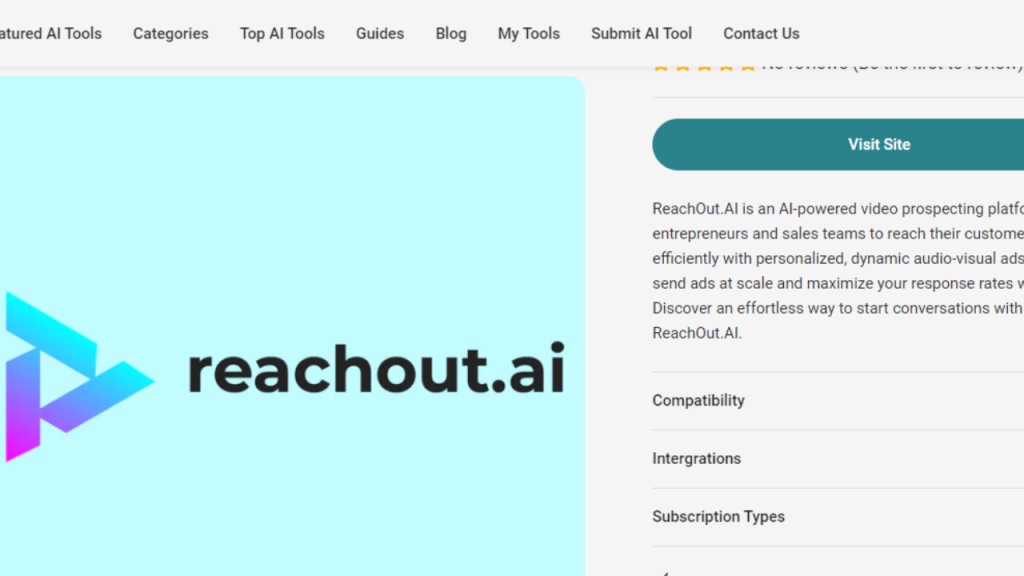 Reachout.AI is an AI-enhanced tool that enhances email responses using personalized video messages. It boasts video editing, an AI-driven email sequence builder, and video personalization options. Catering to various budgets, the software offers multiple pricing tiers, including a 14-day free trial. While it successfully increases email response rates and offers an intuitive interface, it falls short in integration with other platforms and might be expensive for small enterprises. Notably, there are alternatives like Instant.ai that provide comparable features, potentially serving as suitable replacements based on particular needs.
Reach out AI Features
With Reachout.AI, users can experience powerful features such as remarkable video editing tools and an intuitive AI-powered email sequence builder. It also offers customization options, including thumbnail customization, for optimal individualization experience.
Video editing features
ReachOut.AI revolutionizes the world of video editing by introducing exceptional features. The software employs AI-powered technology, enabling users to create automated videos without recording one manually.
This system significantly saves time and eliminates the stress of creating 1:1 personalized video messages.
The platform's versatility extends to text overlay capabilities, broadening user customization options. It allows personalized content through each recipient's uniquely added text on videos, enhancing interaction rates between businesses and their customers.
The automated video scheduler signifies another remarkable feature; it enables sending tailored videos at specified times for optimal engagement via built-in platforms or external tools, making ReachOut's video editing tool kit an empowering asset in today's digital messaging domain.
AI-powered email sequence builder
ReachOut.AI is revolutionizing how we handle email marketing with its AI-powered email sequence builder. This feature harnesses the power of artificial intelligence to craft effective and personalized emails that resonate strongly with your audience.
Profoundly, ReachOut.AI allows users to deliver personalized 1:1 videos as part of their email sequences without needing manual recording.
Artificial Intelligence plays an integral role in the functionality of ReachOut.AI's service by optimizing conversions and accelerating sales through intelligent automation. The prospect engagement process takes a new spin, saving significant time while potentially boosting response rates higher than traditional methods.
The AI integration doesn't stop at basic customization. It pushes further into advanced personalization options, enhancing communication and leading to more refined lead nurturing techniques.
Enterprises worldwide, large or small, are rapidly gaining attraction toward this technology due to immense positive outcomes.
Personalization options
ReachOut.AI offers extensive personalization options, setting it apart from many other automation tools. At the heart of this feature is the ability to create individualized 1:1 videos without requiring actual recording.
Interested parties can choose from over 5,000 AI-generated humans or clone themselves for video customization.
Further enhancing the platform's personalization capacities are its customizable text and tailored messaging features. Users can effortlessly integrate unique and customized written content within each automated video communication tool.
Standout messaging aids in distinguishing your emails amid crowded recipient inboxes.
Moving forward with ReachOut.AI provides an unmatched user experience due to their automated scheduling feature component included in these individualized options. The built-in scheduler allows personalized videos to be sent at precise timings using either internal functionalities or compatible external tools such as pre-existing email automation systems.
Thumbnail customization
ReachOut.AI provides a unique thumbnail customization feature, significantly enhancing email engagement. This aspect allows the users to create personalized video thumbnails for each recipient, increasing click-through rates.
The platform enables incorporating customized text into the videos, adding an extra flair that catches attention and prompts interaction.
The potential of thumbnail customization with ReachOut.AI is vast – it's not just about creating stunning visuals but also bolstering your overall marketing effectiveness. Improved reply rates by six times have been recorded, thanks to this thoughtful provision in the app.
Using these tailored video greetings ensures that your emails stand out from the crowd, giving them a better chance at achieving enhanced interactions and responses from recipients.
Reach out. AI Pricing
Reachout.AI offers a range of pricing tiers tailored to varying business needs, from startups to large enterprises. Discover more on the affordability and value of each plan in our detailed review below.
Pricing tiers and plans
Without a doubt, ReachOut.AI's pricing plans cater to every type of individual and business. They offer two transparent and straightforward tiers: the Personal plan for solo entrepreneurs and the Business plan for larger teams.
One key advantage they proudly offer is their flexible cancellation policy, which lets users cancel anytime if they decide it doesn't fit them.
At $39 per month when billed yearly, the personal plan has become quite popular among emerging entrepreneurs as an affordable way to access advanced AI tools. The beauty of this option is that while inexpensive, there are no cutbacks on any essential features or services.
It ensures feature richness and account security measures, considering it is a single-user access facility.
On another note, one cannot ignore their comprehensive Business package designed exclusively for team collaboration features, giving bigger businesses an edge over others in managing email campaigns effectively.
Costing only $79 per month when billed annually, brands can unlock unique opportunities like saving up to 50% on billing costs compared to monthly-pay customers – a considerable benefit not found anywhere else! In terms of price comparison per person, this proves highly competitive, especially without compromising service quality or functionality.
Free trial options
Software trial periods can be a useful way to test drive the features and determine if it's the right fit. ReachOut.AI understands this need, offering users a risk-free 14-day annual and monthly plans trial.
Users can cancel the trial anytime, eliminating worries about automatic billing tricks after subscription.
Savings on plans are an additional benefit of ReachOut.AI's trial offers. The annual plan comes with up-front credits for the entire year post-trial period; plus, it saves up to 50%.
SWitches who opt-in for this plan get value in terms of cost efficiency compared to monthly billed subscriptions. Moreover, if one opts into personal plan features costing $39 per month when billed yearly, there's even a bonus: A complimentary trial option.
Pros and Cons of Reachout. AI
Explore the advantages and drawbacks of Reachout.AI to fully grasp its functionality. Discover how it increases email response rates, provides personalized messaging, and offers a user-friendly platform while noting the limitations in integrations that could affect seamless workflow execution.
Delve deeper into potential affordability issues for smaller businesses. Read on for a comprehensive view.
Pros: Increased email response rates, personalized messaging, user-friendly platform
Customers have reported a notable boost in their email response rates after implementing ReachOut.AI. The AI-powered tool not only maximizes engagement but also significantly elevates click-through rates.
Users have experienced an average increase from 4% to 52%. This surge suggests that the application optimizes emails to grab attention and prompts recipients to engage.
The personalized messaging feature distinguishes ReachOut.AI from its competitors. It empowers users to craft customized communications through easy-to-use tools that enhance visibility in crowded inbox environments.
Moreover, the automated sending of personalized messages using built-in schedulers or external applications is another appreciated aspect that adds value for the user.
ReachOut.AI excels with an intuitive platform that allows everyone to navigate smoothly, regardless of technical expertise. It provides streamlined video prospecting opportunities that improve operational efficiency while maintaining effectiveness at its peak.
Consequently, this user-friendly platform encourages more businesses worldwide towards successful implementation and enjoyable usage.
Cons: Limited integrations, pricing may be expensive for small businesses
While ReachOut.AI offers impressive features and a user-friendly platform, it falls short with its limited integrations. This could pose a hurdle for businesses requiring seamless integration with other platforms for optimal functionality.
The tool might not blend smoothly into the existing technological infrastructure, leading to segmented workflows.
The cost factor is another aspect worth considering, particularly for smaller-sized enterprises. With plans starting at $39 per month when billed yearly under the Personal plan, some small businesses might find it too steep for their budget constraints.
While the company offers savings on annual billing – up to 50% less than monthly billing –this pricing may still prove expensive, especially if you're a solo entrepreneur or a lean startup.
As such, both these factors – limited integrations and substantial pricing should be considered while planning your marketing automation needs.
Alternatives to Reachout. AI
Discover competitive alternatives to Reachout.AI, such as Instant.ai, Hot Reach AI, Jason AI, Reply.io, and Magicreach. These platforms offer compelling features that can rival or surpass those of Reachout.AI in certain aspects.
Learn more about these diverse choices!
Instant.ai
Instant.ai marks a significant leap in online communication platforms, asserting an established name as an alternative to ReachOut. Mental health support lies at the forefront of its offerings, providing users with vital remote assistance for emotional well-being without geographical constraints.
Its advanced algorithm promotes therapeutic communication by simulating responses akin to professional counselors.
Like other therapy apps, Instant.ai harnesses modern technology to deliver digital mental healthcare services in real time. It stands out from peers through distinctive features that nurture deep connections and encourage open user dialogue.
As an emerging telehealth provider, it aims to profoundly reshape access and delivery of mental health resources.
The platform's primary purpose revolves around facilitating virtual therapy sessions that are both flexible and accessible. Users can schedule appointments based on their comfort timings while maintaining privacy and confidentiality assured by Instant.ai's stringent safety standards, helping them build resilience during challenging times.
Hot Reach AI
Hot Reach AI is a leading alternative to AI sales software tools. With advanced artificial intelligence technology, this platform takes email response rates to new heights.
Facilitating personalized messaging with an impressive user-friendly interface, Hot Reach AI brings convenience and effectiveness under one roof. Despite having limited integrations like its competitors, it remains a top choice for high-performance teams seeking unmatched outreach and engagement.
Small and enterprise-level businesses can benefit from Hot Reach AI's power-packed features. One major advantage is the video personalization platform that caters to busy entrepreneurs' versatile needs, increasing their advertising impact remarkably.
Besides robust database access, Hot Reach offers competitive pricing, including cost-effective plans and free trial options, allowing potential users to test its capabilities before making long-term commitments.
Jason AI
Jason AI stands out as an excellent alternative to Reachout. AI. As part of the artificial intelligence tools community, it offers a powerful customer outreach and contact management solution.
The functionality effectively serves small and larger businesses, contributing advanced features that simplify communication processes.
In terms of AI technology features, Jason AI delivers efficiency and accuracy. It uses intelligent automation to streamline tasks like sorting and organizing client interactions.
Pricing options are thoughtfully structured with diverse user requirements, making them accessible for different budgets.
Balancing benefits with setbacks is essential when considering any tool or software. Jason AI has strengths such as easy data integration and robust reporting capabilities, which boost its appeal among business owners seeking effective alternatives to Reachout.AI or similar software types.
Reply.io signifies a robust solution in the realm of AI-powered communication software. Filled with valuable functionalities, it thrives as a strong contender among alternatives to ReachOut.AI.
This platform provides users with an intuitive digital interface to streamline their communication and workflow processes effectively.
The heart of Reply.io is its potent AI-driven solutions that can transform ordinary email communication into strategic conversations. Intricately crafted features focus on enhancing user engagement, thereby increasing response rates significantly.
Without specific data for intricacies, one can safely assert that Reply.io ensures seamless interaction across businesses regardless of the industry or scale.
Navigating through options for outreach often lands users at costly crossroads where affordability might hinder usability; however, Reply.io presents itself as an economically viable alternative.
Capable and cost-effective, it stands out by providing optimal performance within a reasonable budget.
Experience dictates caution regarding limited integrations, yet leaning towards user-friendly platforms like Reply.io brings undeniable advantages, offsetting even minor constraints.
Magicreach
Magicreach is another potent alternative to ReachOut.AI, encompassing many of the same qualities users find helpful. With this AI tool, efficiency is paramount – it gives users the power to deliver personalized videos without any requirement for recording.
This innovative feature has generated positive acclaim in numerous reviews, and reports suggest that using Magicreach can boost reply rates by a staggering six times.
Yet one aspect where Magicreach truly shines is its commitment to time-saving prospecting through video outreach. The software aims to make reaching out to potential leads a breeze while maintaining higher engagement rates due to targeted messaging.
Pricing details are not readily available on their website. Still, they offer a 14-day free trial and allow you to cancel at any point during your plan if you're not satisfied with their service— making it an option worth exploring for companies looking for streamlined communication solutions.
Conclusion
Reachout.AI revolutionizes business marketing with its AI technology. It operates more efficiently from affordable plans to 1:1 personalized videos than traditional methods. However, the field teems with alternatives that may suit businesses differently. It ultimately comes down to a company's specific needs when selecting the best AI tool for video prospecting.