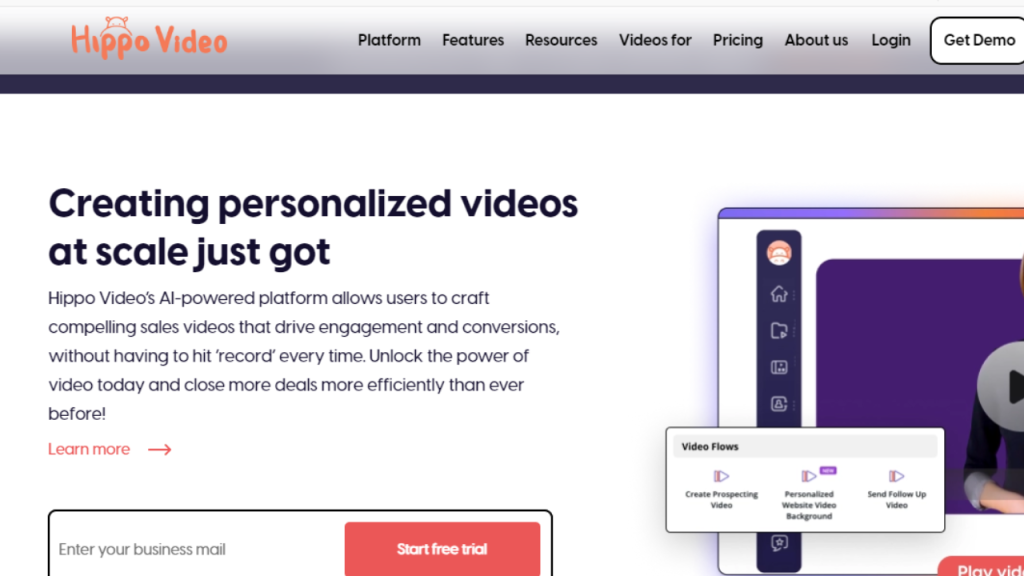 Hippo Video is an AI-powered platform that boosts sales and customer engagement using personalized videos. This software provides solutions for creating professional, high-quality videos suitable for marketing, sales performance, and comprehensive customer support. It aims to simplify the video creation process, making it exciting and enjoyable without breaking the bank.
Table of Contents
What is a Hippo Video?
Hippo Video transforms video making with its AI-powered platform. It is an efficient tool for creating sales videos, allowing users to effectively showcase their products and communicate their brand message.
This groundbreaking software boasts ready-made templates, which aid in swift and effortless video production.
This innovative software adds a personal touch to the process by offering a feature integrating intros with pre-recorded videos. Moreover, it's equipped with a Humanize AI attribute, enabling the generation of personalized videos unique to each recipient.
With Hippo Video's advanced capabilities, you can also fashion interactive videos that engage viewers positively while enjoying simplicity and comfort during use. Communication and customization set this platform apart as the game-changer in modern-day video creation.
Key benefits of using Hippo Video
Hippo Video offers a range of advantages to all users. One standout feature is the facility for personalized video creation at scale. You won't need to record each video individually, enhancing productivity and saving significant time.
Ready-made templates form another key benefit – allowing rapid video production geared towards different scenarios or sales stages.
The platform goes beyond standard customization options by enabling users to fuse personalized introductions with marketing videos. This unique function helps craft tailor-made videos without repeating recording processes.
Equally notable is the Humanize AI functionality that transforms a single video recording into individualized videos for every receiver.
Streamlined operations also stand out among Hippo Video's offerings, thanks to its innovative "Video Flows" feature. It tackles complex tasks related to video creation and generates content much faster than traditional methods allow.
Ultimately, Hippo Video successfully molds technology with functionality, empowering everyone from beginners to professionals with an incredibly user-friendly interface and robust toolset.
Hippo Video Features and Pricing
Hippo Video offers dynamic pricing plans to cater to various needs. Users laud its AI-powered video creation and editing tools that enhance marketing, sales, and customer support.
It boasts a feature-based free plan for individuals wanting professional-quality videos without breaking the bank.
Pricing options and plans
Hippo Video offers a variety of pricing plans tailored to meet various video needs. The Free plan is quite notable; it allows users to record and share videos free of charge and without requiring credit card details at registration.
It's perfect for independent creators or small businesses on a tight budget making their first steps into leveraging video content.
Hippo Video provides several paid subscription plans for those seeking more advanced features. At $20 per month, the Pro plan introduces advanced editing options and deep-tail analytics insights – key tools in improving content engagement rates for any marketer.
Scaling up, the Teams plan comes with added benefits like sales platform integrations and team-centric reports for $60 monthly per user, ideal for larger teams with multi-faceted requirements.
For comprehensive solutions covering every aspect, from custom video flows to Salesforce integration and dedicated account management services, individuals or companies might consider the Enterprise Plan priced at $80 per month per user.
Most valued features by users
Hippo Video's AI-powered technology sets it apart in the market. Users find personalized video creation to be one of their most valued features. The platform's capability to produce videos at scale without recording each individually saves significant time and resources.
Furthermore, this tool empowers users to customize videos specific to their unique sales tasks or targets.
Another feature capturing the user's admiration is Hippo Video's cache of ready-made templates. This provision streamlines the often daunting task of video production while easily catering to various scenarios or sales stages.
Additionally, users can leverage these templates, personalized intros, and pre-recorded videos, making engaging tailor-made content sans repetitive recording sessions.
The Humanize AI feature has received prominent appreciation from users as it generates a single recipient-specific video from just one recording! It gifts a greater personal touch, enabling more effective connections with clients, thus giving your communications an edge over mass-produced ones.
Lastly, Hippo Video provides another top-rated advantage – enhanced productivity via streamlined 'Video Flows,' further contributing positively towards business growth strategies.
Pros and Cons of Hippo Video
Hippo Video presents various benefits, such as AI-powered video editing tools, a feature-packed free plan, and multiple marketing, sales, and customer support pricing options.
On the flip side, potential drawbacks include being slightly more complex for beginners and dependency on internet connectivity for seamless functionality.
Pros of using Hippo Video
Hippo Video's platform significantly enhances sales engagement by deploying advanced AI technology. The ability to create personalized content swiftly and at scale is a primary advantage for many users.
Thanks to the platform's efficiency, businesses no longer need cumbersome procedures like recording each video separately.
This tool creates an opportunity for better conversion rates as it helps simplify deal closure processes. Hippo Video offers template options that translate into quick production of videos suitable for different scenarios or sales stages.
It also allows users to effortlessly piece together personalized intros with marketing or pre-recorded videos, creating tailored videos without repetitive recording.
Cons of using Hippo Video
Hippo Video has a few potential setbacks, depending on individual user needs. Some users may find the tool's reliance on video creation templates stifling their creativity.
While it simplifies the process, these pre-designed formats can potentially limit unique content production.
Moreover, Hippo Video employs AI technology to merge personalized intros into predefined videos – a feature that some might find time-consuming and repetitive. Despite being designed for efficiency, this characteristic could end up drawing more time than desired from its users.
Lastly, there's the question of authenticity versus automation in video content creation methods. While AI-generated videos may save plenty of time and resources, they regularly lack the human touch that manually created counterparts effortlessly provide.
This absence can ultimately lead to less personal connection with your audience – an essential aspect of effective communication strategies that certain brands keenly emphasize.
Alternatives to Hippo Video
Several software alternatives to Hippo Video in the market can provide similar features. Some may offer better video creation and editing capabilities, different pricing options, or a wider array of marketing tools.
While looking at these competing alternatives, it is important to consider their benefits and drawbacks in comparison with Hippo Video, keeping in mind your specific requirements related to marketing, sales, customer support, and outreach efforts.
By gauging feature-based plans offered by such platforms against those available on Hippo Video, you can determine which offers the best possible value without breaking the bank.
Comparison with a popular alternative software
Hippo Video's AI-powered platform shines with its unique features. The software makes video creation a breeze by offering scale-based personalized content. The popular alternative, however, falls short in this department, lacking any feature for personalizing videos en masse.
Additionally, Hippo Video includes an assortment of ready-made templates designed to expedite production time and streamline the creative process from start to finish.
The advantages of Hippo Video don't stop there. It allows users to easily splice personalized intros into pre-recorded videos—a functionality conspicuously missing in the popular alternative software.
Furthermore, Hippo's Humanize AI stands out impressively as it spawns individually tailored videos for each recipient from one recording episode—an innovation that other competing platforms have yet to emulate successfully.
Fans-and-users respected feedback paints a positive picture for this software option; currently standing well-received with over 500 glowing reviews and testimonials!
Conclusion
Tools like Hippo Video make waves in the business world as technology progresses. By harnessing the power of AI, users can enjoy creating professional videos tailored to their audience.
With affordability key in mind, they provide a range of pricing plans suitable for different needs and budgets. Evaluate closely before choosing between Hippo Video or its alternatives to effectively drive your marketing and sales campaigns.