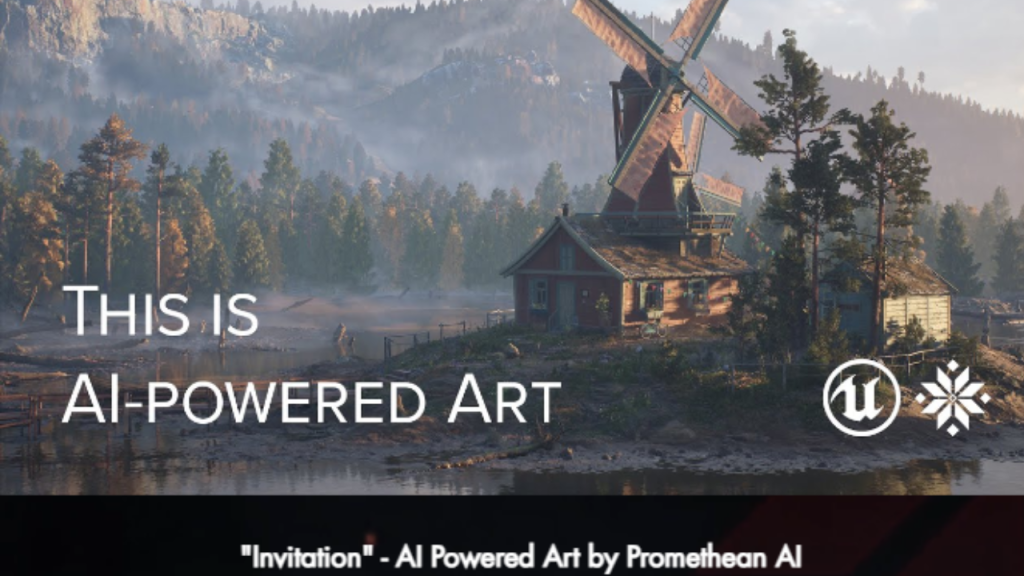 Promethean AI is a user-centric platform designed for overseeing digital creations and crafting virtual environments, equipped with features that simplify tasks for artists. At the same time, it offers a free version, and enhanced tools and features are available in its paid options, catering to professionals and bigger enterprises. For those seeking varied functionalities or budgetary considerations, alternatives like G3D.AI, Meshy, Fotor, Luma AI, and Wizard Engine are available. It's essential to weigh these alternatives' unique advantages and disadvantages to determine the most suitable choice for individual needs.
Table of Contents
Overview of Promethean AI
Promethean AI is a reputable suite for digital asset management and creating virtual worlds. Trusted by video game developers since 2019, this tool aims to streamline creative tasks and automate mundane work processes.
Different licensing options are available with Promethean AI, including a limited functionality free version for noncommercial use. Extra features can be accessed through subscriptions purchased directly in the software.
To assist users unfamiliar with its function, Promethean offers guide videos for easier navigation of the program's capabilities. Notably unique from its counterparts like Unity, it aids artists in problem-solving creatively, generating ideas efficiently, and automatically dealing with non-creative tasks.
Tool features
Promethean AI exhibits many features, making it extremely useful for creative digital management and virtual world creation. An essential feature of Promethean AI is workflow optimization, which streamlines designing, creating, and editing digital content.
At its core lies advanced automation technology aimed to eliminate mundane tasks that can stifle creativity. The application accommodates independent creators and industry professionals with extra licensing options for more sophisticated uses.
Although not all functions are included in the free version, it still presents an ample array of tools ready to cater to nonprofit users with accessibility to limited capabilities.
Pricing
Promethean AI has an accessible pricing model that caters to various budgets. They offer a free version for noncommercial use, perfect for those looking to experience the platform firsthand without investing upfront.
Its costs are structured into diverse tiers and subscription options meant specifically for indie and professional projects.
One notable aspect is that additional licensing choices are uniquely catered towards income levels: indies with finance requirements below $100k per year and professionals exceeding this threshold.
This flexible structure ensures parity among different economic strata of users in terms of affordability.
Monthly subscribers gain increased access to functionality beyond the limited features available on the freemium tier. Should you require further services or advanced capabilities, an enterprise version has high-end functionalities suitable for larger-scale applications and businesses.
While making your choice allows your due diligence about what each package truly offers, decisions can be made directly within their software platform, simplifying transaction procedures.
Pros and cons
Promethean AI holds clear benefits for independent professionals and indies. The software offers Additional licensing options that accommodate different needs and financial structures.
Users can expect to experience substantial artistic growth as Promethean AI aims to improve the artist in everyone.
Although there are some pitfalls, such as the limited functionality presented by Promethean AI's free version compared to the fully paid enterprise version, it remains a valuable asset due to its affordability and user-friendly nature.
Remember that subscriptions can be purchased directly within the software, easing accessibility for users.
The founder Andrew Maximov, who served as Technical Art Director at Naughty Dog Inc adds credibility to the toolset given his extensive background in arts. Overall, considering both Pros and cons will better clarify whether this tool suits your specific requirements.
Alternatives to Promethean AI
This section will explore various alternatives to Promethean AI, including G3D.AI, Meshy, Fotor, Luma AI, and Wizard Engine. These tools also offer unique virtual world creation and digital asset management features.
Comparisons between these platforms with Promethean AI will enhance understanding their strengths and weaknesses.
G3D.AI
G3D.AI features a comprehensive suite of AI tools aimed explicitly at managing digital assets and crafting virtual worlds. A key focus of G3D.AI lies in automation and workflow optimization, which aligns it closely with Promethean AI's mission.
These sophisticated tools identify repetitive tasks within digital project management and streamline them through advanced algorithms.
This alternative to Promethean AI accommodates budgets of various sizes by providing diverse pricing options. G3D.AI has taken steps to be accessible to all, including hobbyists exploring digital asset management for noncommercial purposes – they can easily get started with its free version.
The limitation on some functions in the free mode is balanced by additional licensing alternatives for independent professionals seeking more expansive tool capabilities.
G3D.AI also helps users ease into its system operation through instructional guide videos, helping users handle its functionality efficiently without overwhelming beginners or slowing down experienced pros.
Meshy
Meshy, developed by Andrew Maximov's team at Promethean AI, is an innovative tool to revolutionize the creative process. It lends a hand in digital asset management and virtual reality world creation, reducing monotonous tasks while enhancing productivity for creators.
Meshy's cutting-edge technology optimizes workflows with impressive automation capabilities.
Users often appreciate helpful guide videos provided within this tool. These tutorials expedite the learning curve and conveniently take users through every functionality facet.
As an integral part of the Promethean AI suite, Meshy stands out as a trusted solution for accomplishing complex creative projects efficiently.
Working magic on mundane tasks, Meshy automates aspects that previously required manual involvement from artists and designers. This empowers creators to focus more on their creativity than fret about tedious digital asset management chores.
Progress seamlessly through projects with streamlined workflow brought to your desktop by this unparalleled AI tool—Meshy!
Fotor
Fotor stands out as a robust choice among the alternatives to Promethean AI, excelling in digital image manipulation and photo enhancement techniques. The software offers an impressive array of advanced photo editing tools that harness artificial intelligence technologies for improved functions.
Its powerful capabilities cater to common and simple edits and offer sophisticated features like visual effects.
Characterized by its intuitiveness and user-friendly nature, Fotor does not overlook the importance of creative editing techniques for graphic design tasks. This notable attribute makes it viable even for novices who seek high-quality results with manageable learning curves.
Incorporating a slick interface and a broad suite provides users both ease of operation and breadth in capacity when needing top-tier graphic design software.
Luma AI
Luma AI is a prominent solution in the pool of alternatives to Promethean AI. This artificial intelligence tool shines with its unique features and functionality, setting it apart from other AI technology alternatives.
With an optimized user interface laser-focused on improving productivity, Luma AI offers an innovative approach to task execution.
The comprehensive software suite prides itself in advancing how users interact with their work processes. Luma's inventive application aids users in harnessing the power of artificial intelligence effortlessly.
Not just that, increased efficiency and streamlined operations are some additional benefits offered by this striking alternative to Promethean AI.
While no additional information about pricing or pros and cons is provided within this content, resourceful guidance by companies like Luma AI continuously redefines the landscape for Comparable AI platforms around the globe; such room for growth personifies why many deem it one of today's top-ranking Artificial Intelligence tools.
Wizard Engine
With its unique tools and features, Wizard Engine is a compelling alternative to Promethean AI. This software platform uses artificial intelligence to revolutionize the creation of digital assets and virtual worlds.
Its streamlined processes effectively minimize mundane tasks, allowing users to focus on more creative aspects.
Robust automation is at the heart of Wizard Engine's functionality. It addresses numerous challenges in managing digital resources, enhancing productivity, and fostering user creativity.
Whether for commercial or noncommercial use, this tool offers solutions tailored to different needs while delivering an impressive blend of power and simplicity.
With its free version giving access to core functions despite some limitations, Wizard Engine quickly resonates with beginners venturing into AI-powered content creation.
Additional licensing options provide extended capabilities catering to professionals wanting robust control over their creative workflows without compromising efficiency or quality.
Comparison of Promethean AI and Alternatives
This section carefully compares Promethean AI and its alternatives based on their features, pricing, user reviews, and ratings from various sources.
Feature comparison
Promethean AI revolutionizes creative processes with its comprehensive features. Its main aim is to automate tedious tasks while optimizing the workflow. Users witness a significant reduction in work bottlenecks and increased project efficiency.
The tool offers a public version, but its functionality is less expansive than full enterprise software. Features like advanced automation and enhanced customization are generally reserved for the latter.
Promethean AI ensures that professionals, independents, or enterprise-level users can access tailored options through their diverse licensing range.
Their competitor, G3D.AI, also boasts similar functionalities with slight variations. Workflow optimization is achieved differently by leveraging unique algorithms and coding strategies specific to the platform.
Other alternatives such as Meshy, Fotor, Luma AI, and Wizard Engine offer distinct solutions catering to specific user needs, reflecting different pros & cons.
Pricing comparison
Promethean AI shines with its free version for noncommercial use, making it accessible to developers on a budget or those who want to test-drive the tool. It tailors the services uniquely by providing different pricing structures based on whether you are an independent creator, a studio, or using it for education and research purposes.
This flexibility tends to suit users' varying needs.
In contrast, G3D.AI serves companies exclusively with prices depending upon enterprise usage and features needed. Meshy is somewhat lenient in its cost approach as it offers a paid version but has restricted some advanced features under premium plans only.
Fotor and Luma AI maintain highly affordable monthly subscriptions that attract beginners in Artificial Intelligence Digital Asset Management tools due to their generous pricing policies.
Meanwhile, Wizard Engine displays aggressive competition by proclaiming lucrative offers such as yearly discounts promoting better savings.
Comparatively speaking, all these digital asset management tools portray stark differences in their financial plans, highlighting how diverse solutions can be found according to specific budgets while focusing on key attributes like creative workflows, virtual world creation, etc., thus helping audiences make choices aligned with their financial comfort zone.
User reviews and ratings
Promethean AI's user reviews and ratings highlight its ability to streamline creative workflows. The artificial intelligence suite has gained attention for automating mundane tasks, freeing users to focus more on content creation and development.
Several video game developers have left favorable reviews as a testament to these features.
Independent star ratings of Promethean AI emphasize its strengths over other digital asset management tools. Users particularly admire the free version availability for noncommercial use, which broadens the tool's accessibility beyond professional sectors.
These sentiments are reflected in high online scores, building confidence in potential clients considering this software.
Conclusion
Making the right choice among the many AI tools for virtual world creation and digital asset management can be overwhelming. Promethean AI stands out with its intuitive features and flexible pricing options, fitting personal and professional use.
While poignant alternatives exist, each software brings unique attributes to the table. Hence, make an informed decision based on your requirements to unlock your creativity optimally in this digital realm.