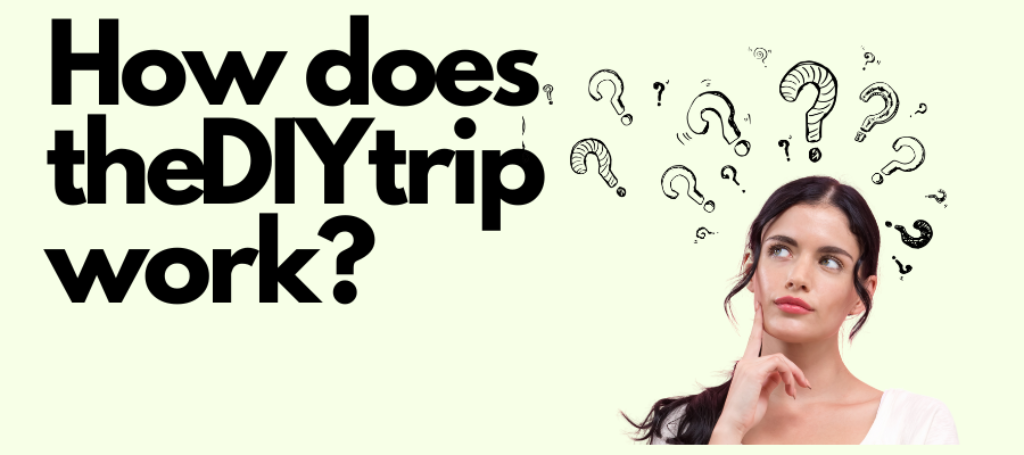 TheDIYtrip uses advanced AI algorithms to create personalized travel itineraries. Simply choose your destination, and the tool will generate a comprehensive plan for your trip. TheDIYtrip provides all the information you need in one place. From images and reviews of places to weather forecasts and average time spent at each location, the tool ensures you have all the details to make informed decisions.
Table of Contents
Review and Guides
Are you tired of cookie-cutter travel packages that fail to ignite your wanderlust? Look no further than theDIYtrip – a revolutionary platform that brings the power of DIY travel to travelers' fingertips. This review explores how theDIYtrip makes DIY travel more accessible, affordable, and engaging, empowering users to confidently design unforgettable trips.
Introducing DIY Travel with theDIYtrip
theDIYtrip puts travelers in control, transforming the world into their personal canvas of exploration. With theDIYtrip, gone are the days of rigid itineraries and limited choices. Users can now create personalized travel plans that perfectly align with their goals, preferences, and budget.
Seamless Process, Unparalleled Freedom
How does theDIYtrip work? The process is straightforward! Users start by placing an order and sharing their travel goals and to-dos. Once the order is placed, they gain access to a user-friendly DIY travel plan editor, where a wealth of travel proposals awaits customization.
Each proposal is carefully crafted, considering the users' preferences and the unique characteristics of their chosen destinations. Whether seeking adventure, cultural immersion, or relaxation, theDIYtrip offers a wide array of options to tailor each trip seamlessly. Users can add or remove activities, adjust travel dates, and fine-tune every detail until it matches their vision flawlessly.
Personalized Itineraries, Hassle-Free Bookings
Once users are satisfied with their customized travel plan, it's time to take the next step. They can approve and submit the final proposal and let theDIYtrip's expert team handle the rest. From flights to accommodations, transportation to activities, theDIYtrip's trusted partners ensure that every aspect of the trip is meticulously arranged. As a result, travelers can relax and focus on the excitement that awaits, knowing their journey is in capable hands.
Most Popular Destinations Await
theDIYtrip opens doors to a world of possibilities, with specific destinations standing out as perennial favorites. Imagine basking in Miami, Florida, USA's sun-kissed beaches and vibrant nightlife. Explore the bustling streets and cultural diversity of New York City, USA. Indulge in the dazzling lights and entertainment of Las Vegas, Nevada, USA. And let the allure of Hawaii, USA, captivate you with its pristine beaches, lush landscapes, and warm hospitality.
These are just glimpses of the incredible destinations awaiting exploration. Whether seeking the charm of historic European cities, the serenity of tropical paradises, or the mystery of exotic locales, theDIYtrip has covered everything.
Engaging Community and Expert Support
theDIYtrip doesn't mean traveling alone. theDIYtrip is more than a platform – it's a community of like-minded travelers who share experiences and insights. Travelers can follow theDIYtrip on social media, connect with fellow adventurers, and draw inspiration for their next trip. From hidden gems to insider tips, theDIYtrip's blog and community forums provide a wealth of knowledge to enhance travel adventures.
In addition, theDIYtrip provides reliable assistance through a team of experts who are both knowledgeable and friendly. If travelers have any questions or require guidance, they can contact the support team at [email protected].
Pros and Cons
Positive
AI-based trip planning: Leverages cutting-edge AI technology to plan your dream trip in seconds.
Reliable insights: Gathers reliable insights and creates accurate trip plans tailored to your preferences.
One-click booking: Allows you to finalize your trip swiftly and effortlessly.
User-friendly: The app is easy to use and available on all platforms.
Negatives
Limited personalization: While the AI provides reliable insights, the level of personalization might not be as high as manual planning.