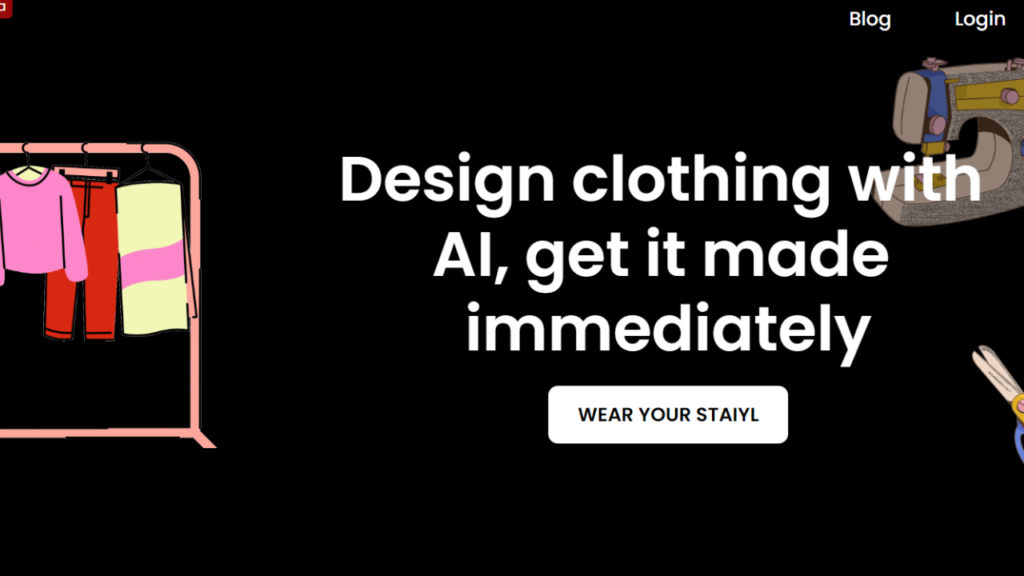 Staiyl is an AI-powered fashion platform allowing users to design custom clothing in under 60 seconds. The platform offers direct-to-production ordering, ensuring that designs are crafted to perfection and delivered right to your doorstep. Staiyl is versatile, catering to various styles and occasions, from bridal wear to casual looks and tailored suits.Users can also get inspiration from pre-made designs by their favorite influencers and easily recreate those looks with Staiyl's AI technology.
Table of Contents
How Does Staiyl Work?
Staiyl uses AI technology to quickly generate design sketches in less than 60 seconds based on the user's requirements, allowing them to order their designs and send them directly to production for perfectly crafted ready-to-wear outfits delivered straight to their doorstep.
Quick AI-Generated Designs
Imagine wanting to create a fashion design and seeing it come to life in less than 60 seconds. That's the beauty of Staiyl's quick AI-Generated Designs feature, which makes this dream a reality for fashion enthusiasts across the globe.
You could be craving a casual Y2K look or envisioning an elegant evening gown; all you have to do is express your design requirements using words.
This feature brings speed and ease without compromising on quality or specificity. For example, consider user Sarah, who wanted custom bridal wear with specific embroidery details.
She keyed in her desires and specifications, sat back, sipped her coffee, and within sixty seconds – voila! A perfectly detailed sketch of her desired design was ready on screen.
Direct To Production Ordering
Staiyl revolutionizes the fashion design process with a direct to production ordering system. You no longer need to wait for lengthy procedures or sit through countless meetings with designers and tailors.
Once satisfied with your personalized clothing design, you can directly send this tailored piece for production. This swift transition from dream to reality sets Staiyl apart in the AI-powered fashion marketplace.
Remember when you wished to copy designs donned by your favorite influencers? With Staiyl offering exciting features like reordering favorite outfits or cloning pre-made influencer designs on Instagram or TikTok within seconds—it has never been easier.
Your customized dream wardrobe is downloadable as 3D fashion models and physically crafted to perfection before being delivered right at your doorstep.
Home Delivery Of Perfectly Crafted Outfits
Placing an order on Staiyl is as simple as it gets. Based solely on your design requirements, this innovative AI-powered fashion marketplace goes to work, sketching a unique wardrobe piece in less than 60 seconds.
And that's not all.
Certainly, the ultimate thrill comes from receiving these meticulously crafted-to-perfection outfits right at your doorstep! Imagine slipping into a tailored suit designed explicitly for you or a flowing evening gown that captures your personal staiyl perfectly – and all this without having ever left home.
And yes, if there's one thing fans rave about more than their new favorite designs from Staiyl? It's the ease of reordering! Loved that casual Y2K look so much you want another one? Simply log back in, select "reorder" for any beloved apparel piece and voila – another set of your favourite designs lands directly at your door.
Remember when limited choices were enforced by stocked items? Those days are long over with Staiyl's AI-based approach.
Fashion industry transformation is here – ensuring you receive uniquely personalized clothing while promoting individuality and self-expression without breaking stride in today's fast-paced environment.
The Versatility Of Staiyl
Staiyl offers customizable designs for various occasions, from bridal wear to casual looks, allowing users to express their style and create one-of-a-kind fashion pieces.
Customizable Designs From Bridal Wear To Casual Looks
Staiyl is not limited to a specific style or occasion. Whether planning your dream wedding or looking for the perfect casual outfit, Staiyl has covered you. With its customizable designs, you can have everything from stunning bridal wear to trendy, comfortable casual looks.
Imagine designing your unique wedding gown that perfectly captures your style and fits like a dream. Or maybe you want to create a statement piece for a night out with friends that turns heads and reflects your individuality.
But it doesn't stop there – Staiyl caters to all fashion needs and preferences. The possibilities are endless, from elegant evening gowns to effortlessly cool Y2K-inspired outfits.
What sets Staiyl apart is its ability to turn even the most complex fashion designs into reality.
So why settle for off-the-rack options when you can have personalized clothing that truly represents who you are? With Staiyl, unleash your creativity and unlock your fashion potential by designing everything from bridal wear to casual looks with ease and confidence.
Option For Human Illustrator Assistance For More Complex Designs
Staiyl understands that not every design can be easily achieved through AI technology alone. That's why they offer the option for human illustrator assistance when it comes to more complex designs.
With the option for human illustrator assistance, you can collaborate with skilled designers who will work closely with you to ensure that every detail is captured accurately.
They can help refine and enhance your design concept, providing valuable input and expertise.
For example, imagine wanting a bridal gown with intricate lacework and delicate beadings. While AI technology can generate beautiful designs quickly, it may struggle to capture all the intricacies and nuances involved in creating such a dress.
Staiyl's commitment to combining AI technology with human talent ensures that no design idea is too complex or challenging when creating your dream wardrobe.
Getting Inspired With Staiyl
Staiyl not only allows you to design your own unique clothing, but it also offers the option to copy pre-made designs from your favorite influencers. Get inspired by their looks and bring them to life with Staiyl's AI technology and human illustrators.
Copying Pre-Made Designs From Your Favorite Influencers
With Staiyl, you can copy pre-made designs from your favorite influencers and bring them to life in your own wardrobe. Whether it's a stunning red carpet look or a chic street style ensemble, Staiyl allows you to recreate these fashionable moments with just a few clicks.
Imagine wearing the same outfits as your fashion icons without breaking the bank or spending hours searching for similar pieces.
This feature not only saves time but also taps into the current trend of influencer-driven fashion. By copying designs from your favorite influencers, you can stay up-to-date with the latest trends while showcasing your individuality through personalized details.
Staiyl takes inspiration from influential figures in the fashion industry and empowers users like yourself to embrace self-expression effortlessly. By merging AI technology with human illustrators, they ensure that every detail of the pre-made design is accurately captured during production – resulting in high-quality garments tailored to perfection.
Pros & Cons
Every innovative tool has merits and shortcomings and Staiyl is no exception. While it beautifully blends AI technology with human creativity to take fashion designing to another level, there are certain aspects you may need to consider before using it. Let's look at some of the pros and cons of Staiyl.
| | |
| --- | --- |
| Pros | Cons |
| Staiyl offers quick AI-generated designs based on your preferences. | While the AI generates a design in under 60 seconds, it still might not fully understand the intricacies and nuances of your fashion sense. |
| With Staiyl, you can order your unique designs and have them produced and delivered to your doorstep. | Due to manufacturing restrictions, there may be slight variations between the finished product and the initial design. |
| Staiyl enables you to replicate designs from your favorite influencers. | Exact replication is not always possible due to certain unique elements, fabrics or colors the influencers use. |
| Staiyl offers designs for various occasions from bridal wear to casual looks. | The wider the range, the harder it might be to maintain consistent quality across all categories. |
| The platform combines AI technology with human illustrators to ensure accurate translation of designs. | Depending on the complexity of the design, the process could take longer than expected. |
Pondering over these pros and cons can help you make a more informed decision about whether Staiyl is the right fit for your fashion designing needs or not.
Conclusion: Unlocking Your Fashion Potential With Staiyl
In conclusion, Staiyl is the ultimate AI tool for unlocking your fashion potential and designing your dream wardrobe. With its quick AI-generated designs, you can see your ideas come to life in under 60 seconds.
Staiyl's versatility knows no bounds, allowing you to create customized designs for any occasion. Whether it's bridal wear, evening gowns, casual Y2K looks, or tailored suits, Staiyl has covered you.
Not only does Staiyl offer a wide range of design options, but it also allows you to get inspired by pre-made designs from your favorite influencers.
Unlocking your fashion potential with Staiyl means embracing individuality and self-expression through personalized clothing. Say goodbye to following trends and hello to creating unique pieces that truly represent who you are.
So why wait? Join this exciting AI-powered fashion revolution today! Don't miss out on being part of the future of personal style where technology meets craftsmanship seamlessly – thanks to Silicon Valley visionaries like Yusuff Yusuff (Director of Staiyl).
Experience the thrill of designing clothes with ease using the innovative Clo software and witness how cutting-edge technologies such as text-to-image AI make dreams tangible reality at Unmade.
Jump-start your journey towards a fully personalized wardrobe that reflects your creativity while enjoying convenience from smart technology innovations!
Remember: Your fashion potential is limitless when powered by Staiyil! Start designing now on their user-friendly platform – available on Instagram, LinkedIn, Twitter, and TikTok.
Stay ahead of the game with Staiyl – your ultimate AI tool for unlocking fashion potential!
FAQ
What is Staiyl and how does it work?
Staiyl is an AI-powered tool designed to help you unlock your fashion potential and create your dream wardrobe. It uses advanced algorithms to analyze your style preferences, body measurements, and fashion trends to provide personalized outfit suggestions and recommendations.
Can Staiyl help me create a complete wardrobe from scratch?
Absolutely! Staiyl considers personal style, body type, and occasion requirements to guide you in building a comprehensive wardrobe. Whether starting from scratch or looking for new additions to your existing collection, Staiyl can provide tailored suggestions that suit your unique tastes.
How accurate are the outfit recommendations generated by Staiyl?
Staiyl's algorithms are constantly improving based on user feedback and data analysis. While the AI strives for accuracy, the final decision ultimately lies with you as a user. Staiyl provides options that align with popular trends and fashion guidelines but encourages personalization based on individual preferences.
Is my personal information secure when using Staiyl?
Staiyl values user privacy and security. All personal information provided during signup or usage of the tool is handled with utmost care per industry-standard data protection practices. Rest assured that your information will be securely stored and used only within the scope of providing personalized fashion recommendations through the platform.