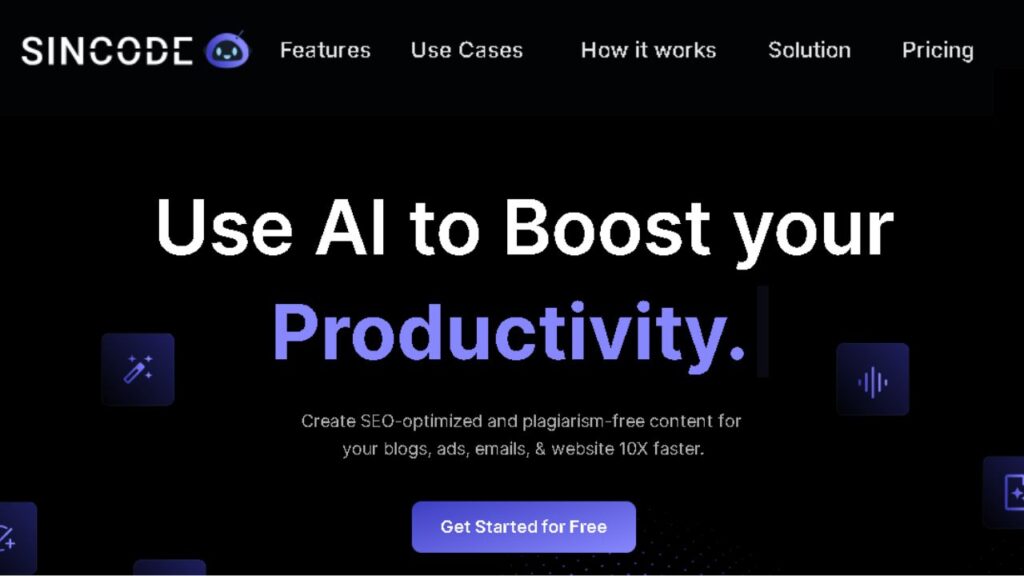 SinCode AI is making headway in content creation, providing an innovative solution for creators to generate SEO-optimized, plagiarism-free content for blogs, ads, emails, and websites. The platform offers a comprehensive Prompt Library to ensure optimal results for your content needs – design and coding, blog meta descriptions, text summarization, marketing and SEO, or video scriptwriting. Using artificial intelligence, SinCode AI expedites the writing process, increasing productivity tenfold. As featured on platforms like Market Watch, NCN, Digital Journal, FOX News, and Benzinga, SinCode AI is shaping the future of content creation. Dive into a new era of writing with SinCode AI.
Table of Contents
Key Takeaways
SinCode AI is a revolutionary platform that offers powerful tools for content creation, including SEO-optimized and plagiarism-free content generation.
With advanced technology like GPT – 4 language model, Marve Chat, Image Generator, Document Editor, and more across 26 supported languages, SinCode AI benefits professionals such as copywriters, marketers, and entrepreneurs by improving productivity and efficiency while maximizing ROI.
The power-packed features of SinCode AI save valuable time and enhance the quality of written content while providing endless possibilities for brand voice customization. This results in higher click rates on digital marketing campaigns, leading to increased sales revenue.
The Power Of SinCode AI For Content Creators
SinCode AI empowers content creators to generate SEO-optimized and plagiarism-free content that saves time, boosts productivity, and produces high-quality results.
SEO-optimized Content Generation
SinCode AI revolutionizes content creation by generating SEO-optimized content in seconds, thanks to its powerful GPT-4 language model. This advanced AI system effortlessly weaves relevant keywords and phrases into the text while maintaining a natural flow, ensuring higher visibility on search engines like Google and Bing.
For instance, creating engaging blog posts, articles, or social media ads with a solid SEO foundation becomes easy for both seasoned professionals and beginners alike.
Plagiarism-free Content Creation
Creating plagiarism-free content is a significant concern for many professionals, and SinCode AI has got you covered. Harnessing the power of GPT-4 deep learning algorithms, this platform generates unique and captivating content that sets your brand apart while maintaining high SEO standards.
Not only does unique content enhance your brand's credibility and authority in the industry, but it also plays a crucial role in avoiding potential legal issues arising from copyright infringement.
By choosing SinCode AI as your go-to solution for plagiarism-free content creation, you can focus on developing winning strategies to improve lead generation and sales revenue without worrying about duplicating someone else's work inadvertently.
How SinCode AI Benefits Various Professionals
SinCode AI benefits copywriters, marketers, and entrepreneurs in multiple ways.
Copywriters
Copywriters are constantly tasked with producing high-quality, persuasive content that resonates with their target audience. SinCode AI's powerful tools can revolutionize their workflow and generate SEO-optimized content tailored to channels such as blog posts, social media ads, landing pages, and emails.
Thanks to SinCode AI's multiple AI models and customization options in over 26 languages, copywriters can effortlessly adapt their unique brand voice while maintaining consistency across all projects.
Moreover, real-time collaboration features make it easier for teams to work together on content creation efficiently.
Marketers
SinCode AI offers a game-changing solution for marketers looking to boost their content marketing efforts. With the platform's AI capabilities, marketers can create SEO-optimized and plagiarism-free content for numerous purposes, including Facebook advertisements, Google Ads campaigns, Quora responses, sales-related emails, social media ads, and landing pages.
What's more? Automating tedious tasks like researching topics and generating first drafts with its GPT-4 language model and various tools like Marve Chat, Image Generator, and SinCode AI saves marketers time and money.
Marketers can leverage the platform's customization options to ensure their brand voice aligns with each content they create.
Entrepreneurs
Entrepreneurs constantly strive to find new ways to promote their businesses, attract customers, and generate revenue. With SinCode AI's power-packed tools for content creation, entrepreneurs can achieve their goals faster and more efficiently.
SinCode AI offers easily customizable options enabling entrepreneurs to create unique brand voices catered to their businesses.
SinCode AI Tools To Elevate Your Content Creation
SinCode AI offers a variety of tools to streamline your content creation process, including Marve Chat for real-time collaboration, an AI Image Generator for enhanced visuals, and a Document Editor to help with editing.
Marve Chat: Your AI Companion
Marve Chat is an AI companion with SinCode AI's suite of tools to enhance your content creation. It uses the latest Google data to provide accurate responses and suggestions for your writing needs, whether blog posts, articles, Facebook advertisements, or Quora responses.
Marve Chat also provides a library of templates and datasets for users to create powerful content quickly and easily in 26 languages. With easy real-time collaboration features and customization options, Marve Chat fully immerses you in your brand voice while automating tedious tasks such as research and plagiarism checks.
AI Tools: Boost Productivity And Efficiency
SinCode AI's platform offers a variety of AI tools that help content creators boost productivity and efficiency.
These include:
Content Generator: This tool uses GPT-4 technology to generate high-quality, SEO-optimized articles and blog posts in 26 languages with customizable options.
Plagiarism Checker: The AI-based plagiarism checker ensures that the content created is unique by comparing it to millions of online sources.
Marve Chat: This AI companion helps users find relevant information by providing accurate responses using Google data.
Image Generator: The image generator helps enhance the visual appeal by automatically generating unique images for content creation.
Document Editor: The editor streamlines the editing process by offering suggestions to improve readability and structure in real-time.
With these tools, content creators can save time while improving the quality of their work and achieving better results for their clients.
Image Generator: Enhance Visual Appeal
SinCode AI's Image Generator tool is a game-changer for content creators looking to enhance the visual appeal of their content. This powerful tool eliminates the need for stock images or design work, allowing users to generate unique, high-quality visuals within seconds.
Using SinCode AI's Image Generator saves users time and money by reducing the need for professional designers or purchasing expensive stock images. The process is simple: select an AI tool that fits your needs best and provide details about what you're looking for in terms of an image.
Within seconds, the AI generates an image that matches your requirements perfectly.
Document Editor: Streamline Content Editing
SinCode AI's document editor is a powerful tool that streamlines content editing and helps elevate the overall content creation process. With this feature, you can easily add or delete text, modify font styles and sizes, adjust margins, and more in real-time collaboration with team members.
Moreover, the SinCode AI platform offers customization options for writers to tailor their documents according to their unique brand voice. The document editor supports unlimited word count across 26 languages, making it ideal for creating long-form blog posts, articles, or ebooks.
Maximize ROI With SinCode AI
Using SinCode AI can help maximize ROI by saving time and money on content creation, improving content quality, and ultimately driving more leads and sales revenue.
Time And Cost Savings
SinCode AI's power-packed tools for content creation can help users maximize their return on investment by saving them time and money. The platform streamlines content creation, eliminating writer's block and reducing the time spent on first drafts.
For example, a social media marketing campaign that typically takes hours to create manually can be generated in minutes with SinCode AI. This saves time and minimizes labor costs associated with manual writing work.
Using SinCode AI's advanced features ensures your business maximizes its ROI by saving you valuable time and resources while producing exceptional content at scale.
Improved Content Quality
SinCode AI's advanced technology ensures improved content quality for its users. The platform leverages multiple AI models and deep learning algorithms to generate SEO-optimized, plagiarism-free content in 26 languages.
Furthermore, SinCode AI offers an Image Generator tool that enhances visual appeal by automatically matching images with generated text, reducing the need for expensive stock photos or graphic design services.
With these features combined, businesses can maximize their ROI by producing high-quality content at a fraction of the time and cost it would otherwise take.
Customer Testimonials: Success Stories
SinCode AI has received astounding customer testimonials from various professionals who have leveraged their powerful tools for content creation.
One satisfied user of SinCode AI is a social media marketer who used the Marve Chat tool to generate Facebook advertisements in record time without sacrificing quality. Another entrepreneur saved high costs by using SinCode's Tools to create landing pages that increased lead generation, click rates, and sales revenue.
What sets SinCode apart is that it offers unlimited words and image-generation capability under its Fair-Use Policy. The platform also integrates with Stripe to provide secure payment processing options for subscription plans that cater to different word counts and use cases such as blog posts, articles, Google Ads campaigns, Quora responses,sales-related emails, and LinkedIn ad writing across 26 languages.
Pros & Cons
This section will discuss the advantages and disadvantages of using SinCode AI for content creation. Below is a table summarizing the pros and cons of the platform.
| | |
| --- | --- |
| Pros | Cons |
| SEO-optimized and plagiarism-free content generation, leveraging GPT-4 AI. | Some users might have a learning curve when getting started with the platform. |
| Improves writing processes and achieves better results for various professionals. | Some users may still prefer to rely on human copywriters for certain tasks. |
| Multiple AI models cater to different writing tasks, ensuring no feature is missed. | AI-generated content may occasionally require human editing for refinement. |
| Save time and money by automating tedious tasks and reducing the need to hire professional writers or agencies. | SinCode AI may not be suitable for all types of content or industries. |
| Image Generator eliminates the need for stock images or design work. | Image quality and relevancy may vary depending on the input given. |
| Document Editor enables fast and efficient content editing. | AI-generated edits may still require human validation for accuracy. |
| Flexible pricing plans for different users, with an estimated ROI of $151 monthly. | Some users may find the subscription costs to be a barrier to entry. |
Conclusion: Revolutionize Your Content Creation With SinCode AI
Revolutionize the way you create content with SinCode AI's power-packed tools. Say goodbye to writer's block, time constraints, and plagiarism issues, as this game-changing platform offers limitless possibilities for your writing needs.
With its advanced technologies, including GPT-4 language model and deep learning algorithms, SinCode AI generates SEO-optimized and plagiarism-free content ten times faster than a human can! It doesn't matter if you're a copywriter, marketer, or entrepreneur; SinCode AI makes creating captivating blog posts, articles, and social media ads effortless! Plus, it saves time and money while maximizing ROI on your digital marketing campaigns.
The ease of use and unbeatable features placed this platform ahead of competitors like ChatGPT & OpenAI alternatives, as verified by multiple customer service reviews showing high TrustScore ratings.
FAQ
What kind of content can I create using SinCode AI's tools?
SinCode AI's power-packed tools are designed to support a variety of content formats, including blogs, articles, social media posts, product descriptions, and more. The platform provides numerous templates and pre-built elements that users can customize to suit their needs.
Is it easy to use SinCode AI's tools for creating content?
Yes! SinCode AI has an intuitive interface that is user-friendly and requires no technical expertise or programming skills. Users must drag and drop the desired components onto their canvas and start customizing.
How does SinCode AI help improve my content creation process?
The platform incorporates advanced artificial intelligence (AI) algorithms that effectively analyze your input data and understand your preferences as well as your target audience's expectations so you get personalized recommendations which could be in the form of suggested headings, appropriate tone/voice amongst others – ultimately resulting in better quality output delivered much faster than traditional methods of writing.
Can I trust SinCode AI with confidential information during my content creation processes?
Yes! All data entered into the system is encrypted using industry-standard security protocols, ensuring that any sensitive information remains confidential throughout the entire creative process until the final delivery stage, therefore, protecting all clients' intellectual properties as required by modern business practices around the globe.