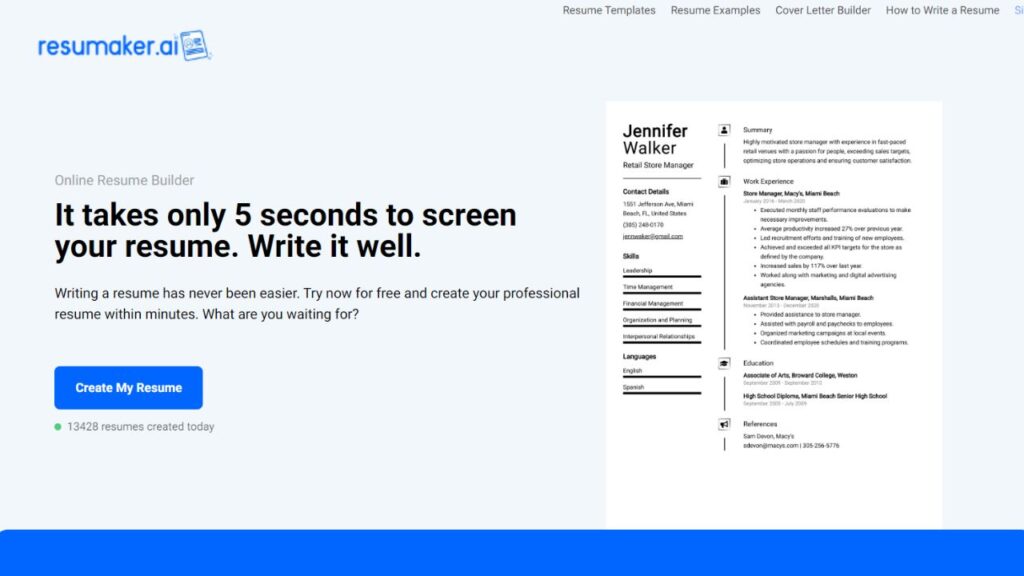 Resumaker.ai is your next go-to tool if you're searching for a job. This AI-powered self-marketing instrument aids job seekers in crafting professional resumes swiftly and without hassle. It provides high-quality suggested phrases, customizable templates, and AI optimization, ensuring your resume shines in the competitive job market. The advantages of using Resumaker.ai are notable. It features a user-friendly interface and timesaving functions such as auto-fill data. Additionally, the platform provides HR-approved resume templates that align with the expectations of employers across various industries.
Table of Contents
What is Resumaker. ai?
Resumaker.ai is an AI self-marketing tool designed to help individuals create professional and standout resumes quickly and effortlessly.
AI self-marketing tool for creating resumes
Resumaker.ai is revolutionizing the resume creation process with its AI-powered technology. As an online CV creator, it takes the hassle out of crafting a professional and attention-grabbing resume.
The platform's AI self-marketing tool for creating resumes streamlines your job search and increases your chances of securing interviews. The built-in AI engine auto-fills important data, ensuring no essential detail is overlooked while using expert HR knowledge to catch recruiters' eyes.
This user-friendly interface, combined with standout customizable resume templates, caters to any format you need – whether targeting specific industries or roles – saving valuable time in the job hunt process.
More importantly, Resumaker.ai underscores data protection and encryption, meaning all personal information remains secure throughout your experience on the platform.
Features and benefits of Resumaker.ai
Resumaker.ai packs a punch with its vast features and benefits, attracting job seekers worldwide. This AI self-marketing tool utilizes advanced technology to create professional resumes effortlessly, leaving an everlasting impression on recruiters.
Its primary appeal is the high-quality suggested phrases, templates that can be tailored according to your preferences, and an AI optimization feature that ensures your resume stands out from the crowd.
One noteworthy feature of Resumaker.ai is its easy-to-use interface, complemented by a built-in AI engine. This powerful combination simplifies the process and auto-fills data for users, making it less time-consuming and more efficient.
The platform further elevates user experience by offering a variety of HR-approved resume templates catering to different formats. All this while ensuring stringent data protection through strong 256-bit encryption and SSL certification – embodying every aspect of comfort, convenience, and confidentiality in one compact tool.
Pros and Cons of Resumaker. ai
Resumaker.ai has several pros and cons that users should consider.
Pros: High-quality suggested phrases, customizable templates, AI optimization
Resumaker.ai sets the bar high with its vast array of advantages in resume creation. First, the platform offers a library of high-quality suggested phrases, also known as top-notch recommended wording or excellent phrase recommendations, to help you smoothly sail through the writing process without getting stuck on articulating your skills or experiences. This premium quality suggested expressions save time and ensure every word on your resume counts.
Cons: Limited file format options, lack of unique features
Resumaker.ai may have benefits, but there are also some drawbacks. Here are the cons of using Resumaker.ai:
Limited file format options: Resumaker.ai restricts users to limited file format options for their resumes. This can be inconvenient if users prefer to use a specific file format not supported by the platform.
Lack of unique features: Resumaker.ai falls short when offering unique features that set it apart from similar tools in the market. While it provides AI optimization and customizable templates, it lacks standout features that make it stand out from its competitors.
Resumaker. ai Reviews
Users have praised Resumaker.ai's user-friendly interface and ability to quickly generate professional resumes.
Customer feedback and ratings
Resumaker.ai has garnered positive feedback and glowing ratings from satisfied customers. Users have shared their experiences with the AI self-marketing tool, highlighting its effectiveness in crafting professional resumes and securing job opportunities.
With features like high-quality suggested phrases, customizable templates, and AI optimization, users have found Resumaker.ai to be a valuable asset in their career journeys. Many customers have praised the timesaving capabilities of Resumaker.ai's built-in AI engine, which auto-completes and fills data for them, streamlining the resume creation process.
The platform also offers HR-approved resume templates that can be easily customized to suit various industries. With success stories spanning sectors such as healthcare, construction, finance, and IT, Resumaker.ai caters to professionals from all walks of life looking to elevate their self-marketing efforts with a professionally crafted resume.
User experiences with Resumaker.ai
Resumaker.ai has received rave reviews from users who have found success in their job search thanks to this AI-powered self-marketing tool. Mary Williams, a Customer Services representative, used Resumaker.ai to create her resume and was thrilled with the results.
She attributes landing her dream job to the professional templates and high-quality suggested phrases that helped her stand out to recruiters. Similarly, Mechanical Engineer Daniel Scott created an impressive resume in just 5 minutes using Resumaker.ai's autofill feature.
These user experiences demonstrate the effectiveness of Resumaker.ai in helping individuals quickly and easily create HR-approved resumes that lead to job application success.
Alternatives to Resumaker. ai
Some alternative self-marketing tools include Kickresume, Resume Genius, Rezi.ai, and Skillroads.
Kickresume
Kickresume is an excellent alternative to Resumaker.ai when creating professional resumes. It offers a user-friendly interface with customizable templates, making it easy for job seekers to showcase their skills and experience.
Kickresume also provides AI-powered suggestions, ensuring that your resume stands out. With its online resume creator and extensive library of CV templates, Kickresume simplifies crafting a winning resume that impresses recruiters.
Whether you're looking for creative resume builders or tools for formatting your existing resume, Kickresume covers you.
Resume Genius
Resume Genius is an online resume builder that offers a wide range of professional resume templates. With over 10,980 resumes created today, it has become a go-to platform for individuals looking to create impressive resumes tailored to their needs.
Powered by AI, Resume Genius provides users with high-quality suggested phrases and customizable templates that can be easily adapted to any format. Moreover, the platform ensures security through data encryption and an SSL certificate, giving users peace of mind when inputting personal information.
Not only does Resume Genius offer a free trial for users to test its features, but it also provides valuable resume-writing tips and emphasizes the importance of attention to detail in generating positive results.
Rezi.ai
Rezi.ai is a powerful alternative to Resumaker.ai that offers job seekers an efficient way to create impressive resumes. With Rezi.ai's intuitive online resume builder, users can easily generate professional resumes in minutes.
The platform provides HR-approved templates that can be customized to any format, ensuring your resume stands out to recruiters. Rezi.ai also utilizes AI technology to offer high-quality suggested phrases and optimize your resume for the best possible results.
While Resumaker.ai may have limitations, Rezi.ai provides a reliable and easy-to-use solution for those seeking a job application tool with advanced features and formatting options.
Skillroads
Skillroads is a comprehensive platform that offers a range of services related to Resumaker, an AI self-marketing tool called Resumaker.ai. It provides alternatives to Resumaker and caters to various professions and industries.
Whether you're a healthcare professional in optometry, orthodontics, or paramedic services or belong to the dental industry as a dental lab technician or endodontist, Skillroads has covered you.
Additionally, if you work in the construction industry as a supervisor or engineer or in finance and banking as a financial analyst or real estate agent, Skillroads has services tailored just for you.
They even cater to accounting professionals and IT specialists in software engineering and network administration. For those working in customer support roles or the telecommunications industry, Skillroads provides resources for call center agents and technicians alike.
Conclusion
In conclusion, Resumaker.ai is an innovative AI self-marketing tool that empowers job seekers to create professional resumes quickly and easily. With its high-quality suggested phrases, customizable templates, and AI optimization, users can stand out from the competition and capture recruiters' attention.
While it may have limited file format options and lack unique features compared to other tools, the positive customer feedback and user experiences attest to its effectiveness in helping secure job opportunities.
However, Kickresume, Resume Genius, Rezi.ai, and Skillroads are viable options worth considering for those seeking alternatives. Start using Resumaker.ai today and take your resume writing game to the next level!
FAQ
What is Resumaker.ai?
Resumaker.ai is an Artificial Intelligence (AI)-based online tool that allows individuals to create professional resumes easily and quickly. It offers high-quality suggested phrases, customizable templates, and AI optimization to make your resume stand out in a competitive job market.
How does Resumaker.ai use AI in resume creation?
The built-in AI engine of Resumaker.ai auto-fills important data and adapts to your preferences, making the resume creation more efficient. It utilizes HR-approved algorithms to ensure your resume aligns with what recruiters in various industries look for.
What are some limitations of Resumaker.ai?
The main limitations of Resumaker.ai are the limited file format options and a lack of unique standout features compared to other online resume building tools. However, the high-quality templates and phrases provided compensate for these cons.
What do user reviews say about Resumaker.ai?
Most user reviews for Resumaker.ai are positive, highlighting its user-friendly platform and its efficiency in generating a professional resume quickly. Users have praised the high-quality suggested phrases and customizability of the templates.
Are there any alternatives to Resumaker.ai?
Yes, there are alternative tools to consider like Kickresume, Resume Genius, Rezi.ai, and Skillroads. These platforms also offer customizable templates and intuitive interfaces to help you create an impressive resume. They also offer a range of additional features and services that might fit your resume making needs better.