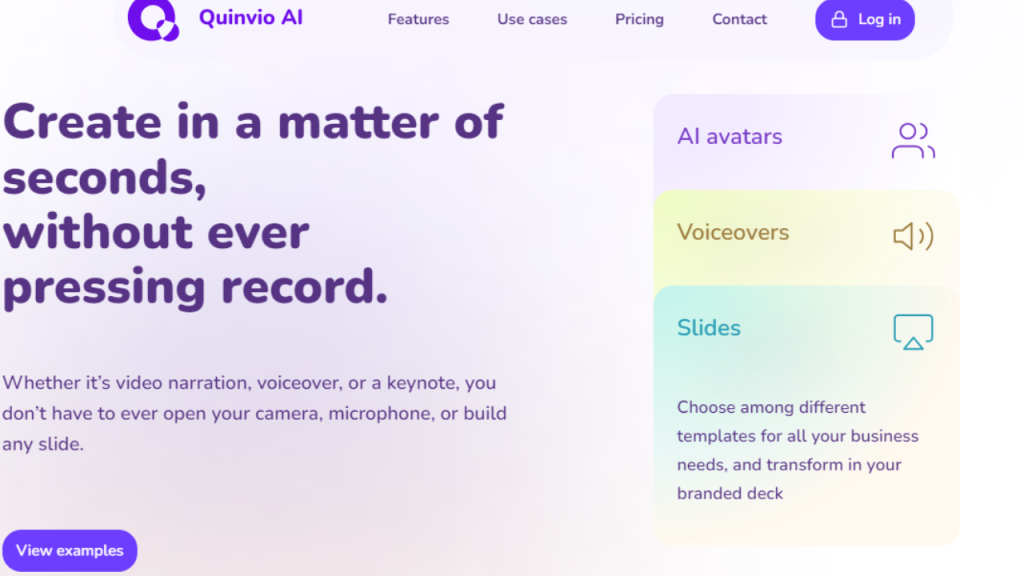 Quinvio AI is a presentation-making tool powered by artificial intelligence. It provides smart writing suggestions and allows users to program realistic speaking avatars in multiple languages. With pricing plans beginning at $29.99 per month, users can access its advanced features. While Heygen serves as an alternative, it does not offer some of Quinvio's distinctive capabilities, including AI-driven scripting help and avatar personalization.
Table of Contents
Quinvio AI Features
– Quinvio AI provides advanced features such as personalized AI suggestions that enhance writing performance.
– This tool offers an intuitive and straightforward user interface, accommodating varying proficiency levels of users.
– Additionally, realistic AI avatars with the capacity to speak different languages and styles add diversity and realism to video presentations.
– These combined functionalities save time while creating content by offering a seamless work process.
AI suggestions for creating outlines and improving writing performance
Quinvio's AI tool employs advanced technology to offer suggestions for creating perfect outlines. This exceptional feature helps students focus on their ideas while the AI smartly assists in forming structured layouts.
This further enhances writing performance by streamlining information effectively and improving overall efficiency. Artificial intelligence not only clears cumbersome tasks off your plate, like creativity or styling but simultaneously polishes presentation skills by engaging in copywriting based on the prepared outline.
For a detailed draft that meets presentational goals, Quinvio provides proofreading and text editing services where needed, making it an indispensable tool in harnessing powerful content creation.
Intuitive user interface
Quinvio's platform features an intuitive user interface designed for ease and efficiency. As students navigate through the tool, its simplified design becomes apparent, focusing students' attention on substantive content creation rather than technical complexities.
This smartly crafted environment harbors efficient presentation tools and seamless text editing capabilities, allowing you to fine-tune your work precisely.
The interface of Quinvio is noted not just for a streamlined content creation experience but also for its professional styling options. The intuitive user interface effortlessly adopts branding colors and elements to maintain brand consistency across presentations.
With timesaving features strategically included in this easy-to-use platform, Quinvio enhances focus on creativity and ideas while reducing time spent on menial tasks.
Realistic AI avatars speaking different languages and styles
Quinvio AI avatar designs break the mold, offering users a dynamic experience with realistic representations. These avatars can articulate in multiple languages and assorted styles, opening up possibilities for engaging presentations.
You can immerse yourself in diverse speech synthesis options and voice customization features while granting your avatar its unique speaking speed control and punctuation marks. Not confined to just human-like visuals, Quinvio offers both painted characters along with hyper-realistic designs.
This personalized touch transcends linguistic barriers, providing an intuitive platform without requiring mics or video recordings. The brand's appreciable innovation is visible when they effortlessly transform product websites into informative video presentations—such advancements position Quinvio as a frontier among presentation software technologies powered by Artificial Intelligence (AI).
Detailed Review and Comparison of Quinvio AI and Heygen
Quinvio AI and Heygen are powerful content-creation tools, particularly in presentations. They have unique features to help students streamline the process, save time, and produce high-quality work. The table below provides a detailed comparison.
| | | |
| --- | --- | --- |
| Features | Quinvio AI | Heygen |
| Content Creation | Quinvio focuses on content creation, allowing users to concentrate on their ideas without worrying about the technical aspects. This feature makes it a one-stop shop for all presentation needs. | Heygen provides a platform for users to create content but does not offer a comprehensive solution like Quinvio. |
| AI Suggestions | Quinvio provides AI suggestions for creating outlines and improving writing performance, which can benefit students. | Heygen does not offer this feature. |
| Styling and Branding | The styling of presentations in Quinvio remains consistent by utilizing branding colors, a feature that can make presentations look professional and cohesive. | Heygen does not provide this feature. |
| User Interface | Quinvio has an intuitive user interface, which makes it easy for students to navigate and use the platform. | Heygen has a more complex user interface, which may require a learning curve. |
| Realistic AI Avatars | Quinvio offers realistic AI avatars speaking different languages and styles, enhancing the overall presentation experience. | Heygen does not provide this feature. |
| Timesaving Capabilities | With Quinvio, students can create presentations quickly without recording videos, using a microphone, or building slides. This significantly saves time and effort. | Heygen does not offer this level of automation, which may require more time and effort on the part of the student. |
Quinvio AI Pricing
Explore the cost-effective freemium model of Quinvio AI with subscription plans beginning at a competitive price of $29.99 per month. Delve into this intriguing pricing structure to comprehend its suitability for your unique requirements.
A freemium model with paid plans starting from $29.99/mo
Quinvio AI offers accessibility through its freemium business model. This allows hosting services and minimal access to content creation tools at no cost. Quinvio provides tiered pricing models for those seeking enriched features starting from $29.99 monthly.
Each successive subscription plan level unlocks a range of additional functionality designed to optimize the user's content generation process.
The availability of premium options is suited for users with diverse needs and budgets. The monthly fee grants a unique blend of exceptional features that propel your productivity while ensuring great value for your money.
Whether planning, drafting, or reviewing documents, each paid plan enhances overall project efficacy by leaps and bounds in different stages without disrupting one's financial limit.
Pros and Cons of Quinvio AI
Understanding the strengths and weaknesses of Quinvio AI can help users make an informed decision. On the one hand, the tool offers highly beneficial AI suggestions for content creation, an easy-to-use interface, and realistic AI avatars.
However, its limitations are notable, with a lack of extensive features in the free plan and a pricing scheme that may not fit all budgets. These pros and cons hold equal weight in deciding value versus cost when choosing this AI platform.
Pros:
Quinvio shines as a comprehensive platform for all presentation needs. Its distinct ability to provide AI suggestions speeds up the ideation process and enhances copywriting skills, creating a streamlined workflow.
It enables experimentation with various styles, encouraging users to express their creativity freely. Script reading capability also eliminates the tedious task of manually entering text into your presentations.
With Quinvio, students can swiftly transform their scripts by brainstorming ideas and writing down thoughts without recording videos or building slides, making slide creation an absolute breeze! The timesaving aspect of Quinvio positively contributes to productivity levels by maximizing efficiency in producing presentations.
Helpful AI suggestions for content creation
Harnessing the power of Quinvio's advanced AI can guide you in easily generating and shaping your content ideas. This ground-breaking tool demonstrates its value by providing much-needed assistance during all stages of content creation, from ideation to proofreading.
The AI provides numerous templates tailored for diverse business needs, enabling users to build compelling presentations without the hassle of recording videos or concocting slides.
Quinvio's innovative technology makes text editing a breeze, aligning your text seamlessly with your presentation objectives and polishing your work perfectly. An impressive feature on the horizon is its ability to transform product websites into captivating video presentations – one more example of how this unique AI serves up truly helpful suggestions for creating standout content.
Easy-to-use interface
Quinvio's easy-to-use interface streamlines the presentation creation process. It is designed to minimize distractions and boost productivity, providing a user-friendly experience that emphasizes content creation.
The AI system deals with fine details, freeing users to focus on their innovative ideas.
This simplified interface lends itself well to students working on complex projects in tight timelines. With Quinvio's efficient design, presentations can come together in seconds without needing video recording or slide-building hassle.
Its customizable templates become extremely handy when sprucing up branded decks, while multilingual support options allow voiceover customization with personalized punctuation and various voice styles.
Realistic AI avatars
Quinvio features realistic AI avatars that bring a novel experience to content creation. These virtual characters are animated figures and lifelike entities speaking in multiple languages and tones.
They cover vital aspects such as copywriting and setting styles for your presentation. You can personalize these AI-driven personas with punctuation voice speeds tailored to suit specific requirements – crafting a unique brand style every time! One exciting development at Quinvio is converting websites into video presentations led by these avatars, further simplifying conversion tasks for students across the globe.
Cons:
Quinvio AI does have some limitations when considering its disadvantages. One drawback is that the free plan has limited features, which might be restrictive for users looking to benefit from the tool's full potential.
Another possible con could be its pricing structure; depending on individual budgets, Quinvio can be a relatively costly option, especially for students or individuals on tighter finances.
Also worth noting is that Quinvio does not readily disclose specific statistics regarding effectiveness and success rates. This lack of transparency could deter potential customers from seeking evidence-backed assurances before using this AI tool.
Limited features in the free plan
Quinvio AI's free plan offers a limited set of features. Users receive 30 seconds to create video content, which can be restrictive for more extensive projects. It also provides 50 suggestion prompts from the AI tool, guiding novices in crafting unique content, but this may not satisfy experienced creators' demands.
Given these constraints, students and others on a tight budget might find it challenging to use Quinvio effectively without upgrading to the Pro Plan, which includes advanced features like extended video credits and access to numerous avatars and voice styles.
The limitations in the freemium model highlight an essential aspect of Quinvio's advantages and disadvantages, requiring scrutiny while choosing an AI tool.
Pricing may not be suitable for all budgets.
Quinvio AI has much to offer for improving writing performance and creating engaging content. However, it's important to consider that its pricing may not match every student's budget.
The Quinvio AI toolbox comes at a cost, with plans starting from $29.99 per month, which some students might find expensive due to their financial limitations or tight budgets.
Despite helpful features like an intuitive user interface, realistic AI avatars, and solid suggestions for content creation, affordability remains a critical factor among users, especially those with budget constraints.
It should be noted that while some can afford the paid plan offering additional features, others may have difficulties fitting this into their spending capacity, thus making Quinvio less accessible for various financial situations.
Alternative AI Tools to Quinvio AI
Numerous AI tools in the market, including Movio, Vimeo AI, Video Editor AI, and Hourone, offer varying features as viable alternatives to Quinvio AI.
Movio
Movio offers a robust alternative to Quinvio AI, which is particularly useful for students. Through its innovative tool, TalkingPhoto, users can generate professional-looking videos without requiring any recording or creating slides.
Furthermore, it introduces an impressive feature of AI avatars, which act as spokespersons in the generated content. These digital entities speak in customized languages and styles, adding authenticity and engagement to presentations.
The main attraction remains the ability to tweak the appearance of these avatars according to user preferences, making Movio stand out from other platforms in creating engaging visuals that capture audiences' attention effectively.
Vimeo AI
Vimeo AI is a striking alternative to Quinvio AI in our list of cutting-edge tools. It dives into the world of automated video editing, combining user-friendly mechanics with an advanced artificial intelligence system.
Incorporating Vimeo AI in your content creation can remove bottlenecks from your process, accelerating it with automated copywriting and consistent branding features comparable to Quinvio's offerings.
With this tool, maintaining a unique style across all videos becomes a substantial timesaver for students with endless papers and assignments. The technology enhances the quality of projects and provides instant results – from presentation building to script writing assistance – without overwhelming users' budgets or schedules.
Users find proofreading and text editing services particularly beneficial, upholding their work integrity by eliminating errors and polishing language before submission or publication.
AI Video Generator
The AI Video Generator provides an exceptional alternative to Quinvio. This tool harnesses the power of artificial intelligence to produce videos swiftly, bypassing traditional methods like recording and slide creation.
The advanced technology enables users to generate video content in seconds, making it a timesaving solution for students and young professionals.
One striking feature is its diverse AI avatars capable of delivering speeches using personalized punctuation, voice styles, and varying speeds across different languages. It also generously offers pre-designed templates tailored for various business needs.
With this AI tool, users can effortlessly convert their standard presentations into visually compelling branded video decks. However, pricing information or trial options are not explicitly mentioned on the platform's webpage.
QuickVid.Ai
QuickVid.Ai tackles video content creation by using artificial intelligence. It deserves mention as a rapidly established platform in AI technology options due to its robustness and unique features.
This tool makes filming and editing videos incredibly efficient for students who might need supplemented audio-visual materials for their schooling needs. The comprehensive capabilities of QuickVid.Ai offer an array of customizable video styles that match every requirement, creating professional-grade video content within minutes.
All you require is textual input, and Quickvid's sophisticated algorithms do the rest, redefining simplicity with efficiency in alternative AI solutions.
Video Editor AI
Video Editor AI holds a distinct place among alternative AI tools to Quinvio AI. Unlike several other options, this platform boasts an exceptionally intuitive interface that makes editing and producing videos much more accessible for students.
Its advanced features allow you to tailor your content, framing it perfectly for your intended audience. Using Video Editor AI streamlines video creation and offers customizability that accommodates various branding needs or personal preferences.
Thus, it is a significant asset in enhancing presentation quality, making complex concepts easily understood through well-crafted videos. It has gained recognition in artificial intelligence-powered editing tools even though specific details about its pricing or algorithms are yet to be fully disclosed.
Hour one
Hour one stands as a strong alternative to Quinvio AI in content creation tools. This platform also streamlines presentation creation, offering simplified design processes and efficient slide-building alternatives.
Hour one eliminates the need for video recording or microphone use, mirroring Quinvio's capabilities but adding its unique flavor. Users can invest their time into ideas while leaving text consistency concerns to this innovative tool's robot-proofreading services.
Synthesia
Synthesia propels video creation into the realm of artificial intelligence. With this tool, creating AI videos becomes easy and convenient. It eliminates the need for extensive recording sessions or fussing with a microphone.
As one of the alternative AI tools to Quinvio AI, Synthesia has been significantly impacting digital education.
This versatile software offers virtual avatars that users can leverage for their narration needs. You can access painted and realistic characters, adding personal touches to your projects while keeping students' attention captivated by vivid storytelling elements.
What sets Synthesia apart is its option for customizable voiceovers where you can tinker with language, speaking speed, punctuation, and various vocal styles per your requirements.
AI Studios
AI Studios presents a potent alternative to Quinvio AI for students seeking thoughtful content generation. Renowned for its sophisticated algorithms, it shapes your ideas into refined presentations with reduced time investment.
The platform stands out with its advanced copywriting assistance feature, designed to perfect your text alignment and refine the overall presentation creation process. Its primary allure comes from branding consistency services that infuse color schemes representative of specific brands across slides, ensuring brand reinforcement during presentation delivery.
In-depth Overview of Colossians Creator as an Alternative to Quinvio AI
Colossyan Creator is emerging as a strong AI tool contender in content creation. Its intuitive interface and sophisticated algorithms are designed to ease user input into clear, compelling narratives.
Crucially, Colossyan Creator mirrors Quinvio's primary aim, allowing users to focus on their core ideas while it handles ancillary tasks like copywriting and formatting.
Distinguishing itself from other AI tools, including Quinvio, Colossyan Creator delivers a variety of templates for varying business needs. This includes transforming mundane product website text into engaging video presentations with a click – truly revolutionizing branded decks! But it's not just about presentation; this robust tool builds upon features Quinvio beholds while vigorously striving towards efficiency at affordable prices.
Please note that specific success rates or effectiveness data for Colossyan Creator are pending release.
Quinvio AI Reviews
Users share their experiences and feedback on the Quinvio platform, outlining its strengths and potential improvement areas. The section contains authentic reviews, which provide valuable insight into how this AI tool performs in real-world scenarios.
Real user reviews and experiences with Quinvio AI
Across various platforms, customers have voiced their thoughts and opinions on Quinvio AI. Many users highlight this tool's easy-to-use interface and helpful AI suggestions as major advantages.
Additionally, students find that the realistic avatars increase engagement in study sessions.
Negative feedback mainly revolves around the limited features offered in the free plan. Some users feel confined by these limitations, while others are dissatisfied with the price of advanced features.
Despite consolation from efficient customer support, a few maintain that pricing may not suit everyone's budget.
While most experiences reveal high user satisfaction ratings of Quinvio AI, it's worth noting that some differences are evident due to individual needs and preferences. User perspectives help potential buyers evaluate if this is an authentic fit for them; decisions often hinge on such genuine reviews on Quinvio AI.
Conclusion
Opting for Quinvio AI enables a smoother and more efficient content creation journey. It effortlessly blends technology with creativity, opening up exciting presentation design and delivery avenues.
However, its pricing structure may need consideration before investing. With various alternative tools, users have a wide spectrum to make their ideal pick.