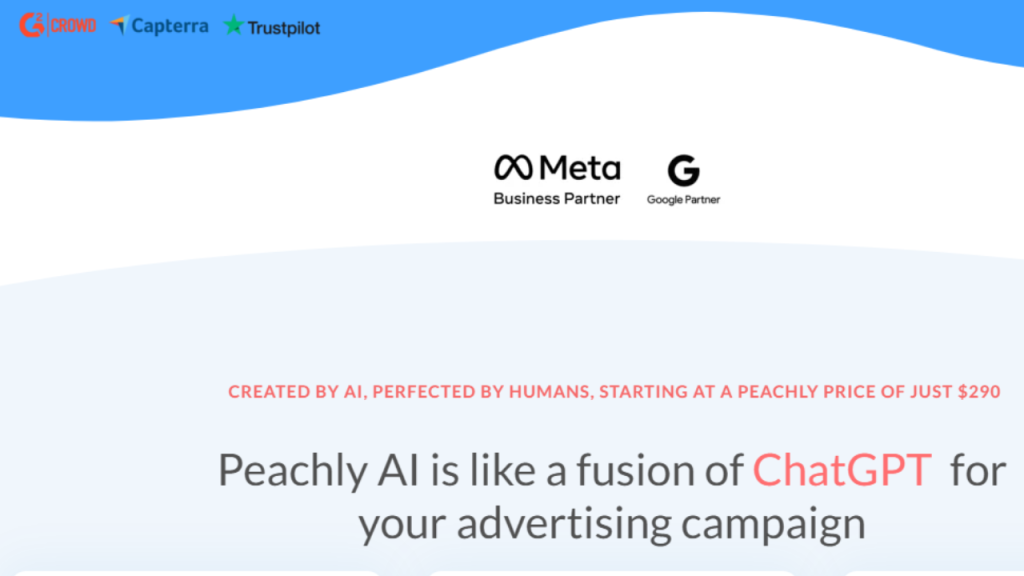 Peachy A.I. is a cutting-edge AI-driven advertising tool designed to enhance ad campaigns. With pricing plans ranging from $29 to $99 per week, it offers features like unlimited campaign setups. While there are drawbacks, its strengths lie in diverse user interaction options and customizable video settings. For those seeking other options, Tugan.ai, Wrytr AI, and WriteMe.ai serve as potential alternatives, each bringing unique specialized functions to the table.
This blog post explores everything from Peachly AI's features and varied price packages to pros and cons and viable alternatives. Keep reading to unravel ways this tech can elevate your advertising strategy!
Table of Contents
Overview of Peachly AI
Peachy A.I. is an advanced online advertising solution that utilizes cutting-edge artificial intelligence to synthesize ad generation. With a variety of pocket-friendly pricing plans, including a 7-day free trial, Peachly streamlines the creative development process for businesses of all sizes.
By offering powerful features like unlimited campaign creation and conversion-based A.I. ads, Peachly aids small businesses in achieving higher ROI on their advertisements without any percentage cuts from profits earned or prices based on ad spend.
Description and pricing model
Peachy A.I. makes its services accessible by providing a free 7-day trial on selected packages. This allows users to test the tool's impressive features and gauge their performance without financial commitment.
It offers different subscription plans contextualized as Starter Spark, A.I. Accelerator, and A.I. Aristocrat, which are structured at varied prices from $29 to $99 per week. The plan you choose determines access to numerous capacities, such as AI-powered campaign setup, unlimited campaign creation, and conversion-based ads, among other whooping features that ensure your advertising effectiveness is top-notch.
You're not left in the dark either; Peachly provides round-the-clock- support showcasing a blend of human help and brilliant expert algorithms for personalized assistance when needed most!
Features of Peachly AI
Features make Peachly AI a formidable tool in the realm of digital marketing. The impressive list includes:
Prompt campaign setup powered by artificial intelligence.
Unlimited capacity for campaign creation.
Conversion-oriented A.I. ads to drive business success.
A feature named PeachyCopy Unlimited that promotes engaging content.
Round-the-clock availability of expert support from A.I. professionals.
They offer boundless conversion-based ads in their high-tier plans.
The A.I. Accelerator plan covers advertising accounts/brands of up to five. The limit on advertising accounts gets removed entirely in the ultra-premium A.I. Aristocrat plan.
Infinite copies leveraging artificial intelligence.
Automatic creation of countless A.I. images.
Assortment suggestions for targeting without constraints.
Pros and cons
The following table illustrates the pros and cons of utilizing Peachly AI, a tool designed to assist students in various tasks.
| | |
| --- | --- |
| Pros | Cons |
| Peachy A.I. contains visual and audio content, making it a versatile tool for different learning styles. | However, the webpage lacks specific information about its subject matter. This can create uncertainty about the tool's capabilities and uses. |
| It offers various user interaction options, including "Like," "Add to Watch Later," "Share," and "Play." These features enhance user engagement and learning. | The video hosted on the webpage is only 5 minutes and 40 seconds long. While this short format may cater to limited attention spans, it may not provide in-depth information. |
| The tool comes with video settings that allow users to adjust the quality and speed of playback, optimizing the user experience. | Despite the interactive options, clicking on a link within the webpage opens the content in a new window. This might disrupt user experience and engagement. |
The Peachly AI tool provides many useful features for students, but like all tools, it has its own set of limitations. Weighing the pros and cons will help students decide whether Peachly AI is the right choice for them.
Peachy A.I. Alternatives
Exploring potential alternatives to Peachly AI, we discover Tugan.ai, Wrytr AI, and Yaara, among others like WriteMe.ai, Linguix, W.A.I.T (Webuters AI Tools), and Botowski.
Tugan.ai
Tugan.ai emerges as a strong alternative to Peachly AI, particularly for students seeking specialized artificial intelligence solutions. This platform uses advanced machine learning techniques and natural language processing for intelligent automation.
It excels in cognitive computing, virtual assistant software development, data analytics tools application, predictive analytics performance, and chatbot development.
Incorporating an affordable pricing model similar to Peachly AI's approach yet offering unique features not found in Peachly AI makes Tugan.ai a preferred choice among users requiring multifaceted A.I. technology explorations.
Wrytr AI
Wrytr AI stands as a strong contestant among Peachly AI alternatives. Cutting-edge artificial intelligence helps in generating high-quality written content with efficiency.
Students find the natural language processing feature extremely useful as it simplifies complex jargon into understandable text.
Its machine-learning capabilities dynamically adapt to the user's writing style and vocabulary over time. Text analysis is another stellar aspect of Wrytr AI, helping students process large amounts of information swiftly without losing key details.
It also supports sentiment analysis, which can enhance their essays or research reports by adding an emotional understanding dimension to their sources.
Yaara
Yaara presents a potent alternative in the A.I. tools landscape. Known for its sophisticated artificial intelligence infrastructure, it offers options that some students may find more suited to their needs than Peachly AI.
Yaara provides comprehensive services at flexible pricing, much like Peachly's Starter Spark plan and others. The support available with this platform assists users effectively while handling tasks akin to setting up campaigns or interpreting easy-to-read reports.
Moreover, the trial period offered by Yaara enables potential customers ample time to experience firsthand if its suite of tools aligns seamlessly with their requirements before committing financially.
WriteMe.ai
WriteMe.ai is a commendable alternative amongst AI-powered writing tools such as Peachly AI. This platform permits interactive user experiences reminiscent of social media giants.
Users can share content, add to their watch list, or interact by liking posts. The tool's surprising range of video streaming capabilities gives it an edge over competitors.
WriteMe.ai hosts videos lasting up to 5 minutes and 40 seconds, making it ideal for short educational content or quick guides. Not just limited to viewing, users also relish the flexibility in controlling playback speed and adjusting video quality according to internet availability and personal preference.
Linguix
Linguix, a standout alternative to Peachly AI, specializes in proven AI-driven solutions for digital advertising. The tool broadens the scope for user interaction with options like "Like," "Share," and even "Add to Watch Later." Perfectly crafted visual and audio content complements its immersive interface.
Furthermore, users can access a comprehensive video section with a detailed 5-minute 40-second demonstration of Linguix's capabilities. Users can easily stream this on varied platforms, including GoogleCast, Picture-in-Picture, or Fullscreen modes – all accommodating different viewing preferences.
W.A.I.T (Webuters AI Tools)
W.A.I.T (Webuters AI Tools) propels itself with AI-powered campaign setup and conversion-based advertising. The tool's unique algorithm aids in optimizing your ad campaign for better performance.
It emerges as an equally competent Peachly AI alternative offering a variety of features, such as unlimited campaign creation and round-the-clock expert support.
The pricing packages present flexibly, starting at just $29 per week. A compelling point of interest is the 7-day free trial on selected packs to provide users with a hands-on experience before they commit to a purchase.
Users benefit largely from AI-driven advertising solutions provided by W.A.I.T, which ultimately helps yield higher returns on investment.
Borowski
Botowski serves as a valuable alternative to Peachly AI. Considering the needs of students, it provides an innovative approach to artificial intelligence and machine learning while focusing on automated messaging and virtual assistant applications.
Botowski incorporates natural language processing techniques for intelligent automation, contributing greatly to cognitive computing and robotic process automation.
Comparison of Peachly AI with Alternatives
This section provides a detailed comparison of Peachly AI with its alternatives. It delves into the specific features and capabilities, the pricing models, user reviews, and ratings for each software tool.
Notably, this information is crucial in distinguishing what sets Peachly AI apart from other online advertising solutions.
Features and Capabilities
Peachy A.I.'s features and capabilities surpass its alternatives in impressive ways. With options for interactivity such as 'Like,' 'Add to Watch Later,' 'Share,' and 'Play,' it actively enhances user engagement.
It provides customizable settings that allow students to adjust the quality and speed of playback according to their preferences, enhancing the overall experience. Crucially, Peachly supports several modes, including GoogleCast compatibility, Picture-in-Picture mode, and Fullscreen mode, contributing to a seamless learning experience.
Its social sharing feature facilitates collaborative learning among peers while upholding individual user preferences—an essential aspect for today's digital learners.
Pricing models
Peachy A.I. presents a flexible pricing structure tailored to meet varying individuals' needs. The Starter Spark plan, an affordable option at $29 per week, provides users with essential features such as AI-powered campaign setup, unlimited campaign creation, and production of 300 conversion-based A.I. ads.
This suits those exploring the world of artificial intelligence in advertising.
There also are premium plans like the $49 weekly A.I. Accelerator plan for students seeking more advanced capabilities: unlimited conversion-based ads and accommodation for up to five advertising accounts/brands.
For even greater access – consider the $99-per-week A.I. Aristocrat plan that gives additional advantages, including the capability for unlimited advertising accounts plus a dedicated advertising marketing specialist providing personalized guidance.
Peachy goes beyond by offering an 'unlimited package' costing just $19, packed with features for uninterrupted services, such as limitless copies, countless automated image selection suggestions, and full-day digital assistance, making it hassle-free for any customer utilizing their services.
User reviews and ratings
Users have voiced their experiences with Peachly AI through reviews and ratings, providing insight into its usefulness at various levels. These invaluable inputs shed light on function aspects and the overall user interaction options within Peachly AI.
Many laud how they can customize video settings such as playback quality and speed, catering to a personalized viewing experience. Impressive remarks center around the provided video duration from 00:00 to 05:40 minutes, deemed satisfactory for most users.
Judging by what people have said about it, potential customers can glean critical information regarding future interactions with this artificial intelligence tool through candid feedback and honest ratings.
Special Offer for Peachly AI Users
Peachy A.I. frequently offers exclusive deals and promotions to its users, adding extra value with additional benefits or enhanced features at no extra cost.
Discounts or promotions
Special discounts and promotions present an excellent opportunity for students to discover the benefits of Peachly AI. The company occasionally provides valuable offers to its users.
Free Trial: To begin with, Peachly offers a free 7-day trial on selected packages. This means students have ample time to explore the tool before committing.
Limited Time Offers: The company sometimes introduces limited-time offers. Therefore, students must watch the official website or subscribe to Peachly's newsletter for updates.
Exclusive Deals: Alongside other offerings, Peachly might surprise users with exclusive deals around festive seasons or special events.
Savings Opportunities: Bundled pricing options are available sometimes, allowing users to save money in the long run.
Additional benefits or features
Peachy A.I. provides many benefits and features designed to streamline campaign processes and enhance returns on investment.
7-day free trial: Peachly allows students to freely explore the platform's features for a week.
Comprehensive customer support: Dealing with queries or technical snags isn't bothersome with Peachly, as it guarantees round-the-clock support from A.I. experts.
Unlimited campaign creation: There's no cap on creativity and growth; users can roll out unlimited advertising campaigns across various platforms.
Conversion-focused ads: The AI-powered ad targeting ensures that your content reaches potential customers, improving conversions.
Detailed performance reports: Keep track of your campaign performance precisely with user-friendly reports that provide clear insights into success metrics.
Customizable experience: With smooth video playback options, customizable settings, and easy sharing features, Peachly guarantees a seamless user experience.
Superior R.O.I.: Peachly's capabilities have been lauded by users who have doubled and even tripled their return on investment through Facebook advertising.
Various pricing tiers: Whether you're getting started or scaling up, there's a plan to match your needs, each packed with unique benefits linking to improved brand visibility and audience engagement.
How to Get Started with Peachly AI
Getting started with Peachly AI is er-friendly, followed by an interactive orientation and training module that acquaints you with various tool features.
The platform also offers integration options for seamless transition into your existing workflow system.
Sign-up process
To start with Peachly AI, students must undergo a simple sign-up process. First, select the preferred pricing plan from Starter Spark, A.I. Accelerator, or A.I. Aristocrat. Each tier offers unique features tailored to different needs and budget constraints.
Immediately after making this choice, complete the online registration form detailing basic personal information such as name and email address. A verification link will then be sent to the registered email for confirmation.
Success in Peachly's sign-up ensures access to invaluable tools like conversion-based ads and dedicated advertising specialists depending on your chosen package.
Onboarding and training
Peachy A.I. ensures a smooth onboarding and training process for new users. Students receive an introduction to the platform's functionalities and thorough guidance for effectively utilizing tools.
The implementation process is made easy with step-to-step instruction manuals and a series of tutorial videos lasting about 5 minutes and 40 seconds each. Users can access these insightful materials at their own pace, facilitating self-directed learning that fits into any schedule.
This integrated initiation approach ensures seamless acclimation as users journey from beginners to experts in no time.
Integration options
Integration options with Peachly AI provide seamless convenience and user engagement. Users can interact with the tool using social media integration, bookmarking, sharing options, multimedia playback, and interactive features.
The integration allows users to "Like," "Add to Watch Later," or even "Share" their progress with others.
Clicking on content linking within Peachly AI opens up new sources of information without leaving the platform. The video quality control feature provides custom settings for GoogleCast, Picture-in-Picture, and Fullscreen modes.
This tailors users' learning experiences by allowing video speed and quality changes as needed for comprehensive understanding. Additionally, beyond individual use, collaborative sharing enables students to benefit from group study sessions or project collaborations effectively.
Conclusion and Final Thoughts on Peachly AI
After analyzing Peachly AI's range of features and pricing, it surpasses as a reliable tool for students to create high-converting ads. Its competitors also have varying strengths, but we can confidently assert that Peachly AI proves to be an effective, affordable choice.
Offering ease of use and tremendous functionality under one roof, there is no wonder why many identify Peachly AI as the go-to online advertising solution for scaling businesses effectively.