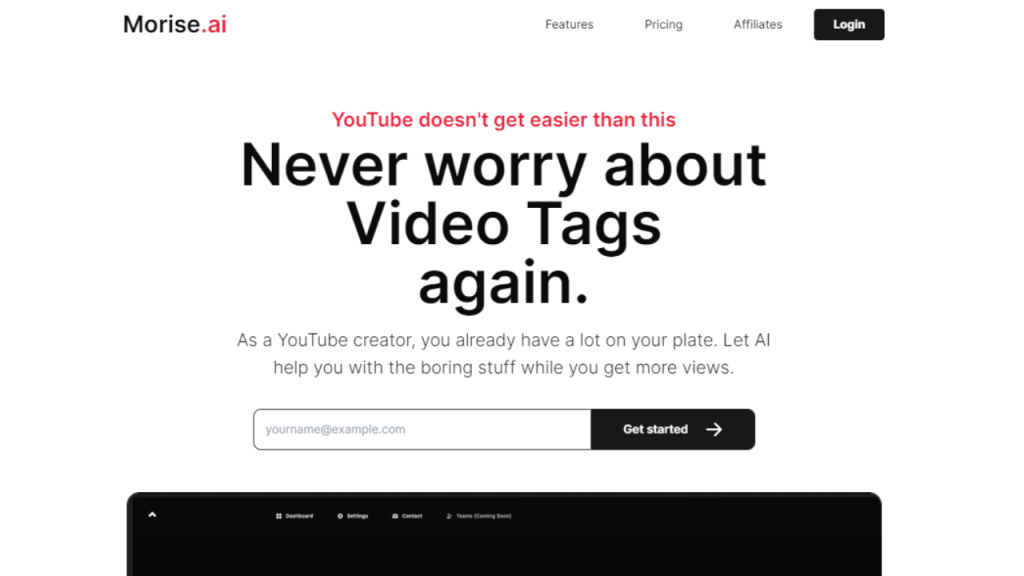 Morise.ai is an advanced AI-powered tool tailored for content creators, focusing on optimizing YouTube channel growth. For $22 monthly, users gain access to unlimited video ideas and hassle-free unsubscribing. Opting for an annual subscription offers a substantial 25% discount, making it cost-effective in the long run. While Morise.ai stands out, alternatives such as Creator Resource Kit, Picmaker, YTRCP, and Creatosaur: Tools for Creators offer distinct features catering to diverse user requirements. User feedback predominantly praises its pricing flexibility and creative advantages, though some have expressed concerns regarding its refund policy.
Table of Contents
Key Takeaways
Morise.ai is an AI tool for content creators, aiding YouTube growth with ideas and posts.
At $22 per month, it offers unlimited video ideas and easy unsubscribing options.
A yearly subscription gives users a hefty 25% discount – saving costs in the long term.
Alternatives include Creator Resource Kit, Picmaker, YTRCP, and Creatosaur: Tools for Creators; each brings unique features for specific user needs.
User reviews highlight positive aspects like pricing flexibility & creative benefits but also refer to hiccups with the refund policy.
Morise. ai Overview
Morise.ai is an Artificial Intelligence (AI) tool for content creators, businesses, and agencies. It offers many features that simplify YouTube growth, including unlimited video ideas, community posts, video tags, titles, and descriptions.
Beyond facilitating content strategy enhancement, the AI-powered platform leverages data-driven insights to optimize videos for maximum reach on YouTube by understanding its ranking algorithms.
In addition to these benefits, subscribers enjoy premium support services and affordable subscription choices. Users can freely unsubscribe from Morise at any desired time without hassle or questioning of their decision.
Product Information
Morise, an AI tool designed for agencies, creators, and businesses alike, offers many features at an affordable rate of $22 per month. Its simple monthly billing system comes bundled with dazzling perks such as unlimited video ideas and premium customer support.
Anytime you feel the tool is no longer serving its purpose or meeting your requirements, their easy unsubscribe option promises a hassle-free process. The true charm of Morise lies in its generous yearly discount that slashes 25% off the original price for those who decide to commit long-term.
Beyond creating engaging content, it fosters community engagement – empowering users to generate compelling posts that boost online presence across various platforms.
Key Features and Benefits
Morise.ai is an innovative tool due to its robust features and benefits.
Subscriptions provide unlimited access to video ideas, empowering both agencies and creators.
Generating community posts, tags, titles, and detailed descriptions is a breeze with Morise.ai.
The subscription plan promises flexibility for businesses, ensuring that users can unsubscribe whenever they want without providing any explanation.
Premium support becomes part of your package once you join the Morise community, though more specific details remain undisclosed.
Agencies will find value in the monthly $22 subscription service billed yearly but with a 25% discount for an annual billing cycle.
A generous 7-day refund policy allows new subscribers to receive a 100% refund after their first payment if the product doesn't meet their expectations.
Morise. ai Pricing
Morise.ai offers an affordable pricing plan that fits around the budget of students, creators, and even businesses. For $22 per month billed yearly, users can access unmatched features such as unlimited video ideas and the ability to make unrestricted community posts.
Most notably, Morise.ai champions customer flexibility by allowing subscribers to opt-out anytime without any hassle or questions asked.
Attractive periodic discount offers are also up for grabs on this AI tool. One highlight is the annual subscription option, which comes at a hefty 25% discount rate for customers who choose it over monthly billing plans.
This pricing policy gives students full value for their money and fosters an environment where great video content can be created seamlessly without worrying about costs.
Pros and Cons of Morise. ai
Morise.ai, like many AI tools, has its strengths and weaknesses. For students, understanding these can provide valuable insight into whether or not Morise.ai is the right tool for their needs. The following table summarizes the pros and cons of Morise.ai:
| | |
| --- | --- |
| Pros | Cons |
| Unlimited access to video ideas, community posts, video tags, titles, and descriptions. | Pricing might be steep for students, priced at $22 per month, billed yearly. |
| Offers a 7-day refund policy for subscribers, providing a risk-free trial period. | Yearly billing may not be preferable, especially for those seeking short-term usage. |
| Subscribers receive premium support, ensuring a seamless user experience. | Despite the premium support, understanding and utilizing all features might take some time for beginners. |
| The AI-generated content is plagiarism-free and SEO-friendly, increasing online visibility. | Reliance on AI might limit personal creativity and originality in content creation. |
| Used and endorsed by popular YouTubers, adding to its credibility. | Some alternative tools might offer similar features at lower costs. |
In conclusion, Morise.ai is a comprehensive tool that offers various features beneficial for content creation. However, weighing these advantages against the potential limitations is crucial before deciding to subscribe.
Alternatives to Morise. ai
If Morise.ai doesn't quite fit your needs, consider alternatives such as Creator Resource Kit, Picmaker, YTRCP, and Creatosaur: Tools for Creators – each offering unique features that may better align with your YouTube growth strategies.
Intrigued? Dive in to explore these alternatives further.
Creator Resource Kit
The Creator Resource Kit enters the market as a top-notch alternative to Morise. Designed with agencies, creators, and businesses in mind, this service aims to transform how you approach content creation.
Its pricing is competitive at $22 per month, billed yearly, and subscribers benefit from an appealing 25% discount for annual billing.
An intriguing feature of the Creator Resource Kit is its dedication to providing unlimited resources for video content production. Subscriptions unlock limitless access to video ideas and free rein over community posts.
Moreover, unconfined usage extends to video tags, titles, and descriptions. This kit funnels your creativity into successful outputs and simplifies the process by allowing any time unsubscribing without complications or queries posed by departing customers.
Picmaker
Picmaker stands out as a powerful alternative to Morise.ai. This dynamic online design tool is perfect for students seeking an easy-to-use creative service. For only $22 per month, Picmaker offers unlimited video ideas, tags, and titles, which are ideal for enriching any content creation project.
Users also receive premium support and enjoy peace of mind with a 7-day refund policy following the first payment – speaking volumes about their confidence in their product.
From agencies to businesses and creators, this graphic design software delivers robust capabilities that enhance visual communication, making it a worthwhile investment.
YTRCP
YTRCP is a viable alternative to Morise, delivering excellent customer support and alluring subscription benefits. Priced at $22 per month with annual billing, it fits neatly within most student budgets.
Students who want to get the most value can opt for its yearly subscription that's discounted by 25%. The YTRCP team strives to offer premium support, ensuring subscribers are fully supported in their creative endeavors.
Its flexible cancellation policy further emphasizes respecting students' needs and budget constraints – you can unsubscribe without any penalties or questions asked.
Expect this innovative suite of tools to bring your creations up a notch!
Creatosaur: Tools for Creators
Creator, an alternative to Morise, provides various powerful tools designed for creators. With annual billing at just $22 per month, Creatosaur offers affordability and all the creative resources students need.
The flexible subscription system allows subscribers to opt-out at will without hassle. Amidst numerous industries served, it meets diverse requirements in businesses and agencies, offering unlimited video ideas and fostering endless creative possibilities.
Further enhancing its appeal is the perk of unlimited community posts encouraging strong community engagement among creators. Therefore, making Creatosaur an affordable choice and one that promotes comprehensive growth through shared knowledge and mutual support.
Morise. ai Reviews
Users have voiced their opinions about Morise.ai. They appreciate the pricing options allowing them to select a subscription tailored to their needs. Many enjoy the flexibility of discontinuing the service at any time without penalties or problems.
The tool is praised by a broad target audience, ranging from individual creators and agencies to businesses large and small.
Subscribers have applauded it for regularly providing fresh video content ideas, which boost creativity and engagement rates with their community. Premium customer support has also received positive feedback due to its efficient problem-handling skills.
However, not all reviews raved about Morise.ai's refund policy; some claim they did not get a 100% refund within seven days after making the first payment.
Another factor noted in multiple reviews is how easy it is to manage various aspects like video tags, titles, and descriptions, irrespective of one's tech-savviness level or lack thereof.
For users who prefer diverse payment options, this service also seems to climb high on satisfaction charts.
In general, though, most users feel that despite a few minor hiccups mentioned above, Morise.ai offers an overall beneficial experience in creating dynamic online content, attracting views, and increasing interaction across various social channels.
Conclusion
Morise's AI tool is a comprehensive solution geared towards maximizing YouTube content. It stands out among its competitors with various features, affordable pricing, and flexible subscription terms.
Possessing the power to revolutionize your video optimization strategy, Morise truly encapsulates the future of digital marketing for creators and businesses alike.