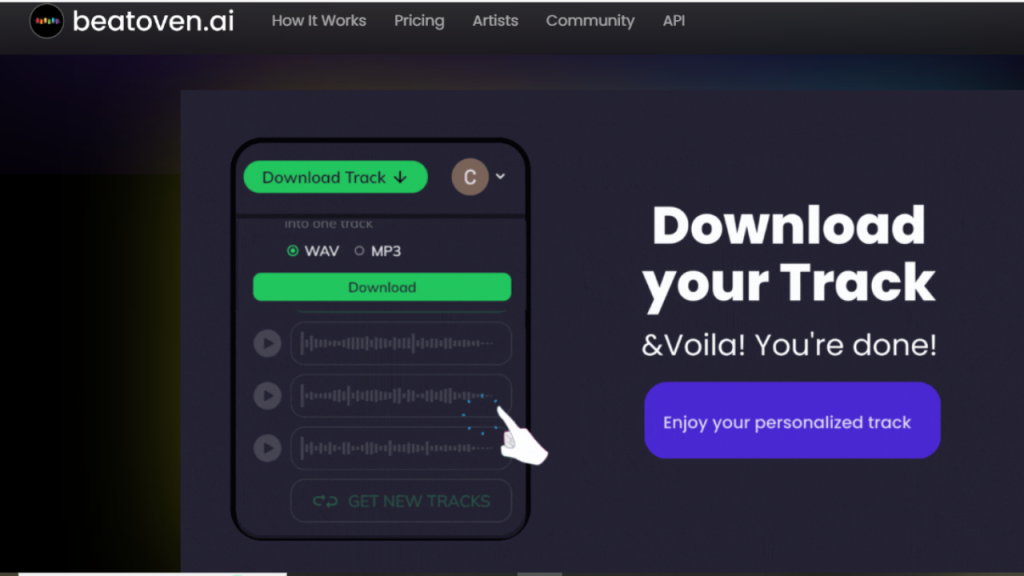 Beatoven.ai is an AI-driven platform designed to simplify music creation, catering especially to those without in-depth knowledge of music theory and production. It offers real-time music generation tailored to user preferences and moods, ensuring personalized tracks. While newcomers can explore its features during a free trial, the Pro Plan provides additional benefits.
Table of Contents
Key Takeaways
Beatoven.ai is a powerful tool that uses Artificial Intelligence to create unique music tracks.
This platform offers real – time music generation based on user preferences and moods, ensuring customized outcomes for users.
Users can try the revolutionary features of Beatoven.ai during a free trial, while the Pro Plan offers added benefits.
Despite its many advantages, using Beatoven.ai may come with a learning curve for newcomers to AI software and could have higher costs than traditional methods.
What is Beatoven Ai?
Beatoven.ai is a groundbreaking tool that reinvents the process of music creation by incorporating intricate algorithms of artificial intelligence. Straddling artistry and technology, this platform allows users to create unique musical compositions tailored to their specific preferences in mood and style.
It streamlines music production, making it accessible even for beginners starting their creative journey. With its powerful AI engine, Beatoven.ai generates realtime music, offering the freedom to fine-tune compositions until they align perfectly with the user's vision or project necessities.
Whether for video content background or podcast intros and outros, Beatoven.ai provides an innovative solution harnessing artificial intelligence prowess and machine learning insights into one compelling package- transforming sounds into symphony!
How Beatoven.ai uses AI to compose music
Beatoven.ai harnesses the power of AI to craft unique music compositions specifically tailored for content creators. This advanced platform leverages artificial intelligence technology to generate tracks according to user preferences in genre and mood.
With a selection spanning eight different genres and 16 varying moods, Beatoven.ai provides unmatched customization options. Users can simply set their desired parameters and watch the AI create real-time original pieces.
Fundamentally designed for agency/production houses, YouTube creators, indie game developers, and more, it offers an innovative solution for acquiring royalty-free music that perfectly matches any project's tone.
To further assist users in mastering its capabilities, Beatoven.ai also comes with tutorials and an exclusive swap feature enabling deeper control over each piece of music created on the platform.
The benefits of using Beatoven.ai for music creation
Grasping the benefits of Beatoven.ai for music creation cultivates a fuller understanding of its practicality and value.
First on the list is that users can launch their music creation journey for free, cutting initial costs.
Selection becomes less limiting, as Beatoven.ai offers eight diverse genres to match your desired style.
The tool is conducive to creative transformations; it permits multiple edits in content to incorporate different moods.
With Beatoven.ai, the mood set isn't confined but rather extensive, presenting 16 distinct options ensuring authenticity and novelty in every creation.
Harvard Business School research applauds multi-channel campaigns where integrating music effectively contributes to their success, highlighting why a tool like Beatoven.ai might be essential.
Whether you're a YouTube creator or part of a production house, an indie game developer or podcast creator, an audiobook creator, or belong to web3 & metaverse companies, one manipulates the versatility of Beatoven.ai in various forms of content creation.
Operating this AI-powered tool paves the way towards time-efficient meetings with productivity without compromising quality output.
Blending creativity and modernity with tech convenience on this platform ultimately elevates one's creations beyond typical bounds.
Engagement takes an upper turn through using this bespoke AI-driven music production tool that includes genre selection, content editing, and mood selection, as its creative facets add complexity to creations that appeal to listeners' tastes better.
Key Features of Beatoven Ai
Beatoven.ai showcases a range of innovative features, foremost among them being realtime music generation based on user preferences. This unique function allows users to create custom music that perfectly matches their style and mood.
Additionally, Beatoven.ai offers streaming output capabilities and follows industry-standard procedures for mixing. Other functionalities include customizing music selections tailored to video content or podcast backgrounds and supporting multiple cuts for varying music variations.
These robust offerings underscore Beatoven's commitment to empowering its users with high-quality tools for unique music creation utilizing AI technology.
Realtime music generation based on preferences
Beatoven.ai enables you to generate real-time music based on specific user preferences. This fascinating AI-enabled feature crafts unique tracks tailor-made for every individual musical need.
It harmoniously matches the moods of your content, giving rise to a plethora of auditory experiences that accompany and enhance the essence of what you create. With Beatoven.ai's advanced algorithm, genre selection becomes entirely flexible – from a pool of eight distinct genres, and 16 moods are available at your disposal.
There is no prerequisite for video uploads; immerse yourself in an exploratory journey into sound whether or not you have visual content ready. Secure perpetual licenses strengthen your creative confidence with unrestrained usage rights for these custom-crafted soundtracks on this remarkable realtime music generation platform.
Customizable music styles and moods
Beatoven.ai leaps beyond the boundaries of typical computer programming to offer customizable music styles and moods. As a user, you have a vast range of eight genres and sixteen moods to perfectly match your videos' theme.
The customization process doesn't stop there; adjusting track length or omitting certain instruments is as simple as a few clicks, offering unlimited customization options for creating unique tracks.
Advanced AI techniques are implemented in Beatoven.ai's platform, so you'll end up with mood-based music and remarkable production-ready compositions that adhere to industry standards for mixing and mastering.
All of it comes without royalty restrictions, meaning every piece of music you create is yours alone – free to complement the visuals in any part of your video or podcast project. With these features unlocked, stories come alive through original soundtracks put together solely by you on Beatoven.ai.
Streaming output and industry-standard mixing
Music creation in Beatoven.ai becomes smooth thanks to its streaming output feature. An even and constant flow of audio data enhances the overall music production experience for you as a student creator.
You get immediate access to every musical stroll that streams directly from your browser without any gap or interruption, making the composition-and-creation practice seamless.
Beatoven.ai stands out further by providing industry-standard mixing and mastering processes. This platform uses advanced music theory techniques to offer unique song combinations that fit into your composition puzzle.
With minor tweaks and adjustments, it hands over an impeccable final mix of tracks, simplifying complex setups frequently encountered while experimenting with multiple sound layers during the mixing stage.
Final products are royalty-free and generated at par with professional standards – leaving no stone unturned in ensuring top-notch content quality ready for consumption.
Pricing of Beatoven Ai
Beatoven.ai offers multiple pricing plans to fit a variety of budgets. Users can explore its features through a free trial period, while the Pro Plan brings about additional services at an affordable cost.
The tiers help users customize their experience based on specific needs and financial capabilities.
Overview of the pricing plans offered by Beatoven.ai
Beatoven.ai presents a straightforward assortment of pricing plans for users. The flexibility in billing allows you to choose between monthly and annual payments. Here's a quick look at the options:
Monthly Plan: This is perfect for those preferring to pay as they go, freeing them from long-term commitments.
Annual Plan: The yearly plan is economical for dedicated users, with an upfront payment that results in 15% cost savings over time.
Free Plan: Ideal for beginners experimenting with Beatoven.ai, this plan provides access to essential features without any financial investment.
Pro Plan: Crafted explicitly for prolific video creators who generate ten or more videos per month, this comprises premium features like advanced music generation and faster output.
Free trial period and cost of the Pro Plan
Beatoven.ai encourages students to explore the world of music creation with a free trial period. This beneficial offer lets curious minds dabble in realtime music generation, customizing styles, and moods without spending a dime.
For those who wish to venture further into the dynamic field of artificial intelligence-based composition after testing the waters, the Pro Plan is an excellent choice. It is suitable for users creating ten or more videos monthly and possesses all features essential for professional-grade content generation.
The cost of this premium plan keeps flexibility in mind, offering monthly and yearly billing options. A major plus point: there are savings on board! Avail a 15% discount by opting for yearly subscriptions rather than monthly ones, leading to noticeable cost reductions over time.
Pros and Cons of Beatoven Ai
The usage of Beatoven.ai in music production comes with both advantages and disadvantages. Among its strengths, it offers realtime customization based on preferences, mood-based music creation, and industry-standard mixing capabilities, significantly enhancing the process of generating unique audio content.
However, potential constraints could include a learning curve for those unfamiliar with AI software and potentially higher costs than traditional music composing methods.
Advantages of using Beatoven.ai for music creation
Beatoven.ai is changing the game in music creation. Due to its innovative artificial intelligence, users get to create unique song compositions with just a few clicks.
It opens up a whole new world for non-musicians, who can now easily transform their ideas into actual soundtracks. With an array of 8 diverse genres at your disposal, creating free music becomes both exciting and accessible.
You can add multiple moods to your content as Beatoven.ai features 16 mood options ranging from cheerful tunes to powerful beats. Music matching allows you to seamlessly align your track's mood with your creative output, ensuring each soundtrack fits perfectly with whatever project you're working on.
Your creativity knows no bounds, as you can make cuts within tracks and change styles midway! The best part? All these magnificent creations are entirely royalty-free, eliminating copyright issues when sharing or selling your work produced by Beatoven.ai.
Limitations or drawbacks of the platform
Despite boasting numerous innovative features, Beatoven.ai does have some limitations. Notably, the platform restricts users from reselling music composed through its AI feature. This can serve as a roadblock for musicians wanting to monetize their creations generated on this platform.
Also, it fails to use video details while composing tracks, which can lead to generic scores that don't cater specifically to the visual content of videos. Furthermore, in an age where digital distribution is key, Beethoven doesn't support sharing directly on popular streaming platforms like Spotify and Soundcloud – adding another step for creators seeking exposure on these outlets.
And let's not overlook its lack of Content ID registration capabilities: Users cannot register songs created with Beatovenai under the YouTube Content ID system. This potential drawback could limit the protection of one's rights online.
These constraints may pose considerable disadvantages for certain individuals when considering the pros and cons of using this AI tool for music creation.
Alternatives to Beatoven Ai
Several AI-powered music generation tools serve as alternatives to Beatoven.ai. These tools offer a range of features, pricing options, and user reviews that may align better with certain users' needs.
Among these competitors are AIVA, Jukin Media, and Humtap, each offering unique characteristics in automated music creation. Comparing these platforms helps identify the best tool for individual use cases while understanding their benefits and drawbacks against Beatoven.ai's capabilities.
Similar AI-powered music generation tools are available
The broad field of AI-music creation provides several useful alternatives to Beethoven. These platforms, like Beethoven, use artificial intelligence to generate captivating music pieces.
Amper Music: This AI-driven platform utilizes advanced algorithms to craft original soundtracks without any musical expertise required.
AIVA: Standing for "Artificial Intelligence Virtual Artist," this application creates rich and emotional tracks, taking inspiration from classical composers.
Mubert: A unique music generation software that creates high-quality ambient sounds for different settings.
Jukin: As an AI-based music production tool, Jukin curates royalty-free soundtracks from a vast library of tunes.
Conclusion
Beatoven.ai is more than just an AI music generation tool. It's a game-changer for content creators needing custom, royalty-free soundtracks. The platform's realtime, customizable music compositions and hassle-free functionalities enhance the creative process.
Whether you're a podcaster or a YouTube creator, give Beatoven.ai a try and experience limitless musical possibilities at your fingertips!